Seeking Wisdom in Difficult Days
A Study of James
The Purpose of Pain
James 1:1-12
Introduction
Helping a butterfly out of its' chrysalis. It's all about the struggle.
Prayer
A Servant Leader (v. 1)
James, a servant of God and of the Lord Jesus Christ, To the twelve tribes in the Dispersion: Greetings.
James was well known by the various churches, he is an elder, and an apostle (Galatians 1:19), the half-brother of Jesus, but he doesn't refer to himself in those terms – instead, he chooses to call himself, "a servant of God and of the Lord Jesus Christ." He is one who has authority, yet refers to himself as a servant (servant-leader).
He is writing the scattered church described as "the twelve tribes in the Dispersion:" (diaspora) who are experiencing persecution. In the original Greek "Dispersion" means "scattered." James is using metaphorical language to describe the scattered church (twelve tribes meaning all of the church) who are living in places other than their home (with Christ in heaven).[1]
Acts 11:19 gives us some background as to when and the church in Palestine was scattered, "Now those who were scattered because of the persecution that arose over Stephen traveled as far as Phoenicia and Cyprus and Antioch, speaking the word to no one except Jews." Stephen was a Christian believer that was stoned and sparked persecution in the early church, where they scattered as far as "Phoenicia and Cyprus and Antioch," Saul, who we later know as Paul the apostle, was determined to destroy the Christian church and was going to house to house forcibly taking men and women to prison.[2]
Finding Joy in a Sea of Sorrow (vv. 2-4)
2 Count it all joy, my brothers, when you meet trials of various kinds, 3 for you know that the testing of your faith produces steadfastness. 4 And let steadfastness have its full effect, that you may be perfect and complete, lacking in nothing.
"meet trails" the word used here for meet means to "fall into" and trials can mean inward affliction, as in a temptation to sin in a particular way, or an outward affliction such as being persecuted.[3] Here it seems to indicate, "afflictions, troubles, or difficulties."[4] Jesus in his parable in Luke 10:30 in discussing the Good Samaritan said, "A man was going down from Jerusalem to Jericho, and he fell among robbers, . . ." When man looks up, he finds himself surrounded by robbers.[5]
In all of these trials that the Christian may find himself in, we are to meet these events head on with joy – We don't wait until everything is over, the dust settles, and look back, and then choose joy – as we wade through the difficulty, like James, consider ourselves servant of the Lord Jesus Christ.
When we sit down and consider our time in experiencing these trials we are to "count it all joy" When a person has joy, they have an emotional response to having a long-term view of life. Happiness is a short-term view; it is a response to what is immediately in front of you and what you are experiencing in the moment.
James knows that to be joyful in trials is absurd.[6] So he addresses this by helping us to see the benefits of the trials. We are joyful regarding our salvation (Psalm 51:12) because it is an eternal perspective. We lose hope when we move our gaze from the long view to what is immediately in front of us.
We are to count it joy because there is an end result that is happening in our lives. These trials are producing something within us that is strengthening our faith. Trails do not show whether we have faith or not, they strengthen what is already there.
The visual imagery we are to see is one of metal being heated up and the dross and waste rises to the top where it is siphoned off.[7] The metal is then made stronger and purer.[8] Your pain and heartache will not be wasted; God is doing a work in your life.
"you know that the testing of your faith produces steadfastness" – steadfastness is defined as "patient endurance," and it is these tests that lead to the ability to endure.[9]
The apostle Paul says some similar in Romans 5:3-5, "we rejoice in our sufferings, knowing that suffering produces endurance, 4 and endurance produces character, and character produces hope, and hope does not put us to shame, because God's love has been poured into our hearts through the Holy Spirit who has been given to us."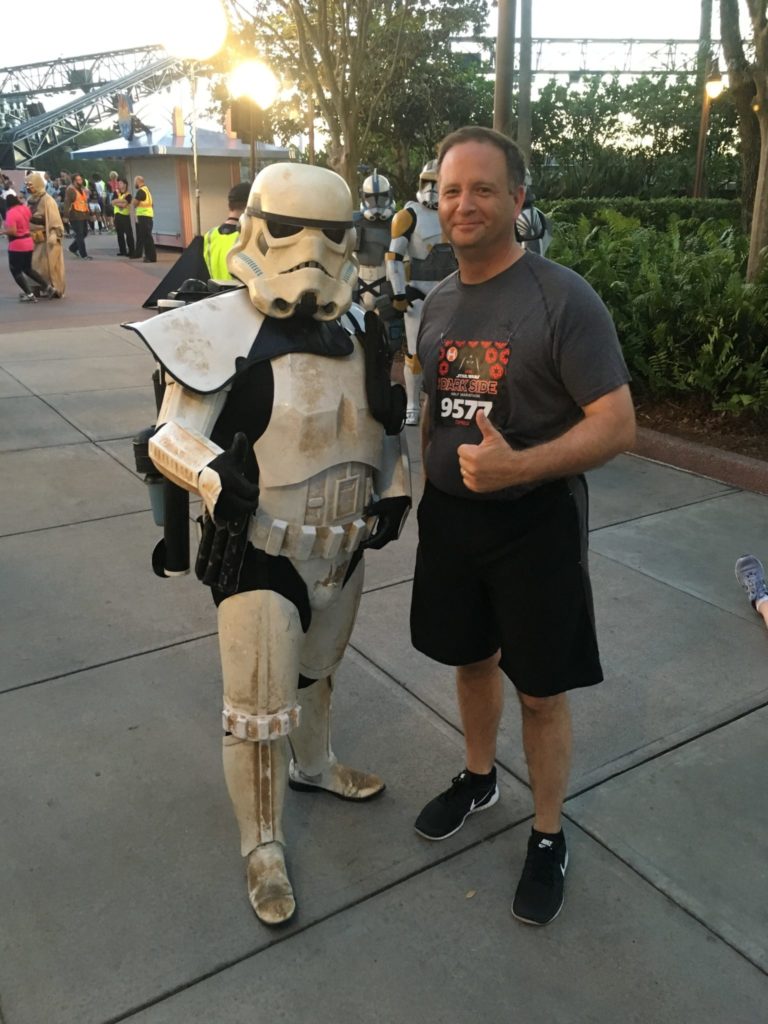 Some years ago, I decided that I wanted to run a marathon, and having ran several half-marathons I set out on a training schedule. Usually, you run increasing miles over several months to where you have a "long run" – and for me, the long runs were on Friday morning, where I would run until lunch time. If you missed a week of training, the miles would jump up instead of by two to four mile differences. Your body would go into shock if you set out to run 26.2 miles with no training, no preparation – but if you slowly add mile after mile, week after week your body adjusts – you build endurance.
"let steadfastness have its full effect" – The pain and suffering will happen, that's a part of life. But the process that God desires to work in our lives, the "steadfastness" has to be allowed in the life of the believer. We have to let the patient endurance point us toward spiritual growth – otherwise it is for nothing that we went through the trial.[10]
Patient endurance or steadfastness is not the end goal, it is the means to get there. The ultimate goal that God is working in our lives is so, "that you may be perfect and complete, lacking in nothing." To be perfect in this circumstance is to be mature – a perfect plant is one fully mature because it can accomplish what it is supposed to accomplish.
To be complete is to be adequate, or to be fully "what God requires and approves."[11] "to have all your parts, whole, not unsound anywhere" The word is used of stones untouched by a tool, of an animal without blemish.[12]
God's favor upon our lives is not that we avoid distress, but God's working in us that we are "lacking in nothing." It is so encouraging to be around mature Christians – they are joyful and they trained to do the work of the church. Very few things rattle them; they have seen it before and endured through it.
The trials and the resulting consequences in the life of the believer are directly linked to the character of God, and God is the only one deserving of such trust. The believer trusts that the pain and suffering have a purpose and that God has the believer's best interest in mind.[13]
If we don't believe in God then life has no meaning and the pain is just pain. If we believe in God but have a wrong understanding of His character, then He is seen as cruel for allowing it to happen, or weak because He did not keep it from happening. But James shows us that God is good and has an eternal view in mind of our pain and suffering.
Jesus says in Matthew 13:44 "The kingdom of heaven[14] is like treasure hidden in a field, which a man found and covered up. Then in his joy he goes and sells all that he has and buys that field." The man would feel the pain of selling all that he has, but he is joyful in his loss because of what he will gain by purchasing the field (the treasure). When we take a long-term view of suffering, we should choose joy because of what we gain in the end.
"Paul and Silas sing in the Philippian prison because the bars could not prevent their serving Christ's cause. In that service they found the source of their happiness, so their trials only proved their faith and the steadfastness of their devotion."[15]
Two Stumbling Blocks to Our Spiritual Growth 
1) A Lack of Wisdom (vv. 5-8)
5 If any of you lacks wisdom, let him ask God, who gives generously to all without reproach, and it will be given him. 6 But let him ask in faith, with no doubting, for the one who doubts is like a wave of the sea that is driven and tossed by the wind. 7 For that person must not suppose that he will receive anything from the Lord; 8 he is a double-minded man, unstable in all his ways.
Tennyson says, "knowledge comes, but wisdom lingers."[16] For James in his discussion of wisdom, he is talking about the right use of one's opportunities in holy living. We need wisdom in order to properly view the trials that we encounter. If we don't have this wisdom, then we can "ask God, who gives generously."
Paul reminds the church in Corinth that the wisdom of God appears foolish to the world, just as the wisdom of the world appears foolish in God's sight.[17]
God doesn't answer all of our prayers the way we desire, especially as they may relate to our experiencing less pain in trials, but He is always willing to "say yes" for our request for wisdom. With wisdom he doesn't talk about the cost, or your lack of it – He gives it generously and doesn't bring up the past. But, there is a requirement – we are to ask "ask in faith, with no doubting."
A father once came to Jesus and asked for help for his son in Mark 9:21-24 "And Jesus asked his father, "How long has this been happening to him?" And he said, "From childhood. 22 And it has often cast him into fire and into water, to destroy him. But if you can do anything, have compassion on us and help us." 23 And Jesus said to him, "'If you can'! All things are possible for one who believes." 24 Immediately the father of the child cried out and said, "I believe; help my unbelief!" We ask God for wisdom, we pray to Him, and believe that He will help us and answer our prayer – but if we don't really believe then why are we asking?
When we pray there are two wills that are coming together, our will and God's will. When you seek God's will in prayer, while still wanting to hold on to your own – this is being double-minded. "Lead me oh God, except in the direction that I do not wish to go."
"To doubt is to have a divided mind that draws him two ways, like the poor donkey that starved because he could not choose between two stacks of hay."[18] The end result of doubt is inaction. The testing of faith leads to perseverance, but doubt leads to unstableness. When James is talking about double-mindedness he means trusting in God and trusting in the world. You can't do both.
"the one who doubts is like a wave of the sea that is driven and tossed by the wind." This person sways back and forth in life. Whenever a hard time comes they are moved, because they don't trust God. They have no anchor of hope – holding them in one place.
Paul in writing to the church in Ephesus says that the spiritual leadership's job was to equip the church "so that we may no longer be children, tossed to and fro by the waves and carried about by every wind of doctrine, by human cunning, by craftiness in deceitful schemes." (Ephesians 4:14) but here instead of bad doctrine causing the tumult it is trying to live in two worlds at the same time.
The promises of the gospel all assume a commitment of the individual to, and trust in, God – The foundational issue is trust. Where does your trust lie? If you trust in yourself to take on the world, then don't pray to God and seek His help. But if you trust in Him for salvation, and life in general, then continue to trust that He will answer your prayers in the way that is best for you.
2) Money (vv. 9-11)[19]
9 Let the lowly brother boast in his exaltation, 10 and the rich in his humiliation, because like a flower of the grass he will pass away. 11 For the sun rises with its scorching heat and withers the grass; its flower falls, and its beauty perishes. So also will the rich man fade away in the midst of his pursuits.
Another area that may trip up a person with regard to their spiritual growth is money. It is easy to have a worldy view of wealth in that riches brings happiness. "James has a different ideal of happiness because he holds a different theory of the meaning and purpose of life. The purpose of life cannot be accomplished by the attainment of ease or luxurious comfort, but only in the achievement of Christlike character."[20]
Just like earlier during trials we are to have a long view, and how joy has a long view, our station in life (rich or poor) is a short-term thing (in comparison to eternity). "like a flower of the grass he will pass away"
No matter how much wealth a person may have, eventually he will face eternity, and you can't take it with you, whether that be a luxury yacht, or a brown paper lunch. Job said 1:21, "Naked I came from my mother's womb, and naked shall I return." So our life's truly only have significance when it is concentrated on the eternal. Power and wealth are a means to an end – not the end in and of themselves. To be better off is not to be better.
In light of this long view of life and eternity, James says, "Let the lowly brother," he is encouraging us to remember that we are all brothers in Christ, and that we will spend eternity together. In Christ we stand at the foot of the cross on level ground.
12 Blessed is the man who remains steadfast under trial, for when he has stood the test he will receive the crown of life, which God has promised to those who love him.
 The crown mentioned here was a wreath awarded to the winner in athletic games in recognition of an achievement built upon rigorous discipline.[21] James describes to us the Christian life as being active and strenuous and as we grow in endurance and character there is a promised reward from God for the trials.
We endure the trials, and endure the pain because we love the one who loved us first, and gave His only Son for our salvation.
_________________________
[1] See John 7:35; 1 Peter 1:1.
[2] George M. Sulac, The IVP New Testament Commentary Series, James (Downers Grove, Illinois; Intervarsity, Press, 1993) 31.
[3] Satan referred to as a pirate; Matt. 4:4; 1 Cor. 7:5; 10:13; 1 Thess. 3:5; 1 Tim. 6:9 (Nystrom, 47).
[4] Clifton Allen, Gen. Ed., Broadman Bible Commentary, Volume 12 (Nashville, Tennessee; Broadman Press, 1972) 107.
[5] A. T. Robertson, Studies in the Epistle of James (Nashville, Tennessee; Broadman Press, 1959) 34.
[6] David Nystrom, The NIV Application Commentary, James (Grand Rapids Michigan; Zondervan Publishing House, 1997) 48.
[7] "For gold is tried in the fire, and acceptable men in the furnace of adversity." (Sirach 2:5,  apocryphal book). Robertson, 37.
[8] Moo, 60.
[9] George Arthur Buttrick, The Interpreter's Dictionary of the Bible, R-Z (Nashville, Tennessee; Abingdon Press, 1962) 440.
[10] Peter H. Davids, New International Biblical Commentary, James (Peabody, Massachusetts; Hendrickson Publishing, 1989) 28.
[11] Allen, 108.
[12] Robertson, 40. It is also used of a complete or unbroken household.
[13] Nystron, 49.
[14] See sermon on King of God and its' meaning – https://drewboswell.com/424413-2/
[15] Buttrick, 22.
[16] Ibid.
[17] See 1 Cor. 1:18-21.
[18] Robertson, 43.
[19] Sic transit gloria mundi is a Latin phrase that means "Thus passes the glory of the world." It has been interpreted as "Worldly things are fleeting." It is possibly an adaptation of a phrase in Thomas à Kempis's 1418 work The Imitation of Christ: "O quam cito transit gloria mundi".
[20] George Arthur Buttrick, The Interpreter's Bible, Volume 12 (Nashville, Tennessee; Abingdon Press, 1957) 22.
[21] Buttrick, 26.