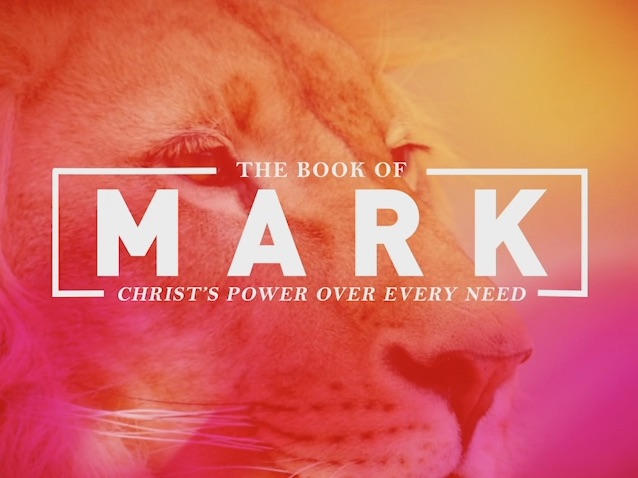 Today's Sermon Notes: 3-25-2023
***You can also sign up for Pastor Drew's podcast at Apple Podcasts and Spotify.
Christ's Power Over Every Need
The Gospel of Mark Sermon Series
"The Orphan'd Cry"
Mark 15:33-47
 Introduction  
Prayer
I. The Hour Has Come (vv. 33-39)
And when the sixth hour had come, there was darkness over the whole land until the ninth hour. 34 And at the ninth hour Jesus cried with a loud voice, "Eloi, Eloi, lema sabachthani?" which means, "My God, my God, why have you forsaken me?" 35 And some of the bystanders hearing it said, "Behold, he is calling Elijah." 36 And someone ran and filled a sponge with sour wine, put it on a reed and gave it to him to drink, saying, "Wait, let us see whether Elijah will come to take him down." 37 And Jesus uttered a loud cry and breathed his last. 38 And the curtain of the temple was torn in two, from top to bottom. 39 And when the centurion, who stood facing him, saw that in this way he breathed his last, he said, "Truly this man was the Son of God!"
2 Corinthians 5:21 "For our sake he made him to be sin who knew no sin, so that in him we might become the righteousness of God."
Isaiah 59:2 "but your iniquities have made a separation between you and your God, and your sins have hidden his face from you so that he does not hear."
A. Darkness Over the Whole Land
B. Jesus' Cry of Dereliction
C. The Temple Curtain Was Torn
Romans 3:23-26 "For there is no distinction: 23 for all have sinned and fall short of the glory of God, 24 and are justified by his grace as a gift, through the redemption that is in Christ Jesus, 25 whom God put forward as a propitiation by his blood, to be received by faith. This was to show God's righteousness, because in his divine forbearance he had passed over former sins. 26 It was to show his righteousness at the present time, so that he might be just and the justifier of the one who has faith in Jesus."
Propitiation – is a turning away of wrath.
1 John 2:1-2 "But if anyone does sin, we have an advocate with the Father, Jesus Christ the righteous. 2 He is the propitiation for our sins, and not for ours only but also for the sins of the whole world."
 Why is it that mankind perishes if they don't believe in Jesus?
Isaiah 1:18 "though your sins are like scarlet, they shall be as white as snow;"
Hebrews 10:19-20 "Therefore, brothers, since we have confidence to enter the holy places by the blood of Jesus, 20 by the new and living way that he opened for us through the curtain, that is, through his flesh, . . ."
D. The Centurion Takes Notice
II. The Women Remain (vv. 40-41)
40 There were also women looking on from a distance, among whom were Mary Magdalene, and Mary the mother of James the younger and of Joses, and Salome. 41 When he was in Galilee, they followed him and ministered to him, and there were also many other women who came up with him to Jerusalem.
III. A New Disciple Takes Courage (vv. 42-47)
42 And when evening had come, since it was the day of Preparation, that is, the day before the Sabbath, 43 Joseph of Arimathea, a respected member of the council[14], who was also himself looking for the kingdom of God, took courage and went to Pilate and asked for the body of Jesus. 44 Pilate was surprised to hear that he should have already died. And summoning the centurion, he asked him whether he was already dead. 45 And when he learned from the centurion that he was dead, he granted the corpse to Joseph. 46 And Joseph bought a linen shroud, and taking him down, wrapped him in the linen shroud and laid him in a tomb that had been cut out of the rock.[15] And he rolled a stone against the entrance of the tomb. 47 Mary Magdalene and Mary the mother of Joses saw where he was laid.
Mark 1:14-15 "Now after John was arrested, Jesus came into Galilee, proclaiming the gospel of God, 15 and saying, "The time is fulfilled, and the kingdom of God is at hand; repent and believe in the gospel."
What are you looking for?
Duet. 21:22-23, "And if a man has committed a crime punishable by death and he is put to death, and you hang him on a tree, 23 his body shall not remain all night on the tree, but you shall bury him the same day, for a hanged man is cursed by God. You shall not defile your land that the LORD your God is giving you for an inheritance."
__________________
As we consider Jesus on the cross, there are three things to take away:
Our sin must be extremely horrible[19].
God's love must be wonderful beyond comprehension. 
Christ's salvation must be a free gift.
______________________
[1] https://thepastorsworkshop.com/sermon-illustrations-on-the-cross/
[2] Amos 8:9-10
[3] William L. Lane, The New International Commentary on the New Testament, The Gospel of Mark (Grand Rapids; Michigan, 1974) 572.
[4] William F. Cook, Jesus' Final Week, From Triumphal Entry to Empty Tomb (Nashville, Tennessee; Broadman and Holman Publishing, 2022) 133.
[5] John R. W. Stott, The Cross of Christ (Downers Grove; Illinois; Intervarsity Press, 1986) 81.
[6] Andreas Köstenberger, The Final Days of Jesus (Wheaton, Illinois: Crossway Publishing, 2014) 162.
[7] Köstenberger, 162.
[8] Steve Jeffery, Michael Ovey, Andrew Sach, Pierced For Our Transgressions, Rediscovering the Glory of Penal Substitution (Wheaton, Illinois; Crossway Books, 2007) 84.
[9] Tradition has called him Longinus.
[10] George Arthur Buttrick, General Editor, The Interpreter's Bible, Volume VII (Nashville, Tennessee; Abingdon Press, 1953) 908.
[11] Lane, 577.
[12] R. T. France, The New International Greek Commentary, The Gospel of Mark (Grand Rapids, Michigan; William B. Eerdmans Publishing Company, 2002) 665.
[13] Max Anders, General Editor, Holman New Testament Commentary, Mark (Nashville, Tennessee; B&H Publishing Group, 2000) 261.
[14] Luke 23:51 tells us that he did not consent to the council's actions to have Jesus killed.
[15] Fulfilled Isa. 53:9 "and he made his grave . . . with the rich in his death."
[16] R.C. H. Lenski, The Interpretation of St. Mark's Gospel (Minneapolis; Minnesota; Augsburg Publishing House, 1964) 730.
[17] Cook, 138.
[18] France, 669.
[19] Stott, 83.
[20] Stott. 83.
***You can also sign up for Pastor Drew's podcast at Apple Podcasts and Spotify
*** Click Here to go to Drew's sermon archive on various topics.
Click Here for Last Weeks' Sermon Notes: