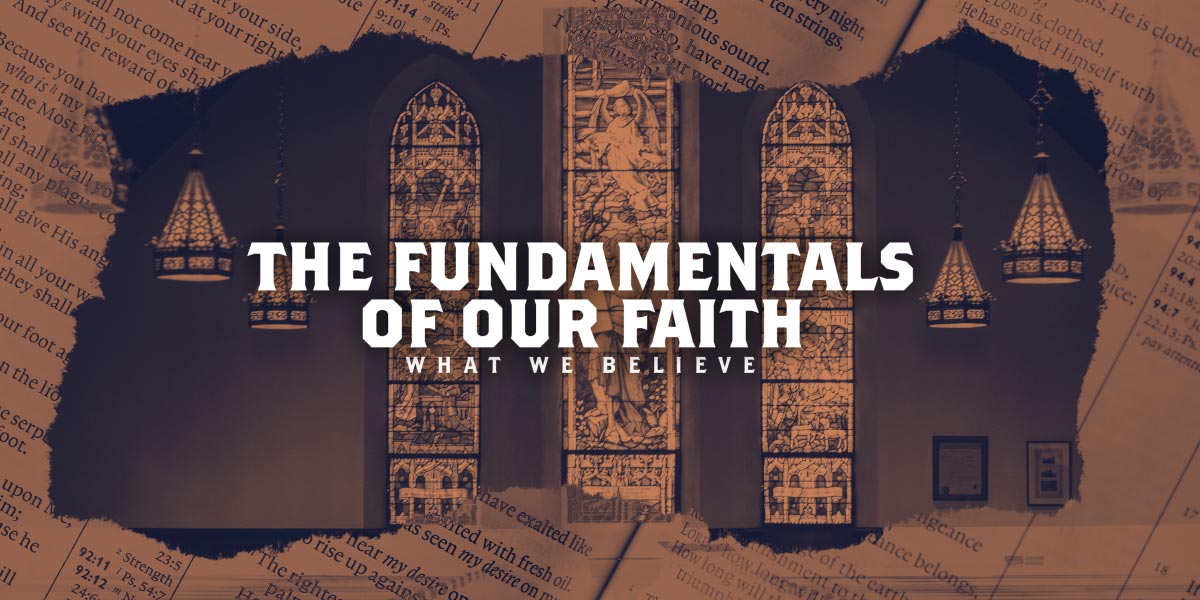 Today's Sermon Notes: 9-25-2022
***You can also sign up for Pastor Drew's podcast at Apple Podcasts and Spotify.
The Fundamentals of Our Faith;
What We Believe Sermon Series
"We Believe in the Holy Spirit"
Miscellaneous Verses
Introduction  
Prayer
The Holy Spirit in the Old Testament
Genesis 1:2 "And the Spirit of God was hovering over the face of the waters" and Job said, "The Spirit of God has made me, and the breath of the Almighty gives me life."
Judges 14:6 "Then the Spirit of the LORD rushed upon him [Sampson], and although he had nothing in his hand, he tore the lion in pieces as one tears a young goat."
Ezekiel 2:2 "And as he spoke to me, the Spirit entered into me and set me on my feet, and I heard him speaking to me. And he said to me, "Son of man, . . ."
Psalm 143:10; "Teach me to do your will, for you are my God! Let your good Spirit lead me on level ground!"
Psalm 139:23-24 "Search me, O God, and know my heart! Try me and know my thoughts! 24 And see if there be any grievous way in me, and lead me in the way everlasting!"
The Holy Spirit's Work in the Life of the Believer
Acts 1:4-5, "And while staying with them he ordered them not to depart from Jerusalem, but to wait for the promise of the Father, which, he said, "you heard from me; 5 for John baptized with water, but you will be baptized with the Holy Spirit not many days from now."
Acts 2:1-14 "When the day of Pentecost arrived, they were all together in one place. 2 And suddenly there came from heaven a sound like a mighty rushing wind, and it filled the entire house where they were sitting. 3 And divided tongues as of fire appeared to them and rested on each one of them. 4 And they were all filled with the Holy Spirit and began to speak in other tongues as the Spirit gave them utterance."
The Holy Spirit's ministry is to apply salvation to believers:
Conviction (John 16:8)
Regeneration (Titus 3:5)
Indwelling (1 Cor. 6:19-20)
Baptism (1 Cor. 12:13).
Sealing (Eph. 1:13-14).[5]
paraklete "to call or summon someone to come to your side to help."[6]
As our paraklete, the Holy Spirit does a number of things. He:
Helps us have inner assurance of salvation (Rom. 8:16)
Helps us understand the Bible (1 Cor. 2:9-10, 13)
Helps us understand God's ways (Eph. 1:17-18)
Helps us in our prayers (Romans 8:26-27)
Helps our strength in faith and obedience (Eph. 3:16-19)
Helps guide us (Romans 8:14).[7]
 Our Relationship With The Holy Spirit
1 Corinthians 3:16 "Do you not know that you are God's temple and that God's Spirit dwells in you?"
Ephesians 5:18 "And do not get drunk with wine, for that is debauchery, but be filled with the Spirit, . . ."
Luke 15  "But when he came to himself, he said, 'How many of my father's hired servants have more than enough bread, but I perish here with hunger!"
In the prodigal son story we see the father make a statement twice, "For this my son was dead, and is alive again; he was lost, and is found.'"
Galatians 5:16-18 "But I say, walk by the Spirit, and you will not gratify the desires of the flesh. 17 For the desires of the flesh are against the Spirit, and the desires of the Spirit are against the flesh, for these are opposed to each other, to keep you from doing the things you want to do. 18 But if you are led by the Spirit, you are not under the law."
 Spiritual Gifts
1 Peter 4:10 says, "As each has received a gift, use it to serve one another, as good stewards of God's varied grace:"[11]
Spiritual gifts can be broken down into three major categories.
Spiritual Fruit
Galatians 5:22-23 "But the fruit of the Spirit is love, joy, peace, patience, kindness, goodness, faithfulness, 23 gentleness, self-control; against such things there is no law."
_____________________________
[1] Paul E. Little, Know What You Believe, A Practical Discussion of the Fundamentals of the Christian Faith (Colorado Springs, Colorado; Cook Publications, 1999) 86.
[2] Little, 87.
[3] Ibid.
[4] Little, 83.
[5] Max Anders, New Christian's Handbook, Everything New Believers Need to Know (Nashville, Tennessee; Thomas Nelson Publishers, 1999) 58.
[6] Anders, 59.
[7] Ibid.
[8] W. Robertson Nicoll, The Expositor's Greek Testament, Volume III (Grand Rapids, Michigan; WM. B. Eerdmans Publishing Company, 1967) 363.
[9] Timothy George, The New American Commentary, Galatians (Nashville, Tennessee; Broadman and Holman Publishers, 1994) 386.
[10] Herman N. Ridderbos, The New International Commentary on the New Testament, The Epistle of Paul to the Churches of Galatia (Grand Rapids, Michigan; WM. B. Eerdmans Publishing Co., 1984) 204.
[11] 1 Corinthians 12:11
***You can also sign up for Pastor Drew's podcast at Apple Podcasts and Spotify.
Click Here for Last Weeks' Sermon Notes:
The Fundamentals of Our Faith; What We Believe Sermon Series "We Believe in Jesus" Miscellaneous Verses