Seeking Wisdom in Difficult Days
A Study of James
Worthless Religion Is A Waste of Time
James 1:19-27
Introduction
More than half of the world's oil paintings come from Da Fen in southern China. Located in China's manufacturing hub, Shenzhen, Da Fen thrives on the mass production of art. It exports millions of replicas of Van Goghs, Monets, and Picassos to the world, generating billions in revenue for painters who were once farmers or migrant workers. The founder of Da Fen, the 69-year-old artist Huang Jiang, spoke to BBC News about his miracle business model and the challenges his team faces now. Video journalist: Xinyan Yu[1]
Painter after painter lined up in warehouses, each looking at the original and creating and exact replica. The original is worth millions if not priceless, these copies are worth a few hundred in China, or maybe 1,000 if exported to the US. But if compared to the original, the fakes are essentially worthless.
If we look at the outside of many religious people, there is little difference in the actions they take in their religion. But today we will see that there are some people who will go through the motions of religion that are the genuine real deal – and there are those that have deluded themselves into believing they are being authentic. I want to make sure I am the real deal, and have not fooled while being a forgery of the authentic.
The book of James was not written to a specific church, but to those that were scattered because of persecution. In these diaspora churches there were issues that they were working through. "The church was divided over many issues. Some sought to use the church as a means to display wealth and to exercise power. Others had shown favoritism toward to the wealthy."[2] James specifically discusses today those that have an authentic faith and what it looks like.
Not Listening and Getting Angry Is Worthless (vv. 19-21)
 19 Know this, my beloved brothers: let every person be quick to hear, slow to speak, slow to anger; 20 for the anger of man does not produce the righteousness of God. 21 Therefore put away all filthiness and rampant wickedness and receive with meekness the implanted word, which is able to save your souls.
The word of God is described as already being implanted in the believer's heart and now it must grow and flourish. But there are things that will keep it from producing "the righteousness of God" in the person's life. You have heard the gospel, but something is keeping you from growing in your walk with the Lord. It is the word of God that is on the inside, and moves to actions on the outside.
James first addresses a general way of living where the person is not meek. They are not listening to others, they are talking all the time, and acting out in anger. All of this is rooted in pride, which is the opposite of meekness. "Pride is a reliance upon the self, and the root of sin."[3] Meekness is "the proper attitude of complete dependence upon God, and secondary the attitude shown toward others. . ."[4]
"I know what's right so I really don't need to listen to what you have to say", "what I have to say is way more important than what you have to say – I'm better than you," and "I have my rights, I am entitled to certain things which I am not getting – so I feel justified in being angry."
To be meek, is not weak, it is allowing yourself to be led. Titus 3:2 uses the same Greek work and it translated there as "perfect courtesy." "Remind them to be submissive to rulers and authorities, to be obedient, to be ready for every good work, 2 to speak evil of no one, to avoid quarreling, to be gentle, and to show perfect courtesy toward all people." When you are courteous you are deferring yourself to others. They get the seat to sit down, they are not interrupted when they are talking, they are spoken of with respect and honor. The apostle Paul wrote regarding "love" – "does not insist on its way" (1 Cor. 13:5).
In 1 Peter 3:4 it is used with "quiet" to describe what the attitude of a Christian woman, a "gentle and quiet spirit" in contrast to "outward adorning." "but let your adorning be the hidden person of the heart with the imperishable beauty of a gentle and quiet spirit, which in God's sight is very precious."[5]
Typically, we take these verses "let every person be quick to hear, slow to speak, slow to anger;"[6] in discussing how we relate to each other – but what if James is meaning how we react to the Word of God.
Quick to hear the Word of God, Slow to quickly explain or even explain away the Word of God, or we get truly rocked by it and we get angry as a response to the Word of God.[7] We are to receive the implanted word of God with meekness, not anger or excuse.
"As the Word of God roots itself more deeply in us, the new life develops and the old life dies."[8] James says, "Therefore put away all filthiness and rampant wickedness" The Christian must recognize sin for what it is, stop justifying it, and decisively reject it – if they don't then any spiritual growth is not likely.[9] When we remove filthiness and wickedness it's like removing a soiled garment.
Several times in Scripture when we are told to take off (put away) the soiled garment of filthiness and wickedness we are to replace it with something else to 'put on."
"receive with meekness the implanted word" a better word for implanted is engrafted. When you engraft a plant to take one variety of a tree, cut off a branch, carefully cut a slit in it's bark and then take another branch from another variety of tree and put the stump and the branch together. You can have lemons growing from an orange tree, or pears growing on the same tree as apples.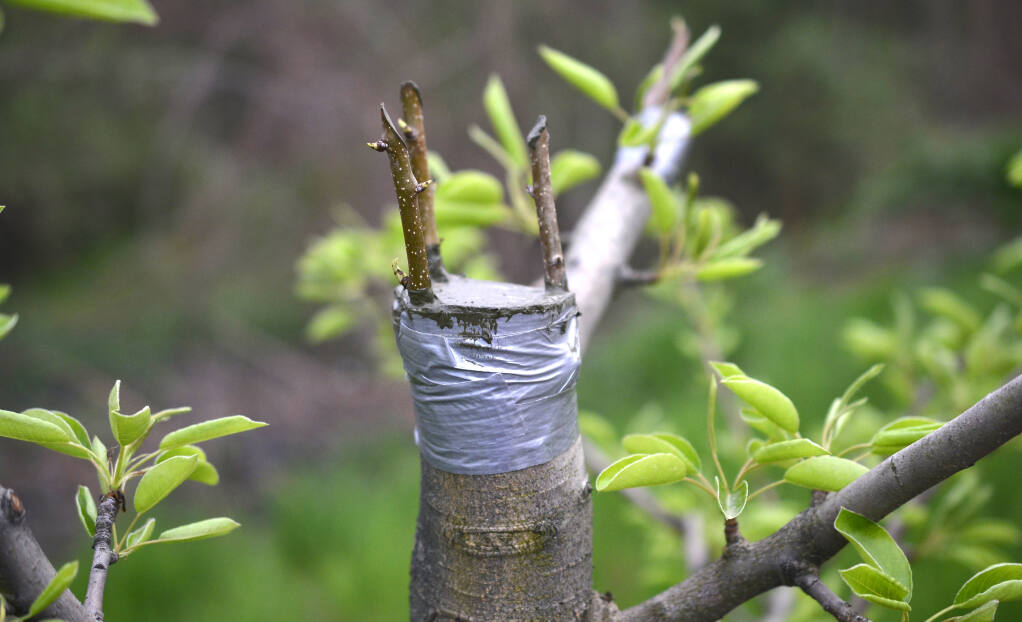 So in James' passage our heart's are described as the tree, and the Word of God is carefully engrafted into it, so that it will grow. God carefully places the Word of God in our lives, we must receive it with meekness. Sometimes grafts fail on trees, the tree has to receive the foreign branches and it has to grow.
"which is able to save your souls." Is not a reference to salvation, but "refers to the redeeming of the Christian from sins to his life as he grows and matures (cf. 1 Cor. 1:18)."[10] When we have a relationship with God is one of constantly removing sin from our lives, or being saved from
Listening But Not Doing Anything Is Worthless (vv. 22-25)
22 But be doers of the word, and not hearers only, deceiving yourselves. 23 For if anyone is a hearer of the word and not a doer, he is like a man who looks intently at his natural face in a mirror. 24 For he looks at himself and goes away and at once forgets what he was like. 25 But the one who looks into the perfect law, the law of liberty, and perseveres, being no hearer who forgets but a doer who acts, he will be blessed in his doing.
James describes two groups of people to explain his previous points; there are the "doers of the word," and the "hearers only." The doers look into the perfect law (the Bible) and persevere (do something).
The hearers only group are people who go through religious actions but there is no action with regard to rooting out sin in their lives. They are content with an outward appearance or being religious (they are the fake Van Goghs). James wants to warm them of the danger.[11]
All of these things have to do with the church gathering together. "The practical value of church attendance, according to James, is realized only when the word heard becomes the word in action."[12] If you go to church and hear the message, but God's Word doesn't carry over into everyday living and life then it's useless.[13]
"he is like a man who looks intently at his natural face in a mirror. 24 For he looks at himself and goes away and at once forgets what he was like." The natural face is uncovered, no make-up, as-it-is blemishes and all. Take long hard real good look at yourself.
One commentator (Hort) emphasizes that the word genesis is in the original language in verse 23. The Greek literally reads "the face of his genesis." And genesis carries the idea of 'birth' or 'creation' "Verses 23-25 would then contrast the man who sees what God intended him to be, but does nothing about it, with the man who sees what God wants him to be and strives to attain it."[14] In the mirror of God's Word you get a glimpse of the man you could be.
In worship and the gathered church, the Holy Spirit reveals things to us as we encounter the Word and compare our lives to it – like looking into a mirror, the Word of God shows us where things are out of place. There will be will be things the Lord will show us – but if we immediately talk about where we are going for lunch, or the things we need at Wal-Mart and don't remember the things God showed us (they are immediately forgotten) – what's the point?
"the one who looks into the perfect law"— to look into literally means to stop and bend over in order to see better or to inspect.[15] The same word is used when Mary inspected the tomb of Jesus. So, in reference to the Word of God, a believer really makes and effort to intently grapple with it and seek its' meaning and how to apply it to their lives.
God shows us how we fall short in His Word. We must continue to look into God's Word, and do what it says and then, "he will be blessed in his doing." It is the doing, not just the hearing, that brings the blessing. It's not enough to show up to the game dressed in the uniform – You have to go out onto the field and play the game.
In the parable of the sower, only one of the four classes of hearers brought forth fruit. That is the test. "By their fruits you will know them."
A Self-Deceptive Religion Is Worthless (vv. 26-27)
26 If anyone thinks he is religious and does not bridle his tongue but deceives his heart, this person's religion is worthless. 27 Religion that is pure and undefiled before God the Father is this: to visit orphans and widows in their affliction, and to keep oneself unstained from the world.
James is not addressing the hypocritical person who pretends to be religious – or wears a mask at church and then takes it off in the community. He is talking to people who actually think they are religious, but are deceived. There is a possibility that we deceive ourselves.
Matthew 7:21-23 "Not everyone who says to me, 'Lord, Lord,' will enter the kingdom of heaven, but the one who does the will of my Father who is in heaven. 22 On that day many will say to me, 'Lord, Lord, did we not prophesy in your name, and cast out demons in your name, and do many mighty works in your name?' 23 And then will I declare to them, 'I never knew you; depart from me, you workers of lawlessness.'" This passage should move all of us to evaluate our relationship with God.
In the culture of James' day, to be religious referred to the exterior or visible aspects of religious behavior."[16] James is not giving the totality of this is what it means to be a Christian, but he giving practical examples for a person to evaluate their relationship with the Lord, specifically self-deception. We are to act and do – outward behavior, but those actions have to come from an inner right relationship with God.
For the Jewish people "The regular attendance at the hours of prayer, faithful observances of the rules of ritual purification, payment of the tithes – these things constituted worship. Finally, these alone constituted worship. Religion came to consist in the ceremony alone, the letter and not the spirit, the hull and not the kernel"[17]
Christianity does not require the follower to do anything, no ceremonies, no prescribed rites, no memorized protocol, no court etiquette. "Our relationship with God is simply dependent upon a simple and sincere devotion to God."[18]
It is an outflow of our love and devotion to God that we love our neighbor as yourself, Micah 6:8 "He has told you, O man, what is good; and what does the LORD require of you but to do justice, and to love kindness, and to walk humbly with your God?"
The Christian religion that God accepts is described in three activities. 1) care of speech, 2) concern for the helpless in our society or our concern for other people 3) avoidance of worldly attitudes and values.[19] "to visit orphans and widows in their affliction." and "to keep oneself unstained from the world."
"It is just as revolting to God for a person to have personal holiness but not have a redemptive involvement with others as having social action without concern for personal holiness."[20]
"Religious practices are fine (church attendance, giving, serving, etc.) but if they are not coupled to an ethical lifestyle they are worse than useless, for they become self-deceptions." James wants his readers to be able to see that these religious actions and recognize their true condition before it is too late.[21]
___________________________
[1] https://www.youtube.com/watch?v=qZVJTW4jpck
[2] David P. Nystrom, The NIV Application Commentary, James (Grand Rapids, Michigan; Zondervan Publishing, 1997) 92.
[3] George Arthur Buttrick, Dictionary Ed., The Interpreter's Dictionary of the Bible, K-Q (Nashville, Tennessee; Abingdon Press, 1980) 335.
[4] Ibid, 334.
[5] Buttrick, Dictionary, 335.
[6] Zeno of Citium is attributed to the idea, "we have two ears and one mouth, therefore we should listen twice as much as we talk."
[7] Clifton J. Allen, Gen. Ed.  The Broadman Bible Commentary, Volume 12 (Nashville, Tennessee; Broadman Press, 1972) 112.
[8] Lehman Strauss, James Your Brother (Neptune, New Jersey; Loizeaux Brothers, 1956) 59.
[9] Strauss, 40.
[10] Allen, 112.
[11] Doulas Moo, Tyndale New Testament Commentaries, James (Grand Rapids, Michigan; William B. Eerdmans Publishing, 1990) 82.
[12]George Arthur Buttrick, The Interpreter's Bible, Volume 12 (Nashville, Tennessee; Abingdon Press,1957) 31.
[13] Pious genuflection.
[14] Moo, 85.
[15] Allen, 112.
[16] Allen 113.
[17] A. T. Robertson, Studies in the Epistle of James (Nashville, Tennessee; Broadman Publishing, 1959) 71.
[18] Buttrick, 34.
[19] Clinton Arnold, Zondervan Illustrated Bible Backgrounds Commentary, Volume 4 (Grand Rapids, Michigan; Zondervan Publishing, 2002) 97.
[20] Allen, 113.
[21] Peter H. Davids, New International Biblical Commentary, James (Peabody, Massachusetts; Hendrickson Publishing, 1989) 43.