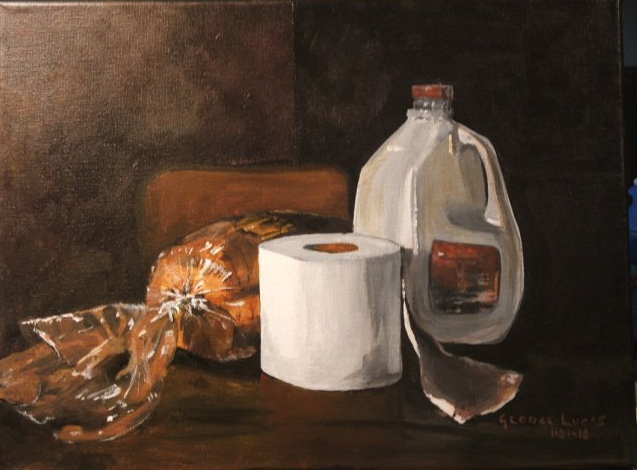 Mark 4:37-41 "A furious squall came up, and the waves broke over the boat, so that it was nearly swamped. 38Jesus was in the stern, sleeping on a cushion. The disciples woke him and said to him, "Teacher, don't you care if we drown?" 39He got up, rebuked the wind and said to the waves, "Quiet! Be still!" Then the wind died down and it was completely calm. 40He said to his disciples, "Why are you so afraid? Do you still have no faith?" 41They were terrified and asked each other, "Who is this? Even the wind and the waves obey him!"
The following is an excerpt from an article I wrote in 2007. At the time my family and I were ministering at a church plant in Maryland.
Today it was supposed to be an icy, cold, very bad day.

We face decisions every day. We choose what to eat, what to wear, and even more impacting things like whether or not to have a worship service. There are temporal things to consider like the exertion that goes into setting everything up and breaking it down. We tell ourselves that we are doing it for the Lord, but let's face it, it's hard work. There have been two occasions when I decided to have church on an inclement weather day, and the only people that showed were those setting up the service. That's a morale kick in the pants.

If few people show, then it looks like we are a smaller church than we are to guests. (Yes, perception is important). There is a much smaller offering than normal, and if we cancel then there is none at all. There is the danger of accidents if you don't and there is a missed opportunity to share the gospel if we do. I used to think that there might be a person, who would have come, and their life may have been changed forever – but we canceled instead.

When making these decisions I have decided to let God be God. If Daybreak were a church located in remote Alaska then snow and icy weather would be a way of life. Even in Maryland we are often not equipped to handle a storm. So, God controls the weather, He knows where we are, He knows what we need, and He is control. If He allows a storm to come, I believe He understands our need to not have a service.

I also believe that storms lead us back to asking the question of, "Why do we assemble anyway?" I mean, "Why have a church worship service?" Many times in life we go through the motions, even things that we have done our whole lives, but forget their purpose.

Obviously, gathering as the body of Christ is important (and commanded). I believe that I will soon do a sermon on this exact question, because storm or not there are those who find something far more insignificant than an ice storm to keep them away. I also become focused on lights, sound, media, chairs, etc…when, instead, my focus should be worshiping God. Sometimes storms help us to re-focus on what is truly important.
_________________
Most of the following suggestions have to deal with discussing this issue before bad weather hits. Take some some time with your leadership, staff, volunteers, etc. and discuss your emergency weather policy soon, preferably before the storm clouds begin to form. So on those occasions when a storm is on the horizon and you have to make a decision whether or not to meet, consider the following:
How much time to do you have to make the decision?
The safe call is to always cancel with any threat. But this is not good for the overall health of the organization. If you happen to live in an area where weather is a continual issue, then to immediately cancel every time could be hurtful. Often, the decision is not an easy one to make and it may take time to evaluate.
But as soon as you know for sure, whatever direction you are going in, you need to give your people time to make needed preparations for their own families and their given responsibilities. For example, if you cancel an evening activity due to weather, then parents need to have time to plan for alternate childcare or to have their children picked up from school, etc. Another way of thinking about it is, "Can I wait and make the decision until the morning, the next day, etc.?"
How will people know that a decision has been made?
Calling everyone in the organization with the decision is tedious at best. If you are not currently in the moment of the storm, then talk with you team regarding when, and how this information will be disseminated to the rest of the organization. Today with social media, the internet, websites, texts, etc. this should be relatively simple. But keep in mind that not everyone is active on social media, has a cell phone, reads their e-mails, etc.
So having a multi-pronged communication plan may be beneficial. But again, who is going to send out the message, to whom, and what will be said, needs to be planned out and thought through ahead of time. If you want people to know if you are having church or not, then how will they get this information? So, if you don't want to get a bunch of phone calls or texts saying, "Are we having church today?" then come up with a clear plan.
Who makes the decision should be clear and decided ahead of time.
Most of the time in churches it is the pastor or elders who decide to cancel the service or not. Indecision and confusion are never wanted during a potential emergency or life threatening event. Have a clear chain of command and discuss the procedure of once that person make the decision, then what happens next.
Do you have the personnel needed to function properly? 
 There have been times when I have made the call to meet for a service but most of our personnel were not able to make it for the service. Parents were frustrated, set up guys were frustrated, the band was frustrated, overall people were frustrated. Considering the complexity of your worship service or organization, how simple are you willing to be in your worship? If you gather together do you have space for everyone? Where will people park? Will the snow be plowed before people get there? Will there be heat, electricity, running water, etc.?
_________________
At the end of the day what we are talking about is wisdom. As a leader we need wisdom from the Lord, so pray. Ultimately, what we do on Sunday morning (or whenever you may have your worship service) is for His glory anyway.
James 1:5 "If any of you lacks wisdom, let him ask God, who gives generously to all without reproach, and it will be given him."
The best advice I could give a fellow leader in the position of having to make a tough call is pray, ask the Lord for wisdom, make a decision, then go back to bed, and you will sleep like a baby through the storms.
Mark 4:37-41 "A furious squall came up, and the waves broke over the boat, so that it was nearly swamped. 38Jesus was in the stern, sleeping on a cushion."