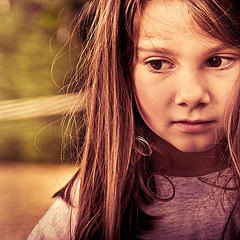 I sat down with my father some time ago, and over coffee we entered into a heated discussion about the education of my children.  We "discussed" public verses private schools, and homeschooling. As we waded into the sticky waters of the topic it became very clear to me that the school he was talking about and that he attended, was not the school that I attended.
We make decisions and values based on our life's experience. His outlook was simply different even though we went through the same county educational system. His experience of education experience was radically different than my school experience. It was separated by over twenty years of radical change in a small rural Alabama town.
In those more than twenty years, segregation had been enacted, computers were introduced into classrooms, and the world had rushed into this small town. Now my children have dry erase boards that are controlled by the teacher's computer, and internet is a daily part of my children's lives. The world is no longer rushing into the classroom; today's students can be anywhere and see anything that their heart's and imaginations can take them.
But ever present with innovation, change, and advancement is man's depraved heart to corrupt the most amazing and fascinating developments. The internet is a place of enlightenment and learning, but it is also a place of the worst of man's corruption. Either are only a few key strokes away. As a boy, if I desired pornography I would have to convince my friend to steal it from his father, sell the magazine to me, and I would have to sneak it home in my backback from school. Today, my sons can simply type in "porn" and behold millions of web sites ready to give them man's depravity for free.
I say all this to say, we live in a world that is exciting and innovative, and we are making huge strides toward making our world a better place – but as the innovation increases so does the danger. Those in church leadership have to realize that the church today has to be different than it was when they were growing up.
To focus on one of these major changes has to be in the area of security in the life of the church. Matthew 18:10 says, "Take heed that you do not harm one of these little ones, for I say to you their angels always behold the face of my Father." If we do not change, and take steps to protect them, then we are negligent and responsible for harm that may come upon them.
Bill Hybels said "Today I believe the single remaining common interest or entrance point for non-churched people into the church is children."[1] Children's ministry is leading many churches to growth and God is using Children's Ministry to bring people into the church so we should protect this door into our churches. Parents want their children to have a moral foundation even if they themselves do not follow God.
So as the spirituality of Americans continues to be open to discussions of Christ, we have to know that we have a very real and ever present enemy who seeks to steal, kill and destroy. 1 Peter 5:8-9 "Be self controlled and alert.  Your enemy the devil prowls around like a roaring lion looking for someone to devour.  Resist him, standing firm in the faith, because you know that your brothers throughout the world are undergoing the same kind of sufferings."
Some Dreadful Statistics
There are between 250,000-500,000 pedophiles reside in the United States.[2]
Convicted child molesters who abused girls had an average of 52 victims each.
Men who molested boys had an astonishing average of 150 victims.[3]
The typical child sex offender molests an average of 117 children, most of who do not report the offense.[4]
It is estimated that approximately 71% of child sex offenders are under 35 and knew the victim at least casually.
About 80% of these individuals fall within normal intelligence ranges;
59% gain sexual access to their victims through, seduction or enticement.[5]
As much as these statistics make us sick to our stomachs they can not with good conscience be ignored. We live in a world where there are people who seek out our children to do them harm. The church also tries to foster an atmosphere of acceptance and trust.  We want to think the best of our church family; no one wants to create an atmosphere of distrust.
We would like for the church to the hub of community activity therefore often times doors are left unlocked, hallways and restrooms are easily assessable and rarely monitored.  We want the community to know that in the church all are welcome.  But there are also monsters that appear in sheep's clothing.  We must therefore be "shrewd as snakes and as innocent as doves" Matt. 10:16.
How can we then be open and accepting while at the same time protecting our most valuable asset, our children?  In most church-related sex abuse cases, the molester was a longtime member of the church, active in his/her community and liked by many. [6]
*this is part one of a three part article series.
---
[1]
David Staal,
Take The Challenge: Lead Up
, Children's Ministry Magazine, January/February 2003, p. 49.
[2] U.S. Department of Justice
[3] In a study funded by the National Institute of Mental Health Dr. Gene G. Abel, Emory University
[4]The National Institute of Mental Health, 1988
[5]Burgess & Groth, 1984