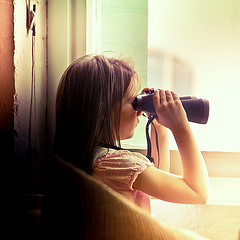 1 Peter 5:8-9 says, "Be self controlled and alert.  Your enemy the devil prowls around like a roaring lion looking for someone to devour.  Resist him, standing firm in the faith, because you know that your brothers throughout the world are undergoing the same kind of sufferings."
This passage directs us to be "self controlled" and "alert." Both of these terms carries the idea of vigilance. Believers are to stay alert and vigilant because Satan seeks to destroy their faith. The devil "roars" to induce fear within them. In the early church it was persecution, and Christians were tortured to persuade them to deny Christ.
So if we understand that Satan seeks to make Christians fearful, let's not do so with this topic of security in the church. We are to live by faith, and not in fear. We must take measures to protect our children, but not to create within the church (or the children) a sense of fear or dread.  So I encourage you to understand this topic in terms of "being alert" to the dangers and taking precautionary actions against it.
We have to be alert to the dangers around us.  We must also understand that predators are prowling around looking for a child that they may devour.  How can we then resist him?  How can we defend ourselves against predators?
Christian Ministry Resources, which specializes in legal and risk management for churches reported that in 2000, one in 100 churches across the country contended with allegations of sexual misconduct involving children. The organization found in its surveys of more than 1,100 congregations that the number of incidents jumped to 1 in 25 for fellowship with more than 1,000 members.  There is not one "test" that will identify a molester.  A predator can wait months, even years as he/she befriends parents, children, and the church.  Once he/she is trusted, the slow seduction begins.
There are two types of molesters; the "pedophile," who prefers children sexually and the adult who has had a sexual encounter with a child or children because of availability or a close relationship that develops.  In any case, the relationship is criminal, immoral, and harmful to the child.
False accusations are as real a threat to churches as actual victimization.  In either case the church is liable for damages if it is proven that common sense preventive measures were not in place.  In civil court, victimization does not have to be proven, only the opportunity.  Often, civil suits are filed 20 to 30 years after the alleged incident, costing churches millions of dollars, when it is proven that church leaders did nothing.
Example: A child's family comes forward to say a church worker touched him/her inappropriately.  There is not enough evidence to prosecute or at trial the worker was found not guilty.  The child's family sues the church in civil court.  The pastor or church leader is placed on the witness stand.  He is simply asked if the church had any safety plans in place for workers to follow.  If the answer is no, the church can very well be out of millions.
Civil court will look at whether the abuse could have happened. It just takes one accusation to lead to the complete destruction of a church. Not having a prevention program in place leaves the church open for financial ruin, and it leaves its most precious treasure, the children, vulnerable to the devastation of emotional, physical, and spiritual wounds from which they may never recover.
The following are some steps or layers that a church can implement in order to keep predators away. Remember one of the main reasons police decorate their cars the way they do is to prevent crime by their presence. Simply having these "hoops" that predators have to jump through may keep them away.
A. Background Checks:
Reasons for Having Background Checks
To prevent predators from infiltrating our ministries.
To prevent false allegations and lawsuits from having grounds or weight.  We will never be able to prevent allegations.
Protects the children, the workers, and the Church
The Church Law & Tax Report of May/June 1992 states "churches currently provide between one-third and one-half of all childcare," and that parents of preschoolers "prefer church-provided child care" (p.2).
Benefits of Having a Screening
Insurance rates are often lower;
Workers feel chosen and trusted; there is a bar that is established.  "We don't allow just anyone to work with our children."
Parents feel more confident about leaving their children with workers who have been screened.
No screening process can guarantee that no accusations will occur or that no questionable person will be allowed to work with children.  Such a process can, however, reduce the risk.
How Do We Screen Volunteers?
The screening process should include four steps: 1) Worker Application, 2) Background check, 3) Checking References and 4) a Personal Interview.
Necessary paperwork:
Worker Application Form, a document asking basic informationBackground Check Form,
Criminal Release of Information Form, (if it is not included in the Worker Application Or Background Checks
Worker Interview Form
All information obtained during the screening should be treated as confidential.  The only exception would be if disclosure is believed to be necessary to protect a child from potential harm.  Different levels of background checks can be done.  Your legal counsel and insurance agent should be able to help you determine the kind of background check that you need to conduct. You can also contact Background Check companies to see what they suggest.
Several local agencies and other service agencies around the country conduct background checks for a fee.  You will be able to find these services offered online over the internet. To locate them do a search for "background checks."[1] This will also give you a good idea of the kinds of background checks that can be done and how much they cost.  Not all churches can afford or feel comfortable running background checks.  If this is the case, then every effort should b made to contact previous churches and employers.  A consent form should be signed to allow previous associations to release personal information about the worker.
Some questions to asks are, "Are you covered by their insurance if they make a mistake?",  "What if someone gets by?" There have been instances where a company would accept the payment fee and send back a report showing that the person was cleared – when they really never checked.
Jim Wideman of Church On The Move, sends names he knows have criminal backgrounds to check the company to make sure they don't make it through the system. State background checks are a waste of money because most predators move frequently.
What if I have a friend who works for the police department?  If they gather information and then give you this information it was gathered illegally and can not be used in court.
Check alias' ,Check more than one Social security number.  (using dead people's ss #)  How do they know that a person is not using another person's social security number?
Has this person ever been accused?  If they have been they should not be allowed to work with children.  What if they were cleared of charges? If there is ever another incident, the judge will ask you, "What did you do to keep this from happening?" and "Did you have any prior knowledge?" You, at this point, would have known that there were concerns, but you let them continue to work with kids anyway.
What about the costs?
Which is cheaper? Lawsuit or background checks? What is a child's innocence worth?  Run them on everyone, but if you can't do all the men, then the ladies.
*this is part two of a three part article series.
---
[1]
Accufax is an example of a company that does background checks.