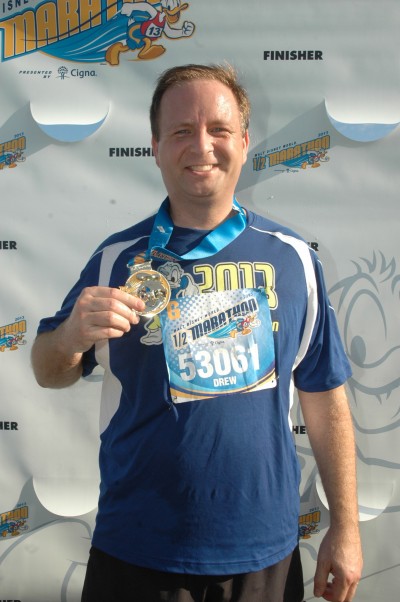 Race Day — Disney Half Marathon Jan. 12th, 2013
The race morning began with me boarding a bus from the Disney Animal Kingdom resort to the staging area for the race at 3am. I wrapped my feet, praying that I did it right, they were't too tight, and that it would work. Having suffered the pain of Plantar Fasciitus I was concerned about not being able to finish the race. As I sat next to a stranger, and a bus full of runners, I thought about all the days of training and work and how it all had built to this day.
Running is a solitary sport. You race against others, but really it is a race against yourself. When you are tired, agitated, or even injured it is your mind that is your biggest opponent or your strongest advocate. It will cheer you on, or demand that you stop and not take another step. What I have learned from running is that you can train that voice to say, "I can do it."
From the bus you walk to a place where you can store your belongings, and from that point on the only things you have are what you take with you for the race. I left my small jacket, iPhone, and energy bar behind in a bag marked with my race number. There were 26,000 racers packed into a holding area. There were so many people that you could not tell what was going on. Eventually, the mass of people began to make its way up a road where it eventually divided into "corrals" Â which were areas of the interstate marked off with large letters A-G. I was in the E corral. The race began with the singing of the Star Spangled Banner, a wonderful display of fireworks, and Daffy Duck counting down 3-2-1 . . ."go!" Our corral waiting about 45 minutes until we finally made our way to the start line and my time officially began.
As I crossed the start line I reminded myself of my goals: 1) run a half marathon and actually finish 2)don't be last 3) don't get picked up because I couldn't keep the slowest pace.
I ran the first mile way too fast. As a previous high school coach of cross country running, I was doing what I had cautioned my own runners not to do. I even asked myself, "Drew slow down, why are you running so fast?" There were bands playing, light shows, crowds of people were cheering, and the excitement was so thick in the air you would taste it. I weaved through the slower runners and by the second mile, I had settled down into a comfortable pace and felt wonderful. My feet were fine.
The miles rolled on until about six where I was kicking myself for running so fast a the beginning, but I was coming up to Cinderella's Castle and the crowd bottleneck into a forced walk. I stopped and had my picture taken at the castle, and this served as a quick rest. I had managed to weave through the crowd but I had no way of telling how many people were in front of me or behind.
The Wall 
Then a couple of more miles until mile nine where I hit "the wall." All the bands were gone, the excitement was gone, and the runners were very quiet. Chatty conversations had turned into quiet forced determination. Smiles had turned to sweaty frowns. I walked this entire mile. My feet were killing me, my energy was gone, and each step took effort. Even the Disney characters that people would stop and have their picture made with them were absent on this very lonely stretch of highway. It is at this point that the ladies make up is running, the hair is a mess, and you are covered with sweat. You are saying to yourself, "I paid over a hundred dollars to do this to myself!" You have to dig deep to ask yourself, "Why am I doing this to myself?" and "Why should I finish?" There are some things that you finish simply because you started. Who runs a race that has no intention to finish it.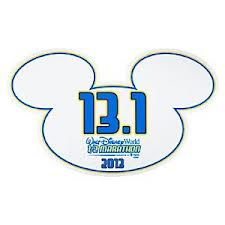 When I got to mile ten, I found a renewed boost of energy and started running again. As I moved through miles eleven and twelve the realization that I was going to finish was beginning to fill my heart. My eyes began searching for the finish line, and I would run across it.
After hours of running, and months of training I crossed the finish line. They placed a metal on my neck and I was channeled into a place where we had our picture taken, picked up a boxed breakfast, grabbed my stuff, and boarded the bus to go back to the hotel. I had a huge sense of accomplishment. As I rode back to the hotel room I began to sense the pain that I was about to endure as we started our family tour of Animal Kingdom. With no time to rest the real marathon was about to begin.
Let me just encourage you to set a big goal, push through the difficulties, and train your inner voice to say, "I can do it."
____________________________________
On last thought . . .
The leader has to train himself to listen to the correct and healthy voices in his life. There will always be those that discourage, irrationally criticize, and are just negative. And there are those that give healthy criticism, and helpful suggestions. There are also that are encouraging, give energy to a situation, and add light to your life. Also, be aware that sometimes that negative critical spirit may even be you. So take some time and think about what you are hearing,who you are hearing it from, and intentionally surround yourself with people who will encourage you to go even further than you have ever been before. You can do it. I do believe that it is so important to reach a little further, and stretch yourself beyond what you feel comfortable doing.
Hebrews 12:1 "Therefore, since we are surrounded by so great a cloud of witnesses, let us also lay aside every weight, and sin which clings so closely, and let us run with endurance the race that is set before us, 2 looking to Jesus, the founder and perfecter of our faith, who for the joy that was set before him endured the cross, despising the shame, and is seated at the right hand of the throne of God."
*this is part three of three part series of entries. To read part one click here, and to read part two click here.