Choose Your Own Path
2 Samuel 19:1-8 
Introduction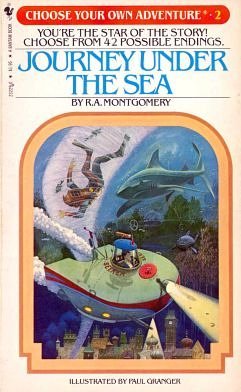 Do you remember the "Choose Your Own Adventure Books" from when you were a kid? At each turn in the story you could choose how the story would move forward, or even how the story would end. Each day we are faced with the need to make decisions, but we never know what will happen until after we turn the page.
We have to make tough calls just about every day, what if life could be like the introduction of one of the books, "There are dangers, choices, adventures and consequences.  The wrong decision could end in disaster – even death.  But, don't despair. At anytime, you can go back and make another choice, alter the path of your story, and change its result."[1]
Life is not that easy, once you make a choice there are no flipping back the pages.  Over the next three weeks we are going to discover how to make the hard calls and how to live with the consequences.
Pray
You Choose; Victory or Defeat? (vv. 1-4)
It was told Joab, "Behold, the king is weeping and mourning for Absalom." 2 So the victory that day was turned into mourning for all the people, for the people heard that day, "The king is grieving for his son." 3 And the people stole into the city that day as people steal in who are ashamed when they flee in battle. 4 The king covered his face, and the king cried with a loud voice, "O my son Absalom, O Absalom, my son, my son!"
Joab has been on the front lines and is leading his men, as one of three generals who are returning, from the victory of defeating Absalom, David's rebellious son.  What should have been victory was turned into mourning.
The soldiers were looking to David to see how they should respond. The soldiers would not have cared if some stranger was upset that Absalom was defeated.  They would have celebrated, cheered, and danced because of the joy of defeating the enemy.  But they heard that David, the king, was grieving for his son.  Any one of these men could have decided not to be apart of David's army, he was on the run from a vastly superior force – these men chose to fight for a man that they loved – David.
There will be times when people will look to you to see how they should respond.  If you allow your emotions to control you, then the result can be tragic.
The custom was that the king would sit in an apartment above the city gate and welcome the troops as they returned – but as the troops are returning, the king is weeping and wailing crying, "O my son Absalom! O Absalom, my son, my son!"
At some point the soldiers first soldiers in formation would have made it to the city gate, and their cheers were hushed by David's crying.  The word was quickly passed back through the troops, "Behold, the king is weeping and mourning for Absalom" Then later as they passed the city gate they would have seen David, through his apartment window with his face covered with a burial cloth[2] and they would have heard him crying.
David has sucked the joy out of the victory by his reaction and actions that he displayed before everyone.  His actions actually made the men ashamed of the actions that they had taken. "And the people stole into the city that day as people steal in who are ashamed when they flee in battle."  And, "surely others grieved that day, not for Absalom but for unnamed sons loved even more than the king loved Absalom."[3]
The men begin to sneak back into the city, as if they were cowards and deserters – but they were the victors and were returning heroes. It is amazing how our attitudes and how we carry ourselves can change so many things.  A mother receives her son's report card and there is a B, "why didn't you get an A.  There's a dad whose son got a base hit, his dad says, "well, if that's the best you can do…"
The soldiers went off and fought as a united army, proud of what they were fighting for, but they return one-by-one feeling like traitors. A bad attitude causes division and splinters what was once united.  "Probably many others were afraid that David might be planning to punish those who were suspected of violating his order to spare Absalom. Thus, the longer David delayed making a public appearance, the more uncertain became the future of his cause."[4]
David is playing two roles here.  One of a God anointed king, and one of a grieving father.  In this situation David could either play one role or the other, but he could not do both.  David has to make a choice, either continue to mourn for his son, or play the part of a king.
David is crying out (he does not want to hear what others are saying to him), and his head is covered with a burial cloth (he does not want to see other people, or have them see him) – David wants to be all alone.[5] His role as king demands that he make a public appearance and be joyful, but his heart is mourning the death of his son.
Does David have the right to mourn for his son? How could a father not mourn for his son?  There will be times in life when the greater number need you to hold yourself together even hide/conceal your emotions in order for there to be joy in the victory.
David's warriors were looking to him to know how to act – what did they see? They saw a man broken and completely swallowed up by his own world and the grief in his heart.  How do we get out of a hole like that?
2 Corinthians 1:8 "For we do not want you to be unaware, brothers, of the affliction we experienced in Asia. For we were so utterly burdened beyond our strength that we despaired of life itself."
2 Corinthians 11:23-28 "Are they servants of Christ? I am a better one—I am talking like a madman—with far greater labors, far more imprisonments, with countless beatings, and often near death. 24 Five times I received at the hands of the Jews the forty lashes less one. 25 Three times I was beaten with rods. Once I was stoned. Three times I was shipwrecked; a night and a day I was adrift at sea; 26 on frequent journeys, in danger from rivers, danger from robbers, danger from my own people, danger from Gentiles, danger in the city, danger in the wilderness, danger at sea, danger from false brothers; 27 in toil and hardship, through many a sleepless night, in hunger and thirst, often without food, in cold and exposure. 28 And, apart from other things, there is the daily pressure on me of my anxiety for all the churches."
How is it that Paul just does not walk away, or quit, or simply to allow these things that have happened to get him down? Paul did suffer pain and separation and a depth of emotions that many of us will never know.  He knew what it felt like to be emotionally bankrupt, physically crippled – but instead of sinking into despair – he channeled it into the calling upon his life.
Paul also wrote, Romans 5:1-5 "Therefore, since we have been justified by faith, we have peace with God through our Lord Jesus Christ. 2 Through him we have also obtained access by faith into this grace in which we stand, and we rejoice in hope of the glory of God. 3 Not only that, but we rejoice in our sufferings, knowing that suffering produces endurance, 4 and endurance produces character, and character produces hope, . . .
Paul's suffering became hope. God does not waste suffering (even if you cause it ourselves); if he plows up the ground, he will plant a crop. View and use your pain in a redemptive way.  God is going to use the pain that we endure in one area of our lives, for His purposes in another area of our lives.  God used David's loss of his son, to make him a better king.
As a king, David is going to make one more big mistake, but he also has one big accomplishment that makes him a great king.  He takes all the pain and the knowledge of the mistakes he has made in his family and channels it into making sure that his son Solomon builds a temple like none the world had ever seen.  He set his son up for success.
Whenever we feel life is pulling us in two directions, there is a higher calling upon your life. Channel all the emotion into that calling.  For Paul it was being a church planter and apostle.  For David it was being king and father to other children. For you it may be your marriage, your children, or your church.
You Choose; Confront or Run Away? (vv. 5-8)
Then Joab came into the house to the king and said, "You have today covered with shame the faces of all your servants, who have this day saved your life and the lives of your sons and your daughters and the lives of your wives and your concubines, 6 because you love those who hate you and hate those who love you. For you have made it clear today that commanders and servants are nothing to you, for today I know that if Absalom were alive and all of us were dead today, then you would be pleased. 7 Now therefore arise, go out and speak kindly to your servants, for I swear by the LORD, if you do not go, not a man will stay with you this night, and this will be worse for you than all the evil that has come upon you from your youth until now." 8 Then the king arose and took his seat in the gate. And the people were all told, "Behold, the king is sitting in the gate." And all the people came before the king.
There is another person that needs to make a choice this day. Joab hears about David's actions and becomes enraged, and overlooks all proper regal protocol, marches right up to David begins a litany of complaints.[6]
David's emotions have caused him to pull away, and are damaging what he has poured his life into.  Joab, on the other hand, is allowing his emotions to fuel his boldness to appear before the king. His anger is channeled into making a wrong situation right.
Joab is placed in a position of needing to try and direct David's decision making.[7] This is the second time that Joab has come before David for the purpose of getting to change his behavior.  In chapter 14:1 Joab hired an actress to come in and tell a story of her two sons who had fought and one killed the other.
But now there is no time for deception or conspiracy – David's kingdom is hanging on by a thread.
Joab directly confronts David for his behavior.  He doesn't send a messenger, he doesn't convene with the other generals – he sees the damage and the condition of the troops and he immediately takes action.
He says: "you have humiliated all your men" – or the way that you are treating people is not right.  These men have fought for you and your family, and now you are treating them with great disrespect.  "You love those who hate you and hate those who love you."
It's one thing to rail against someone because you are mad at their behavior.  Remember that Joab is among the number of soldiers who had been insulted and humiliated that day.  But it is another to point out the wrong and give a potential course of action – Joab says, "go out and speak kindly to your servants."
 He points out not only what he was doing wrong, and a course of action but also what will happen, if he continues to follow this wrong behavior. "I swear by the LORD, if you do not go, not a man will stay with you this night, and this will be worse for you than all the evil that has come upon you from your youth until now."
 Joab points out that if David continues to live his life this way, then he will be all alone. Joab goes and tells David, 1) people who have saved his life, and his family's life were being rewarded with dishonor. If Absalom had been successful,
"success would inevitably have been followed by the massacre, not only of David himself, but of his sons and daughters, and of the women who had accompanied him in his fight. Nor would it have stopped there, but the officers of his courts, the captains of his army, his mighties, and all who had long cared for and loved him would have been put to the sword."[8]
2) David is showing hate toward the very people who love him, 3) commanders and soldiers are nothing to him, Joab included 4) if David could, he would bring Absalom back and sacrifice all of them – all of these comments are designed to get David to realize that he cannot bring Absalom back, yet he is surrounded by people who love him and want him to be king.[9]
In order to move into the future, you have to let go of the past.
 There was a time later in history, when God's people had been carried off into exile, then after many years God allowed them to return. Under Nehemiah the people rebuilt the city walls of Jerusalem, and then they set about rebuilding the temple. Ezra 3:11-13 "And all the people shouted with a great shout when they praised the LORD, because the foundation of the house of the LORD was laid. 12 But many of the priests and Levites and heads of fathers' houses, old men who had seen the first house, wept with a loud voice when they saw the foundation of this house being laid, though many shouted aloud for joy, 13 so that the people could not distinguish the sound of the joyful shout from the sound of the people's weeping, for the people shouted with a great shout, and the sound was heard far away."
It was the people's sin that led to the broken relationship with God, the destruction of the original temple, and their being carried off. After David's affair with Bathseba, and the murder of her husband Uriah, Nathan the prophet came to David and as the consequence of his sin, 2 Samuel 12: 10-11 ". . . Now therefore the sword shall never depart from your house, because you have despised me and have taken the wife of Uriah the Hittite to be your wife.' 11 Thus says the LORD, 'Behold, I will raise up evil against you out of your own house."
David knows he has played part in his son's rebellion and eventual death.
In order to move into the future, you have to let go of the past,
even if you played a part in the chaos. Repent and move on.
 (v. 8) "Then the king arose and took his seat in the gate. And the people were all told, "Behold, the king is sitting in the gate." And all the people came before the king" – It doesn't say he was smiling.  It doesn't say, he even said anything – he got up from mourning and weeping and took his seat as king.
 "David's return to the city gate indicated that he was again available to the people, interested in their needs and concerns. The gateway was where court sessions and public meetings took place. David's presence there was evidence that he had returned to public life and perhaps that he had taken note of the complaints about lack of access that Absalom had been able to exploit."[10]
The first step to begin channeling all the pain that is in our hearts is to take the steps necessary for change and allow the emotion to follow later.  This morning if you are in pain, or you may be depressed, or suffering in some way – you being here, you getting out of bed and coming to church is a huge first step. We have to do the actions that will become habits, and the emotion follows.
When you feel emotionally bankrupt, get up, take your seat, and do the actions (Bible study, come to church, small group, involved in ministry – and let the emotion follow). It is having a relationship with Jesus Christ that makes life worth living and it is living out our calling that gives us purpose.
 Gather, Grow, Give, & Go
"Dear Jesus, I know that I am a sinner and need your forgiveness.  I believe that You died for my sins.  I want to turn from my sins, I now invite You to come into my heart and life.  I want to trust and follow You as Lord and Savior."  In Jesus' Name.
______________________________
[1] R.A. Montgomery. Choose You Own Adventure, Journey Under the Sea (Waitsfield, Vermont; Chooseco), p. 1
[2] Ronald F. Youngblood, The Expositor's Bible Commentary, Volume 3 (Grand Rapids, Michigan; Zondervan Publishing, 1992) 1029.
[3] Walter Brueggemann, Interpretation, First and Second Samuel (Louisville, Kentucky; John Knox Press, 1990) 324.
[4] Ben F. Philbeck, Jr., The Broadman Bible Commentary, Volume 3 (Nashville, Tennessee; Broadman Press, 1970)130.
[5] Joyce G. Baldwin, Tyndale Old Testament Commentaries, 1&2 Samuel (Dowers Grove, Illinois; Inter-Varsity Press, 1988) 273.
[6] Nathan had approached David in 2 Samuel 12:1-15 because of his actions.
[7] Remember that in 2 Sam. 11, it is Joab that receives orders from David to put Uriah in the hardest of the fighting and then withdraw – thereby murdering him.
[8] R. Payne Smith & C. Chapman, The Pulpit Commentary, 1 Samuel (Grand Rapids, Michigan; Wm. B. Eerdmans Publishing Company, 1984) 465.
[9] Baldwin, 274. Also see, 2 Sam. 12:22-23.
[10] Mary J. Evans, New International Biblical Commentary, 1 & 2 Samuel (Peabody, Massachusetts; Henderson Publishing, 2000) 217.