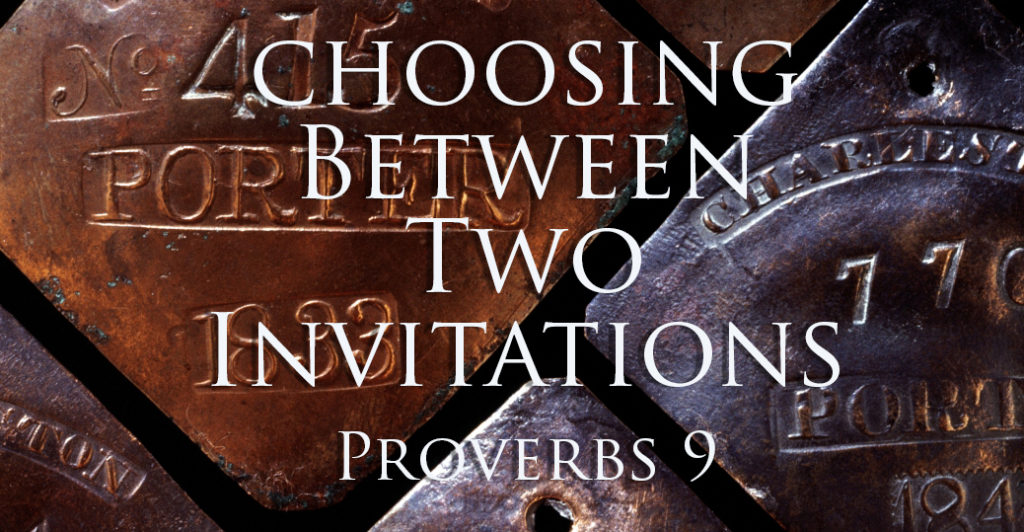 There's a story about a proud young man who came to Socrates asking for knowledge. He walked up to the muscular philosopher and said, "O great Socrates, I come to you for knowledge." Socrates recognized a pompous numbskull when he saw one. He led the young man through the streets, to the sea, and chest deep into water. Then he asked, "What do you want?"
"Knowledge, O wise Socrates," said the young man with a smile. Socrates put his strong hands on the man's shoulders and pushed him under. Thirty seconds later Socrates let him up. "What do you want?" he asked again. "Wisdom," the young man sputtered, "O great and wise Socrates."
Socrates crunched him under again. Thirty seconds passed, thirty-five. Forty. Socrates let him up. The man was gasping. "What do you want, young man?" Between heavy, heaving breaths the fellow wheezed, "Knowledge, O wise and wonderful…" Socrates jammed him under again Forty seconds passed. Fifty. "What do you want?" "Air!" the young man screeched. "I need air!" "When you want knowledge as you have just wanted air, then you will have knowledge."[1]
The young man was seeking an earthly wisdom from Socrates, but we as believers say we seek godly wisdom. But do we crave it like we would crave air if we were without for a few seconds? In Proverbs 9 Solomon's son is offered two choices. Like a person in the fork of a road, he is invited to go in two different directions. One takes him to safety the other will bring about his destruction.
Wisdom's Invitation (vv. 1-6)
"Wisdom has built her house; she has hewn her seven pillars. 2 She has slaughtered her beasts; she has mixed her wine; she has also set her table. 3 She has sent out her young women to call from the highest places in the town, 4 "Whoever is simple, let him turn in here!" To him who lacks sense she says, 5 "Come, eat of my bread and drink of the wine I have mixed. 6 Leave your simple ways, and live, and walk in the way of insight."
When it says that wisdom's house has seven pillars, it is showing the reader that the house is vast, large, open, and ready to receive many guests. The tables in this huge room are filled with food (beasts), and there is wine to drink. The mixed wine is a reference to watering down the wine. Jews considered undiluted wine distasteful. Passover wine was mixed with three parts water to one part wine. It may also reference the mixing of spices into the watered down wine for added flavor (Ps. 75:8).
Now it is time to gather the guests, so wisdom sends out her maids to gather them. They go to the highest points of the city and yell out where all can see them and hear them.
Luke 14:15-24 "When one of those who reclined at table with him heard these things, he said to him, "Blessed is everyone who will eat bread in the kingdom of God!" 16 But he said to him, "A man once gave a great banquet and invited many. 17 And at the time for the banquet he sent his servant to say to those who had been invited, 'Come, for everything is now ready.' 18 But they all alike began to make excuses. The first said to him, 'I have bought a field, and I must go out and see it. Please have me excused.' 19 And another said, 'I have bought five yoke of oxen, and I go to examine them. Please have me excused.' 20 And another said, 'I have married a wife, and therefore I cannot come.' 21 So the servant came and reported these things to his master. Then the master of the house became angry and said to his servant, 'Go out quickly to the streets and lanes of the city, and bring in the poor and crippled and blind and lame.' 22 And the servant said, 'Sir, what you commanded has been done, and still there is room.' 23 And the master said to the servant, 'Go out to the highways and hedges and compel people to come in, that my house may be filled. 24 For I tell you, none of those men who were invited shall taste my banquet."
It is Christ's desire that any who want to have a relationship with Him, can call upon His name and He will answer them. All are invited to come to His house.
This feast that wisdom presents is not for some special elite group of people, she says, "Whoever is simple..or lacks sense…it is for the person who has come to realization that they don't know everything and that they are not able to provide everything they need (joy, salvation, peace, meaning, purpose, freedom from sin, etc..)
So wisdom's invitation is for the person to enter into her home where there is plenty of room, and turn from foolish living. Once you are there you are rewarded or are able to enjoy food and drink – or you are satisfied.
In Isaiah God presents himself as something to be eaten or partaken of – Isaiah 55:1-2 "Come, everyone who thirsts, come to the waters; and he who has no money, come, buy and eat! Come, buy wine and milk without money and without price.2 Why do you spend your money for that which is not bread, and your labor for that which does not satisfy? Listen diligently to me, and eat what is good, and delight yourselves in rich food."
Then in the New Testament Jesus presents himself in a similar way:
John 6:51-65 "I am the living bread that came down from heaven. If anyone eats of this bread, he will live forever. And the bread that I will give for the life of the world is my flesh." 52 The Jews then disputed among themselves, saying, "How can this man give us his flesh to eat?" 53 So Jesus said to them, "Truly, truly, I say to you, unless you eat the flesh of the Son of Man and drink his blood, you have no life in you. 54 Whoever feeds on my flesh and drinks my blood has eternal life, and I will raise him up on the last day. 55 For my flesh is true food, and my blood is true drink. 56 Whoever feeds on my flesh and drinks my blood abides in me, and I in him."
So the call of Wisdom, as she calls on high, is to turn from a wayward path, and turn into her home. There the person will find drink, shelter, safety, contentment, food or provision, and ultimately life. We have life through our relationship with God, and apart from Him is the path of death. Jesus said, "I am the way, the truth, and the life, no man comes to the Father except through me." John 14:6
If the traveler as he stand out in the street hears wisdom's cry, and says, "I'll wait, let me think about it, and goes on his way – then he has made a decision to reject wisdom – you can't wait to make a decision to follow Jesus, either you accept Him or reject Him.
How Do We Choose? (vv. 7-12)
"7 Whoever corrects a scoffer gets himself abuse, and he who reproves a wicked man incurs injury. 8 Do not reprove a scoffer, or he will hate you; reprove a wise man, and he will love you.
9 Give instruction to a wise man, and he will be still wiser; teach a righteous man, and he will increase in learning. 10 The fear of the Lord is the beginning of wisdom, and the knowledge of the Holy One is insight. 11 For by me your days will be multiplied, and years will be added to your life. 12 If you are wise, you are wise for yourself; if you scoff, you alone will bear it."
So in vv. 7-12 we have two types of people described here – (1) one person if you correct them, or try to teach them, will turn on you and you will be abused. This person is described as a foolish person, a scoffer of the things of God, and they will end up hating you. All because you made a comment about their behavior on Facebook, or asked them about something in their life that concerned you.
(2) Then there is a wise person, who when you ask them about something that concerns you, or seek to correct a behavior in their life loves you because of it. The wise man will listen to what you said and learn. He will become wiser.
How teachable are you? Do you get defensive, or say "don't judge me" and cuss the person out, or are you open to what others say, and seek to learn from them? Wisdom's teaching is twofold (1) one is correction, and the other (2) is instruction on righteous living. We like the blessing, but not the pain of having others point out sinful behavior in our lives.
Verse 10 looks a lot like Proverbs chapter 1, and the ESV even translates them the same "the fear of the Lord is the beginning of wisdom." But the word here for beginning in Hebrew has been substituted, and it means "turning point." So the "fear of the Lord is the turning point of wisdom." It's when a person begins to fear the Lord that the person makes a turn in their life and begins to go a different way. They stop walking outside of wisdom's home, and turn to come inside to the banquet hall.
God is shown to us here as a God who desires to be known, and to have a relationship with us. It is through our relationship with Him, we discover that He is holy, and because of this it requires us to change many things about ourselves.
"Holy One" in v. 10 is plural in the Hebrew – so it becomes "knowledge of the Holy Ones" which a way of emphasizing the fullness of God's holiness. When we say "fear of the Lord is the turning point" of a person's life, it means that person fears God because they realize that they are rebellious, sinful, and wicked in the core of who they are and God is holy and completely different than us. If they stay that way, then they will be cast away from God and punished for their wickedness.
But Jesus has provided a way for us to be made right with God – He gave up his life, by dying on a cross so that mankind may have eternal life. He was punished instead of us; He took our place. If we receive Christ "as the bread of life" and accept the gift of forgiveness of sin that he offers, and repent or turn from our sins, then you will have eternal life – this is the beginning of wisdom, a turning point toward an abundant and meaningful life.
If we receive wisdom's invitation we are given the reward of multiplied days (or a longer life). An eternal life in fact.
Folly's Invitation (vv. 13-18)
"13 The woman Folly is loud; she is seductive and knows nothing. 14 She sits at the door of her house; she takes a seat on the highest places of the town, 15 calling to those who pass by, who are going straight on their way, 16 "Whoever is simple, let him turn in here!" And to him who lacks sense she says, 17 "Stolen water is sweet, and bread eaten in secret is pleasant." 18 But he does not know that the dead are there, that her guests are in the depths of Sheol."
So here we go again by this bad woman's house; but this time instead of calling her the adulteress as in Proverbs 6, now she is Folly. She has made no preparation, there is no mixed wine, or beasts prepared, there is no vast banquet hall – only the loud calling of a women who doesn't know very much.
She presents a proverb "Whoever is simple, let him turn in here!" And to him who lacks sense she says, 17 "Stolen water is sweet, and bread eaten in secret is pleasant." Instead of preparing a meal, she suggests that the traveler and she go and steal it and eat it in the shadows. But the offer is bread and water – instead of meat/beast and mixed wine. Those that lack wisdom don't know that life can be more than bread and water, and stealing, and immediate gratification.
There is no nourishment in bread and water and in the end it leads to death. If the boy goes into Folly's home he will discover that her guests are dead.
She is calling out to you when you pass by her house, especially to those who are "going straight on their way." Proverbs 4:25-27 "Let your eyes look directly forward, and your gaze be straight before you. 26 Ponder the path of your feet; then all your ways will be sure. 27 Do not swerve to the right or to the left; turn your foot away from evil."
When I first started driving, I was working on getting my learner's permit so it included several hours of being in the car under my dad's driving instruction. And when I first started driving I would weave back and forth, back and forth, between the yellow and white line. So my dad said, "Look straight ahead, or focus way down the road, or where you will end up – not on what is directly in front of the car." When a person looks way down the road, and not at an immediate circumstance, they are able to determine if this action, decision, course, etc. is the going to be best for them in the future.
So we have a father giving instructions to his son, but we don't know which woman's home he chose to enter – Wisdom or Folly's. If you read on through the rest of the book, at each verse you are given these options – listen to wisdom and live a skilled life, or ignore wisdom and go to the grave, life or death.
Also, to follow Wisdom, it requires the person to make a decision, to grow, to change a direction in their lives. Whereas Folly, doesn't really ask anything of the person. She only wants you to come along for the ride. Wisdom is a harder way of life, but it will lead to life.
"If you want to be free to sail the seven seas, you must make yourself a slave to the compass" or so an ancient sailor once said. All of life involves balancing our freedoms and our bondages. We can be free from the toothbrush and a slave to cavities. We cannot be free from the toothbrush and free from cavities. That kind of absolute freedom does not exist.
If we want the freedom of a good reputation, if we want the freedom of guilt-free living, if we want the freedom of emotional peace, if we want the freedom of moral authority, of a strong and happy family and physical health, we must make ourselves slaves to holiness and obeying God's commands.
We can choose the freedom of immorality if we want. But then we become slaves to all the consequences. Decide in advance what you want for the rest of your life. Then ask yourself if you are willing to pay the price. You have the freedom and a corresponding bondage. You can get a bondage and a corresponding freedom. Choose wisely.
Many people don't choose to follow Christ because they are so focused on what they have to give up. They want to be free to do whatever they want to do. But they don't realize that there is no true freedom, you are always a slave to something. So our choice is to be a slave to something that will give us eternal life and freedom from our sin.
Romans 6:16 "Do you not know that if you present yourselves to anyone as obedient slaves, you are slaves of the one whom you obey, either of sin, which leads to death, or of obedience, which leads to righteousness?"
Again, Jesus said, "I am the way, the truth, and the life, no one can come to the Father except by me." (John 14:6) – would you like to meet Him?
[1] M. Littleton in Moody Monthly, June, 1989, p. 29