Christ's Power Over Every Need
The Gospel of Mark Sermon Series
The Beginning of When the World Was Changed
Mark 1:1-13
Introduction
As we begin our study of the gospel of Mark we need to understand that each gospel is different yet united by telling the same story. They are like the southern accent. Many people think there are two southern accents (Redneck and Plantation) but I can assure you there are many varieties of southern speak. And just for your information, I know how to properly wear a pair of overalls, I do not let one side hang down, undone, and no I do not know how to play the banjo.
Matthew – has lots of facts, full stories, so this accents rolls around in the mouth like those in Tennessee. They are thinking about the words as they say them. They use the word y'all, and talk about football, and whose playing this weekend.
Luke-Acts – two large accounts of Jesus and the church beginning, is like southerners in Savannah or Montgomery. Full, large words, you take time to unpack the words, and they are spoken in the back of the throat. S-A-V-A-N-A-H – this is the Long Horn Leg Horn southern.
John – as the synoptic gospel is doing it's own thing. It's used to its own space. This is Alabama, their mouths are open wide, noses scrunch up, and they talk nasally. "What's Ya'll doing Friday night? We are going to mamas for lunch after church."
Mark – is like going to the bayou of Louisiana. People speak quickly, words are cut in half and combined with other words. You add in Cajun and French, When Mississippi people are talking you better hang out to figure out what's going on. "do like that there." "Living in uptown."
 Prayer
The Introduction of Jesus
The beginning of the gospel of Jesus Christ, the Son of God.
This is the beginning of the gospel of Jesus Christ, who is the Son of God. This is when it began to move from town to town, person to person, from the country roads of Galilee, to the city streets of Jerusalem. It made it's way to the poorest of the poor, and to the wealthiest and most powerful. It made it's way through generation, after generation and when I was nine years old, the gospel of Jesus Christ, the Son of God made it's way to my VBS classroom and took root in my heart.
"The gospel does not mean a book, or the message delivered by Jesus, but "the Christian proclamation of the divine message of salvation through Jesus Christ."[1]
We are told quickly that this account is about Jesus who was the Son of God, "later demonic forces acknowledged Him as "the Son of God" (3:11; 5:7) and at the cross the Roman centurion asserts, "Truly this man was the Son of God" (15:39)."[2]
 2 As it is written in Isaiah the prophet, "Behold, I send my messenger before your face, who will prepare your way, 3 the voice of one crying in the wilderness: 'Prepare the way of the Lord, make his paths straight,'"4 John appeared, baptizing in the wilderness and proclaiming a baptism of repentance for the forgiveness of sins. 5 And all the country of Judea and all Jerusalem were going out to him and were being baptized by him in the river Jordan, confessing their sins.[3] 6 Now John was clothed with camel's hair and wore a leather belt around his waist and ate locusts and wild honey.[4] 7 And he preached, saying, "After me comes he who is mightier than I, the strap of whose sandals I am not worthy to stoop down and untie. 8 I have baptized you with water, but he will baptize you with the Holy Spirit."
(v. 2) "As it is written in Isaiah the prophet" – more specifically it says, "just as it is written."[5] It was foretold that this would happen, and it did happen "just as it was written." This is an exact prophetic fulfillment. Mark begins his account by stating how Jesus fulfilled prophecy, even from "the beginning."
The quotation is from Isa. 40:3 verse 2b is from Exodus 23:30. The gospel is not something new that has suddenly appeared – it has long been anticipated since Genesis 3:15 ". . . he [Jesus] shall bruise your head, and you [Satan] shall bruise his heel." Since the beginning of time there was a promise that a Savior would come and save mankind from sin – this is the beginning of that great story.
"It had been at least three hundred years since a word had come from God."[6] It had been a long time since God gave Israel a "word from the Lord."
John is not crying out in the marketplace or cities, or temples – the Baptizer was "one crying in the wilderness" The desert region in which John started his ministry of baptism is sometimes in the Old Testament called Jeshimmon, which means "devastation." The people who had not heard from the Lord in generations, now as foretold John the Baptizer was yelling out in the wilderness, "the Savior of the world was coming," and he's coming to devastation. The world had been devastated by sin, and now God is going to make it right again.
So out in the wilderness there was a great movement of God, "all the country of Judea and all Jerusalem were going out to him" His cry was that someone was coming and we need to prepare ourselves for His arrival.
And his message was "Prepare the way of the Lord, make his paths straight, — God's Word applies to us today, so how does one today, prepare the way of the Lord, make his paths straight? It is what John the Baptist said then, yet we are still to take it and use it today.
We are given hints to the answer to this question in what follows in Mark's account – John's actions (baptizing for the forgiveness of sin; His dress (simple and humble camel hair and a leather belt), His diet (eating what is around him), His understanding of himself (there will come one who is greater than I) but ultimately all of these things point to John's message "repent of your sin."
"The preparation was to be made in their hearts. The way of the Lord is through the heart. They prepared "the way of the Lord" by preparing and making their hearts fit for receiving the Lord."[7]
There was a massive movement of God where "all the country of Judea, and all Jerusalem" (v. 4) "John appeared," (egneto Ioanes) The word used for appearing is not in reference to an event (en), but an epoch (egneto).[8] His appearing marked the beginning of something new, and God highlighted by moving in thousands of people's hearts and minds. "John is treating the Jewish nation as pagans who need to repent, to confess their sins, and to come back to the kingdom of God."[9]
"Jerusalem is at least twenty miles from the Jordan River and about four thousand feet above it. It was hard going down the rugged Judean hills to the Jordan and even harder coming back up."[10] Those going to see John were feeling the drawing of God to repent of their sin. "It is not remorse; not admitting mistakes; not saying in self-condemnation, "I have been a fool." This is more than saying, "I'm sorry for one's sins."
[Repentance] It is a moral and spiritual revolution."[11] It is a radical mindset change toward sin. It is "a change that will have, if genuine, its appropriate "fruits.""[12] (v. 3) "baptizing in the wilderness" – another word to define baptism is to be overwhelmed. John's baptism was a picture of a people overwhelmed by the guilt and weight of their sin.
The road is made straight in our lives, and the way is prepared (for the Savior) when we humble ourselves before God and say, "I am a sinner" and I hate the sin that is in my life – I want it gone. (v. 5) says that they were "confessing their sins." In this admission and understanding, you are not alone; Romans 3:23 "for all have sinned and fall short of the glory of God."
Our introduction of Jesus is that it begins with a recognition that we have a sin problem – the good news is that God has provided an answer. Many of John's disciples left John to become followers of Jesus because now that we have seen our sin for what it is, and we repent and seek righteousness – we can do nothing with our sin. We need a Savior.
Before we leave John, I want to highlight his words, "I am not worthy" – thousands of people were coming to see John and to be baptized by him. Anywhere he went, he would have been recognized. There was a mighty movement of God surrounding him. He was preaching constantly – yet, in the original language it says, "I am not suitable, a fit person – to do for him even this most menial service."[13]
This was his humble utterance of a comparison between him and the Savior before Him. None of us are suitable, none of us are fit to do anything for the Lord. Isaiah 64:6 "We have all become like one who is unclean, and all our righteous deeds are like a polluted garment." (like filthy rags).
(v. 8) John says, "I have baptized you with water, but he will baptize you with the Holy Spirit" – John's water baptism was a symbolic picture of people being overwhelmed with their sin and wanting to repent from it – so they show this inward heart's feeling by being overwhelmed in water. When we place our faith in Christ, we are overwhelmed by the presence of the Holy Spirit in our lives. He (Jesus) will overwhelm you by surrounding you, immersing you, with the Holy Spirit.
Before Jesus began his public ministry there were two events that took place first;
his baptism by John, and the temptation.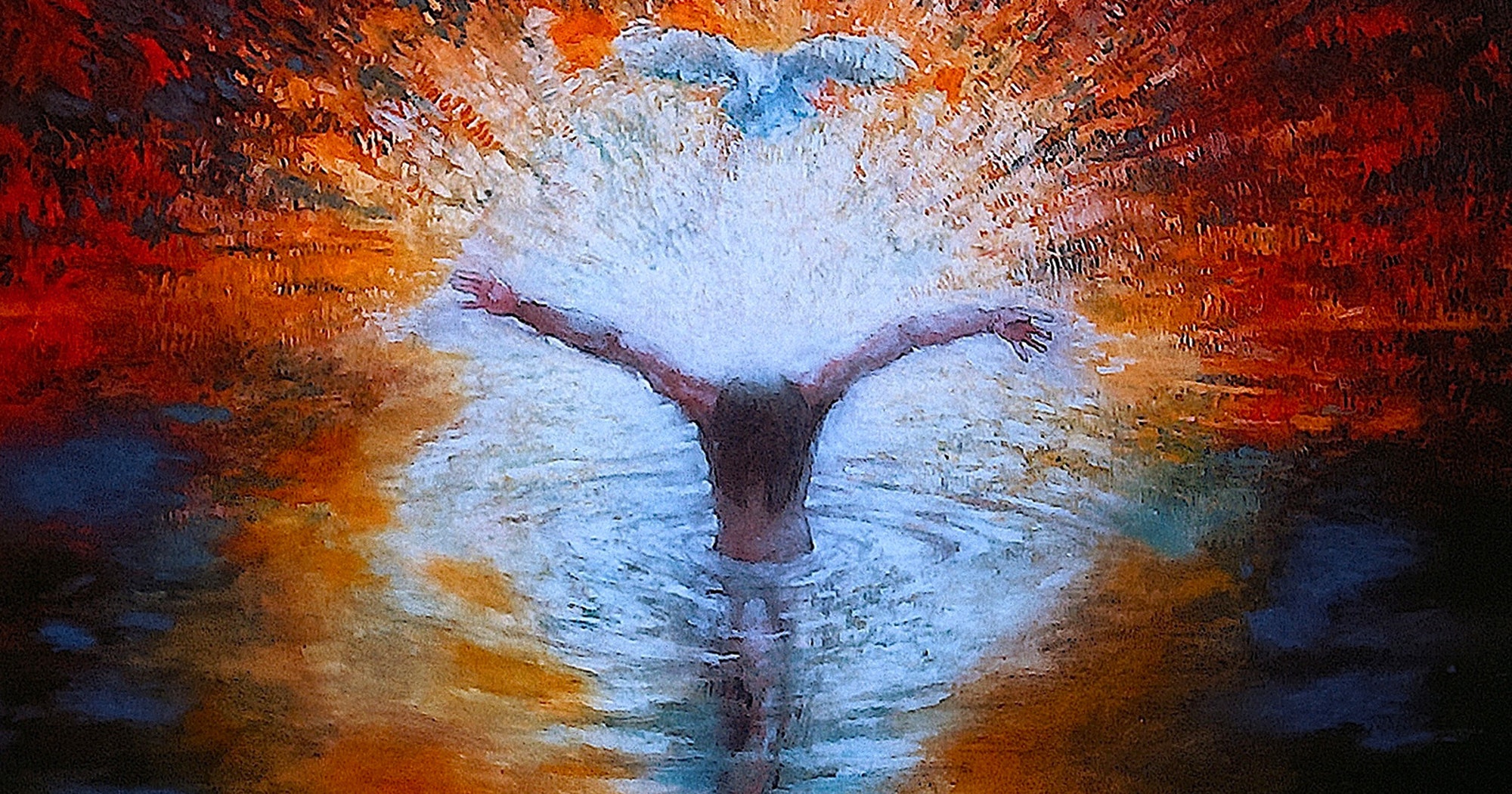 The Baptism of Jesus
9 In those days Jesus came from Nazareth of Galilee[14] and was baptized by John in the Jordan. 10 And when he came up out of the water, immediately he saw the heavens being torn open and the Spirit descending on him like a dove. 11 And a voice came from heaven, "You are my beloved Son; with you I am well pleased."
The first time we see Jesus in Mark's gospel is at His baptism. No shepherds, no wise men, no angels appearing to Mary and Joseph – our journey with Jesus begins with a voice from heaven. Mark was not written for "a people who would have little interest in the genealogy of Jesus, or anything but the work by which he had become precious to them. So while John begins from eternity, Matthew from Abraham, and Luke from the events that preceded the birth of the forerunner, Mark finds the forerunner already at work, and introduces Jesus at the time of his baptism."[15]
(v. 9) "9 In those days" – When the movement of God was in the wilderness, and people were being overwhelmed by their sin – "Jesus came from Nazareth" There was a calling, a direction by God, to put down his carpenter's apron and hammer, and go to where God was moving among the people. He was waiting for the right time – for the announcement.
Jesus "was baptized by John in the Jordan" – Jesus is being overwhelmed, not with a weight of sin, but with the calling to begin His ministry. He was officially beginning the Messianic work of being the Savior of the world. So that when John brought him up from the water – immediately "he saw the heavens being torn open."
"the Spirit descending on him like a dove" – At Jesus' baptism is the only place that the Holy Spirit is described to us to be "like a dove."[16] When Jesus begins his public ministry, He asks for a scroll of Isaiah to be brought to him, and he reads Luke 4:18 "The Spirit of the Lord is upon me."
 "And a voice came from heaven, "You are my beloved Son" – In verse 1 the reader is told that what we are reading is, "the gospel of Jesus Christ, the Son of God," and now here is a voice from heaven affirming that Jesus is the Son of God. Now the story that unfolds in the rest of the book, is not about a good moral teacher, or a historical narrative of a Jewish moral man – it is the story of how salvation was brought to humanity through the Son of God, Jesus Christ[17] (who is loved by God the Father).
The Temptation of Jesus
12 The Spirit immediately drove him out into the wilderness. 13 And he was in the wilderness forty days, being tempted by Satan. And he was with the wild animals, and the angels were ministering to him.
Now that the Spirit has descended upon Jesus, the first thing the Spirit does is to lead him toward the Temptation for forty days. But even though Mark's account is brief, it does give a detail that is not found in the other accounts, where it says "And he was with the wild animals."
Mark doesn't tell us any details about what happened between Jesus and Satan, whether the animals were against Jesus or for Him; and we don't know what the angels did in the wilderness to minister to Jesus. Only that Jesus and Satan were battling for forty days.
"For the first time since events in the Garden of Eden, Satan confronted a completely sinless person. However, whereas Adam was created a sinless being, Jesus was sinless by virtue of His being the very Son of God!"[18]
A. Ironside remarks, "It was fitting that he should be tested before He began His gracious ministry. His temptation was not to see if perchance he might fail and sin in the hour of stress, but rather to prove that He would not fail, because He was the absolutely sinless One."
______________________________
[1] George Arthur Buttrick, Commentary Editor, The Interpreter's Bible, Volume 7 (Nashville, Tennessee; Abingdon Press, 1980) 648.
[2] James McGowan, Twenty-First Century Biblical Commentary Series, The Gospel of Mark (Chattanooga, Tennessee; AMG Publishers, 2006) 10.
[3] "The outpouring of the Spirit was understood traditionally as an established characteristic of the messianic age (Isa. 44:3; Ezek. 36:25-27; Joel 2:28); however, John's use of the expression "Baptize you with the Holy Spirit" here, was both new and unique." McGowan, 11.
[4] See Also https://drewboswell.com/matthew-31-10/
[5] Buttrick, 649.
[6] Rodney L. Cooper, Holman New Testament Commentary, Mark (Nashville, Tennessee; Holman Reference, 2000) 7.
[7] C.E.W. Dorris, A Commentary on the Gospel According to Mark (Nashville, Tennessee; The Gospel Advocate, 1970) 17.
[8] Archibald Thomas Robertson, Word Pictures in the New Testament, Volume 1 (Nashville, Tennessee; Broadman Press, 1932) 253.
[9] Robertson, 254.
[10] Frank E. Gaebelein, The Expositor's Bible, Volume 8 (Grand Rapids, Michigan; Zondervan Publishing, 1984) 620.
[11] Buttrick, 649.
[12] Clarke, 16.
[13] Clarke, 18.
[14] "Jesus probably began his public ministry about A.D. 27, when he was approximately thirty years old." Gaebelein, 621.
[15] W. N. Clarke, An American Commentary on the New Testament, Mark and Luke (Valley Forge, Pennsylvania; Judson Press, 1950) 15.
[16] Clarke, 21.
[17] On two other occasions God spoke from heaven about Christ (Mark 9:7) – at the Transfiguration and during the last week at the temple (John 12:28). . . Jesus did not "become the Christ" at His baptism. He was already the Messiah, already God manifest in the flesh. This event dramatically inaugurated His public ministry." McGowan, 12.
[18] McGowan, 13.