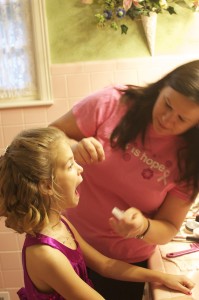 Last night was the Valdosta Father Daughter Dance hosted by First Presbyterian Church. Kimberly made the evening even more special by getting H-G's nails and hair done, along with matching boutonniere and corsage.  Friends from church met at Austin's steakhouse and had dinner together. From there we traveled to the local convention center where we met a 1,000 plus crowd. Girls were dressed in their favorite new dress and dads were sporting their ill fitting suits and coordinating ties. Nails were done, and hair was lifted high.  The majority of dads there didn't know what to do, so they stood in circles and watched their daughters dance in front of them. Some nervously punched on their iPhones. Some volunteered to get them something to drink every five minutes, and some found a space along the wall to sit.
There was one slow song for dad's to dance with their daughters, so the majority of the songs were fast, and the focus was fun not sappy sentimentality. On a trip to the bathroom we had to run back because Michael Jackson's "Thriller" was playing. H-G and I danced to many songs I had never heard of, much less know the dance moves (or the words). So I just pretended I knew what was going on, and H-G is not old enough yet to know the difference. Yes, we did the chicken dance and the Hokey Pokey (I think there is a book out there somewhere that mandates that these two songs be played  at dances.) Even at seven years of age, I am already beginning to try and put the brakes on her growing up — I was not crazy about the party dress, the make-up, the lip stick, the jewelry, and the big hair.
I was crushed this year at Christmas when all the Barbie stuff went back to the store for a refund. Barbie was so "last year." My little girl is now past Barbie (sigh). But as much as dad's resist and don't want their little girls to grow up, they will. It's like trying to hold back the tide. So, when opportunities arise, and God throws you a softball, you have to hit it out of the park.
_____________________
Here's Five Reasons to Have a Father Daughter Special Night;Â 
1. Daughters need to hear their fathers say, "You are beautiful." This dance provided an opportunity for H-G to dress up for me as her date, way before (and I mean way before) she dresses up for some young man. For years I get to tell her how wonderful and beautiful she is before anyone else does. She gets to hear the words of someone who truly loves her and speaks the truth to her, instead of the words from a school aged crush. When H-G had her hair done she didn't smile when it was being done, and she didn't smile the whole way home. When Kimberly asked her what was wrong, she said, "will daddy laugh at me?" Daughters need to hear that they are beautiful, and we get to tell them. When she got home from the hair stylist I said, "wow you are beautiful!" and the smile returned.
2. Daughters want to spend time with their dads (alone). Kimberly and I have four kids, and H-G had specifically asked me to spend some time together, "just us" she said. I got to talk to and spend some undivided time with H-G. But I recognize that this can not happen just one night a year — it has to be planned out and the time guarded closely. I will only get so many of these dances, vacations, walks, bike rides, etc. so I must treasure each one.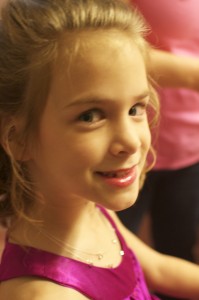 3. Daughters need to see their dads enjoying being with them. We had a lot of fun dancing and learning "moves" together. It is ok for dad to relax, dance, and have fun — and it means so much more to a child when they can tell you are having fun with them. We were both nervous at the dance because neither of us knew what to expect. And we both were able to relax as we had some fun, danced with each other, and laughed. One time during our dancing she was spinning and her heavily sprayed hair got caught on the buttons on the sleeve of my jacket. We both laughed as we worked to untangle it.
4. Dad's need to hear their daughter's say, "I love you dad." Nothing warms a man's heart more than when his beautiful little princess holds his hand and tells him that she loves him. This is what makes burly extreme fighter mountain men play tea party and talk in funny voices with stuffed animals.
5. Dad's need to have "a win" from time to time. Men by nature want to accomplish something, climb a mountain, run a marathon, or make a big sale. Last night was "a win" for many dads. Â There are so many times when we let our kids down, forget stuff, or have to punish them for undesirable behavior. So it's great to know that for one evening you did a great job at just being dad. We naturally doubt ourselves, how we are doing in our relationships with our kids, and especially our daughters — so last night was a great way to feel great as a dad knowing that we did the right thing and that our daughters know that we love them.
We ended our evening with a stop by the local ice cream store and we were home by 9pm. I am so blessed to have such a wonderful daughter and thankful for an opportunity to share a special evening with her.