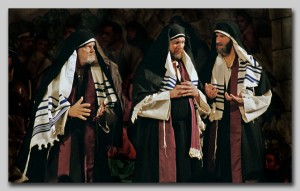 Fear makes us do some pretty incredible things. While fishing in a bay in Florida I was asked to jump overboard to push the boat off of a sandbar. I asked how deep the water was according to the depth gauge. The captain told me about four feet. However, when I jumped into the water I sunk far above my head and continued to sink for several seconds. I never touched the bottom before swimming to surface. I was so scared at the shock I grabbed to side of the boat and literally jumped out of the water into the boat. Later in the day I tried this when I was not being terrorized by Jaws flashbacks and was unable to even pull myself somewhat out of the water. Fear, when allowed to control our minds, can make us do some very bizarre things.
 John 12: 9-11  "When the large crowd of the Jews learned that Jesus was there, they came, not only on account of him but also to see Lazarus, whom he had raised from the dead. 10 So the chief priests made plans to put Lazarus to death as well, 11 because on account of him many of the Jews were going away and believing in Jesus."
Evidence the religious leaders had right in front of them:
 A Person Raised From the Dead
God's people, the Jews, were coming to see Jesus and the one who had been raised from the dead, Lazarus. It was a very large crowd. Lazarus had died of an illness and Jesus intentionally waited for him to die (John 11). He was dead for four days before Jesus came to his town and raised him form the dead. There was no doubt among the people and the religious leaders that Jesus had raised a man from the dead.  So in their brilliance, the religious leaders thought it was a good idea to kill Lazarus so all the talk about him being raised from the dead would go away.
Prophesy
In John 11:50-52 the High Priest (for that year) had prophesied that "Jesus would die for the nation, and not for the nation only but also to gather into one the children of God who are scattered." The high priest himself had a word from the Lord, and told the others leaders what he was told from the Lord. They were so focused on  holding on to their power and prestigious positions that they didn't listen when the Lord actually spoke to them.
Miracles
The religious leaders also recognized that Jesus had performed 'signs.' No one doubted that he was regularly doing miracles. Instead of recognizing the miracles for what they were (proof of Jesus being the Messiah), they wanted to kill Jesus so he would stop proving He was the Messiah.
__________________
From these things they determine in John 11:48 "If we let him go on like this, everyone will believe in him, and the Romans will come and take away (lose) both our place and our nation." What kept the religious leaders from seeing the true movement of God? They had the correct information – but they had interpreted it incorrectly.
 Why would those who are the religious experts miss the arrival of the Messiah?
Not only do they miss the advent of the Messiah, but they seek to kill him.  They say in John 11:50, "it is better for you that one man should die for the people, not that the whole nation should perish." They are right that Jesus would die, not only for their nation, but for all the nations (John 3:16). They were blind to see that their own sinful nature would bring it about. They had all the pieces of the puzzle, but when they put it together and looked at the picture, what they see is skewed by a sinful heart.  This is why so many people when they encounter the truth of the Bible, have even experienced miracles in their own lives, and have heard God speak to them seek to destroy that voice because their sinful hearts.
How do we keep this from happening to us?
1)Â Â Â Â Â Â Â Â Â Â Â  Fear of Loss of Influence
Crowds were following Him (Jesus) not them (Pharisees).  The religious leaders wanted to hold the place of "experts" and to be able to tell people how to live and control their behavior. Matthew 23:4 says, "They tie up heavy burdens, hard to bear, and lay them on people's shoulders, but they themselves are not willing to move them with their finger. 5 They do all their deeds to be seen by others. For they make their phylacteries broad and their fringes long, 6 and they love the place of honor at feasts and the best seats in the synagogues 7 and greetings in the marketplaces and being called rabbi by others."
When we leaders are more concerned about our name, reputation, plan, etc. than Christ getting the glory and praise, and all glory going to Him, then we are on our way to working against God and His plan instead of being apart of it.
John 3:30 shows the difference in how John the Baptist responds to Jesus' popularity where he says, "He must increase, but I must decrease."  These men fear fading into obscurity where others will stop looking to them for knowledge and forget who them.  We must trust God with our recognition, and point all men to Him who is worthy of recognition and praise. What if God desires to use someone else instead of us? Are we willing to step aside and let someone else do our jobs if the Lord will it?
2)Â Â Â Â Â Â Â Â Â Â Â  Fear of Loss of Power
The Pharisees also feared the Romans would take away their positions, and eventually the nation. God is in control, not the Romans. When we seek to control our world instead of trusting the Lord, we begin to look to the temporal authorities as having ultimate control over our lives.
They also feared they would lose the plan they had for the people. How many times have religious leaders developed a plan, sought help from local magistrates, and then get frustrated when God shows up in power and leaves their plan dismantled? Instead of being part of the movement of God, they were actually working against it.
When we don't understand who truly has the power we fear the apparent influence men have over us and we place our plan for others over what God has planned. We also misinterpret the signs God gives to all and instead interpret them through self-serving eyes.
Proverbs 29:25 "The fear of man lays a snare, but whoever trusts in the Lord is safe."