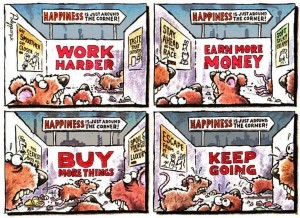 1 Timothy 6:6-10
 ". . . imagining that godliness is a means of gain.

 6 But godliness with contentment is great gain, 7 for we brought nothing into the world, and we cannot take anything out of the world. 8 But if we have food and clothing, with these we will be content. 9 But those who desire to be rich fall into temptation, into a snare, into many senseless and harmful desires that plunge people into ruin and destruction. 10 For the love of money is a root of all kinds of evils. It is through this craving that some have wandered away from the faith and pierced themselves with many pangs."
This is a transition from Paul's discussion of false teachers and teachers desiring to preach the gospel for the express desire to become rich. In response to those trying to make the gospel merchandisable Paul says, "godliness with contentment is great gain."
First, what does the author mean by "godliness?" For our discussion, I interpret godliness to mean one's relationship with Christ, through faith, and what He has done upon the cross. The contentment that we find through this relationship is where one finds meaning and happiness in that relationship. It is a sufficiency that comes completely from Him, as we trust in Him.
If one can learn to be content in their relationship with Christ then the lure and bright lights of this world will fade. There is a refrain in the old gospel hymn "Turn Your Eyes,"
"Turn your eyes upon Jesus,
Look full in His wonderful face,


And the things of earth will grow strangely dim,


In the light of His glory and grace."
Paul then references eternity. Contentment in Christ will keep one focused on what is truly important in this world. For you can't take the car, the home, the clothes, the awards, diplomas, or anything else we have in this world with you into eternity (Job 1:21).
Paul says to be content with food and clothing. Why does he mention these items? And not shelter, security, family, etc.? Why food? Why clothing? Each time we sit down to eat or put on our clothes we know that these things will not last. Hours later we will crave something else to eat, and eventually our clothes will wear out, fade, unravel, or stain and we will need more.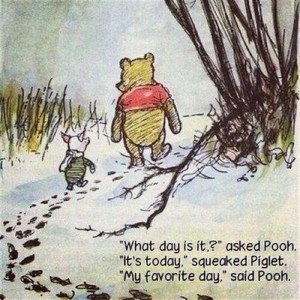 Paul is saying that if we have food for the moment and clothes for the moment then be content in that moment. Don't worry about lunch as you are putting the fork in your mouth at breakfast. Trust him now. Contentment is being satisfied with what you have at the moment and not having anxiety about the future.
Matthew 6:26 "Look at the birds of the air: they neither sow nor reap nor gather into barns, and yet your heavenly Father feeds them. Are you not of more value than they? (ESV)" 
But the real question is "are we content with the provision that the Lord has given to us?" Are we thankful for the grace of the Lord and His hand upon our lives? There are consequences for those that continue to stretch out from under His hand. The love of money is described as a snare and a temptation. He even has one metaphor lead to another.
 Temptation – Snare – Harmful Desires – Ruin & Destruction
The progression is one from freedom to slavery. You have a choice to give in or walk away from a temptation (Hebrews 2:18). Then if you walk into the temptation then you are snared. With a snare the more you move the tighter it becomes. Once you are tight in the snare and have given up on resisting your desires change. Then when you have become trapped in these desires you are ruined, you are destroyed.
The Greek word used for "love-of-money (specifically love-of-silver)" is "philarguria." It's root is "phila" like Philadelphia, "the city of brotherly love." Wikipedia describes it as,
"Philia (φιλία philía) is "mental" love. It means affectionate regard or friendship in both ancient and modern Greek. This type of love has give and take. It is a dispassionate virtuous love, a concept developed by Aristotle. In his best-known work on ethics, Nicomachean Ethics, philia is expressed variously as loyalty to friends, family, and community, and requires virtue, equality, and familiarity. Furthermore, in the same text philos denotes a general type of love, used for love between family, between friends, a desire or enjoyment of an activity, as well as between lovers.[1]"
It's interesting that Paul uses the "root" as a metaphor for this love of silver. Those that seek after it see it as something that sustains them and gives them nourishment. If a person loves money and sees it as the source of happiness and fulfillment then they will do "all kinds of evil" to get it. It doesn't last so they must continue to seek after it, continuing to do even more evil in pursuit of it. We are encouraged to have this kind of love and pursuit after Christ — so the lie is that we give something else this adoration.
The true evil of lacking contentment in our relationship with Christ and desiring the things of this world above Him, is that we lose the freedom to pursue God's calling upon our lives. We lose His voice and direction upon our day-to-day lives. This is one of the greatest strategies of the evil one.
If Satan has lost someone to Christ (eternity), then he will seek to make him ineffective for Christ's kingdom (here and now). Satan will encourage him to seek after smoke, fool him into believing it will last forever, and convince him into taking time to store it in bottles. While he is chasing smoke a world dies around him.
Paul also describes this behavior as a "craving" or "to stretch toward" as if reaching for a fruit on a branch just out of reach. The love of money has one always reaching, stretching, and craving something that will not last.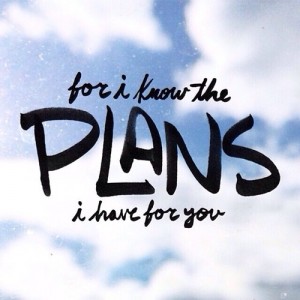 The stretching and craving after money leads one away from their God given calling and purpose and "pierced themselves with many pangs." Another way to say this is to be "pushed on all sides to pain" The world seems to be falling in on them to the point of pain. They feel as they are starving to death, the pangs of hunger. Instead of having peace and contentment in Christ, they are always anxious and in pursuit of something that fades.
The folly of having love for money (above one's love for the Lord) is that it changes our perception. We don't see money as a tool instead it becomes our source of happiness. We walk away from our God given purpose, and we believe that our purpose is to be rich (or to have just a little more than we have right now). We see the world as permanent, and believe that eternity will never come (even though we would never admit that at church). Even if death knocks at our door, we can take our wealth earned on earth to heaven.
But those that see the truth have been so focused on Christ they have been seen by others as being poor. Their lives were not spent in seeking after riches but instead were steady predictable servants for Christ. If they do stand out in the crowd for their dress or meal it was because of its' apparent poverty. What the world didn't realize that their wealth was stored up in heaven, their purpose firmly understood, and their paths straight.
What the world sees as gain, Christians see as loss. What the people of God see as gain to the world it appears as loss.
_________________________
Francis Chan is one "celebrity" pastors who seems to have taken this idea to heart. Click here to read an article about how he has put his into action.
[1] http://en.wikipedia.org/wiki/Greek_words_for_love