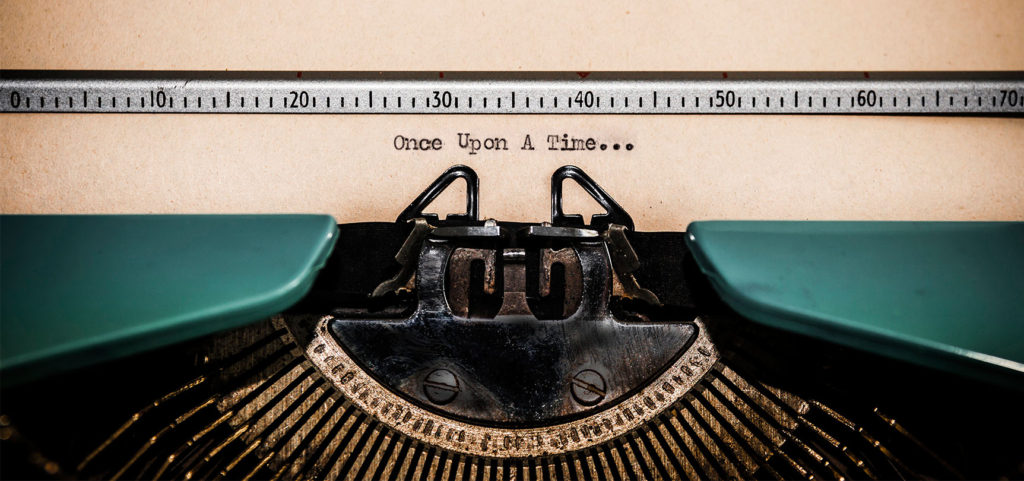 Mankind loves a good story. When it is told in an engaging way it allows the hearers to let go of reality and believe what they know is a deception. They cry for characters when they experience tragedy or lost love, and rejoice for them when the character experiences the happy ever after. They allow themselves to go on a journey, a roller-coaster-ride of emotions, all while knowing what they are hearing and seeing if false, fictional, or took place in a far away place or distant time.
Good story telling causes us to feel and enter into a mindset of believing the false, what Tolkien calls "secondary belief."[1] All good stories have the same main parts: love found, love lost, and then love found again; good overcoming evil; the journey of a hero who overcomes impossible odds; defeating aging and time travel, fixing our past mistakes, etc. So even in a time of science and with all the advancements we have made as a species – we still want and crave certain things from this life. We still are searching for happiness, completion, and purpose.
Mankind wants to stop growing old and overcome death, to find true love, to know and be known, to overcome their past, to be noble, etc. We seek them in our stories and entertainment. Great books, movies, art, or theatre engage us in this journey as our hearts desire to touch upon these common themes. This desire to be caught up into these stories and to be carried along for a time is so prevalent that a whole cottage industry of making costumes and going to conventions dressed as characters has developed and is incredibly popular.[2]
We love stories and our hearts desire to enter into a world where we can find the answers to what we long for. Tim Keller shows in a talk he gave at Belhaven that "all human beings underneath feel there should not be death, that we are not meant to die, we shouldn't lose our loved ones, good should be triumphing over evil, there ought to be a supernatural world, we should not be stuck in time and then we are dead. . ."[3]
Keller goes on to discuss how Tolkien said that people have been told and experience reality (there is death, good does lose to evil, etc.) but our hearts know that these things are true in "reality", but it is in a fantasy story that mankind can know a truer reality of the ways things can be.
This is why the gospels hinge on the resurrection of Christ. Our hearts experience a reality of death, hate, despair, heartache, separation, loss, etc. Our spirits search to fill a longing and we escape into stories. We are caught in "Life as it is, and life as it ought to be." Jesus breaks into our broken lives from another reality – and shows that there is another reality and "other place" and does it through miracles, and explanation, and culminating in the resurrection. Jesus enters our reality from somewhere else and He then leaves to go back to that the other reality but leaves a promise to return.
The wonder of the gospel is that it takes all the parts of the ideal (good overcoming evil, victory over death, fixing all past mistakes, truly being known, peace, finding true love, etc.) and brings them to our broken reality. It is no longer a fairy tale or myth to be able to experience these things. They can be found in Jesus Christ, even while living in our reality. Writers and artists have been pointing to Jesus since creation – they wanted to show that another way is possible they just didn't know how. They believed that there should be another reality than what they experienced, so they weaved their stories. We have the greatest story ever told in the person of Jesus Christ – and it is not a fairy tale or myth, this "other reality" is true.
Jesus and His resurrection make those things we thought were real to be false, and shows that what was thought to be unreal and impossible to be real and possible. Yes there is evil but it has been defeated. Yes, there is death but it has been overcome. Yes, you have past mistakes, but they can be forgotten. Yes you have loss, but it can be restored. Yes you feel all alone, but there is a Creator who knows you with an infinite knowledge and loves you with an unimaginable devotion.
_______________________
Below is a wonderful video of Tim Keller and his discussion of this topic. The first 3/4 of the video discusses an apologetic of the Bible.

_______________________
[1] "Not all authors believe that suspension of the disbelief adequately characterizes the audience's relationship to imaginative works of art. J. R. R. Tolkien challenges this concept in his essay "On Fairy-Stories", choosing instead the paradigm of secondary belief based on inner consistency of reality. Tolkien says that, in order for the narrative to work, the reader must believe that what he reads is true within the secondary reality of the fictional world. By focusing on creating an internally consistent fictional world, the author makes secondary belief possible. Tolkien argues that suspension of disbelief is only necessary when the work has failed to create secondary belief. From that point the spell is broken, and the reader ceases to be immersed in the story and must make a conscious effort to suspend disbelief or else give up on it entirely."
https://en.wikipedia.org/wiki/Suspension_of_disbelief
[2] http://tampabaycomiccon.com/about-us/
[3] https://www.youtube.com/watch?v=1o6nxKhbbF8 30:00/39:04