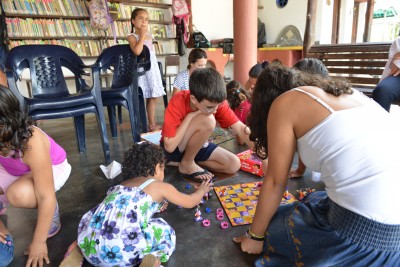 "I didn't even want to come to Venezuela," was how my six-year-old started a conversation after breakfast.  It was the third day of our mission trip to serve in a girl's orphanage. His mother and I had already established a "no electronics" day, and were encouraging him to make friends with the girls in the home. After a stern conversation with him and his deteriorating attitude, he went on the say, "I want my red Angry Bird!" plush toy that he had left at home.  He was tired from an exhausting travel schedule, and was hungry from not eating the native Venezuela cuisine. He was experiencing some serious culture shock on his first missions trip.
_________________________
Before we left for the trip, Joshua and Caleb, our sons who were about to turn eleven, were complaining because they would not be able to have a traditional birthday party with cake, their friends, and especially presents. The birthday would fall on the second day of our arrival, and there was no real way to have a party before or after we returned. It seemed (to them) that they would not be having a party this year. Because of this assumption, the boy's attitude was bad.
_________________________
On top of the financial concern of how the Boswell family would be able to afford to send our entire family to Venezuela, was the potential dangerous political climate. The previous year's family trip was cancelled because it was simply too dangerous. This year's trip was in great jeopardy because of the death of the president and an election that displeased many.
_________________________
So why would parents desire to potentially financially sacrifice, put themselves in a potential dangerous situation, potentially not have a birthday party for their children, and submerge them in a foreign culture? To say, "because we felt led by the Lord to do so," seems contrite but when several people stated, "Why are you doing this? Are you crazy?" I really needed to know from the Lord that for me to take my family really was directed from the Lord. If something were to happen, then I would have to know that the Lord was directing us to do this. After a year delay because of the political condition of the country, I had over a year to pray and know for sure that He was directing us to take our family on a mission trip.
_________________________
Why Send Children On A Mission Trip? 
1)Â Â  To expose them to a completely different culture.
2)Â Â  To expose them to missions with the prayer that they may love missions and desire to serve the Lord at an earlier age.
3)   So they see a world without Christ – there is an entire lost world beyond their own county seat.
4)   To see how Christians worship and serve the Lord in other parts of the world – how "we" worship, minister, etc. is not the only way to do it in a way that pleases the world. For example, did you know that you don't need a hymnal to sing praises to the Lord?
5)Â Â  So children (actually) see their parents submerged in a different cultural environment where they struggle with language, directions, and seeking to minister where they are stretched.
6) Â  To see how foreign people feel when they come to the United Stated. They can feel empathy toward those that may not speak the language, know their way around, be aware of cultural nuance, etc.
7) Children make friendship much easier than adults, and their hearts will be broken for these new friends. The night we were packing to head back to the USA Hannah-Grace cried for hours, even cried herself to sleep because we had to leave her new friends behind. She would have never had these emotions for other children around the world if she had not spent a week with them playing and having fun together.
_________________________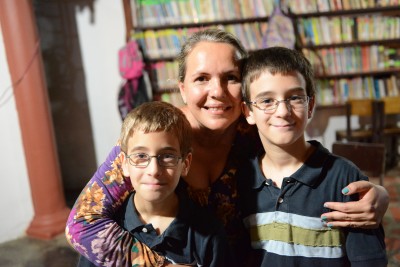 I used the word "potentially" a lot above because the political climate calmed down, and now as I sit in our host's home, there is nothing going on that has caused me to feel uncomfortable in any way. The Lord has worked out through fund raising and other means that we were not financially hindered as a family. Patricia, our host, threw a party for Joshua and Caleb were they both said, "this is the best birthday ever!" complete with cake and ice cream. Today we hiked to a waterfall where we swam and had a wonderful time. All of my children are making friends with the girls in the home, and with the other family that we are traveling with.
Sometimes, as parents, we make our children go down a life path because we feel it is best for them. We pushed our children into this experience and as the week is drawing to a close I can see already many positive changes in my children. To God be the glory.
Here is Kimberly's Facebook entry when we got back,"Almost exactly 1 week later, our family has returned home from our mission trip to Venezuela. As she climbed into her bed Hannah-Grace said, 'Mom, I feel different.' I said, 'you are, YOU were a missionary this week to the girls at the home.' She said, 'I was? Cool.'. Mission accomplished"
For pictures of our adventure in Venezuela click here.