"Wilderness" The Life of Joseph
Sermon Series
Genesis 48
"The Father Who Blesses" 
Introduction
Seventeen years has passed since Jacob and Joseph's brothers have settled in Goshen, Egypt. Joseph has returned to his duties as "second only to pharaoh," but has left word to send for him if his father's health changes. It was custom among the Hebrew people that before death, the patriarch would give a blessing to his children.
In Hebrews 11, what is often called the Faith Hall of Fame, the great leaders of God's people are remembered, and they are introduced with the phrase, "by faith . . ." Hebrews 11:21 "By faith Jacob, when dying, blessed each of the sons of Joseph, bowing in worship over the head of his staff." What is it, that makes the blessing of Joseph's sons an act of faith? "Jacob, being near to death, knew that he could not see the promise fulfilled. In faith he saw that Ephraim and Manasseh would not remain in Egypt but, departing with the Israelites, would be the founders of two tribes in Canaan."[1] God's people were about to enter into 400 years of slavery; Jacob gives them a true vision for a positive future. The tribes would return, Canaan would be a land promised to the tribes.
Prayer
Remembering the Promise of God (vv. 1-7).
After this, Joseph was told, "Behold, your father is ill." So he took with him his two sons, Manasseh and Ephraim. 2 And it was told to Jacob, "Your son Joseph has come to you." Then Israel summoned his strength and sat up in bed. 3 And Jacob said to Joseph,
"God Almighty appeared to me at Luz in the land of Canaan and blessed me, 4 and said to me, 'Behold, I will make you fruitful and multiply you, and I will make of you a company of peoples and will give this land to your offspring after you for an everlasting possession.'
5 And now your two sons, who were born to you in the land of Egypt before I came to you in Egypt, are mine; Ephraim and Manasseh shall be mine, as Reuben and Simeon are. 6 And the children that you fathered after them shall be yours. They shall be called by the name of their brothers in their inheritance. 7 As for me, when I came from Paddan, to my sorrow Rachel died in the land of Canaan on the way, when there was still some distance to go to Ephrath, and I buried her there on the way to Ephrath (that is, Bethlehem)."
"As in the earlier patriarchal narratives, the blessing of the father is passed along to the next generation . . . The blessing was a gift bestowed to those who could not claim it as a right."[2] It's the gift of a future. "The blessing" is one generation passing on a positive future to the next generation.
Jacob's remarks to his son and grandsons, as part of the blessing that is to come, begins with saying, "God Almighty," The blessing upon your children for generations to come is the story of how God has worked in your life. "He wished his sons to have, as their last memory of him, the scene in which he gave God all the credit, all the glory. This would enable them to stand firm in the days of slavery and the furnace of judgment."[3]
(v. 3) Jacob recounts the event of when God appeared to Him earlier in his life, "God Almighty appeared to me at Luz in the land of Canaan and blessed me, 4 and said to me, 'Behold, I will make you fruitful and multiply you," God had made him a promise, and now Jacob is showing how God has now brought that promise to be. Just as Joseph's dream came true, God in Jacob's life will ultimately bring about all that he has promised. The blessing is a promise that will be fulfilled.
In his entire life there are two events that he brings up at this time of blessing – these would be what he wanted them to remember and know about him – 1) his vision at Bethel where God blessed him, and 2) the death of his beloved Rachel. These were the two things that made him what he was; the two influences that shaped his entire life (his relationship with God, and his wife).[4] When it's time to die, these two stand out – faith and love.
(v. 5) Jacob says, "Ephraim and Manasseh shall be mine." – Joseph's sons are taken into Jacob's family and treated as his own. They, along with the other brothers, would inherit the promise of Abraham. Later, Ephraim and Manasseh would become very important tribes of Israel.
What is the promise of Abraham? Genesis 15:5-6 "And he brought him outside and said, "Look toward heaven, and number the stars, if you are able to number them." Then he said to him, "So shall your offspring be." 6 And he believed the LORD, and he counted it to him as righteousness.
Genesis 17:7 "And I will establish my covenant between me and you and your offspring after you throughout their generations for an everlasting covenant, to be God to you and to your offspring after you."
Galatians 3:29 "And if you are Christ's, then you are Abraham's offspring, heirs according to promise." Abraham is linked to Isaac, who is linked to Jacob, who is linked to Joseph, etc… and those who by faith believe in Jesus Christ will inherit eternal life – they will receive the promise of eternal life.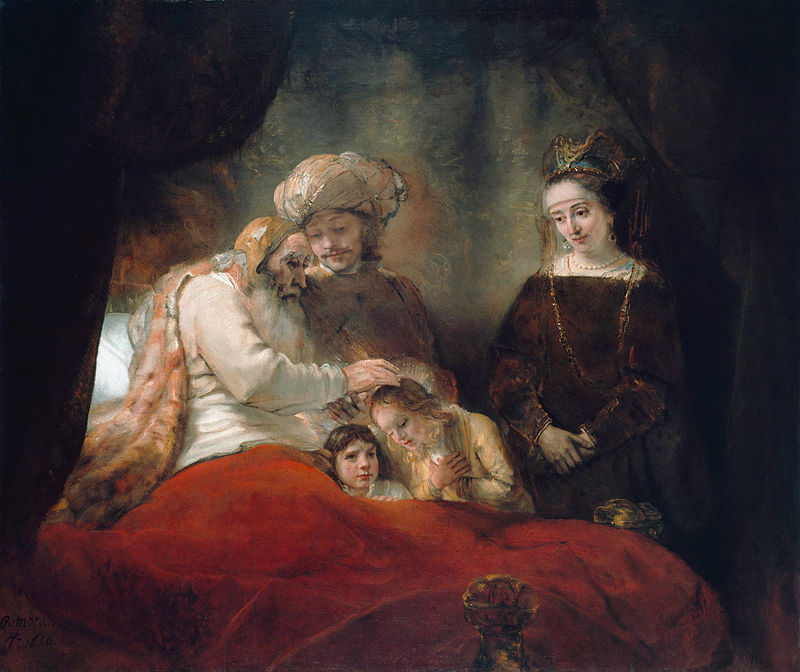 Characteristics of A Blessing (vv. 8-22)
The Blessing of Physical Touch and Affection (vv. 8-14)
8 When Israel saw Joseph's sons, he said, "Who are these?" 9 Joseph said to his father, "They are my sons, whom God has given me here." And he said, "Bring them to me, please, that I may bless them." 10 Now the eyes of Israel were dim with age, so that he could not see. So Joseph brought them near him, and he kissed them and embraced them. 11 And Israel said to Joseph, "I never expected to see your face; and behold, God has let me see your offspring also." 12 Then Joseph removed them from his knees, and he bowed himself with his face to the earth. 13 And Joseph took them both, Ephraim in his right hand toward Israel's left hand, and Manasseh in his left hand toward Israel's right hand, and brought them near him. 14 And Israel stretched out his right hand and laid it on the head of Ephraim, who was the younger, and his left hand on the head of Manasseh, crossing his hands (for Manasseh was the firstborn).
Jacob is 147 years old and his eye sight is gone, so Joseph brings his two sons close. Then Jacob kissed them, embraced them, then he placed his hands on their heads. All of this involves physical tough.
"In 1989 Romanian dictator Nicolae Ceauşescu was overthrown, and the world discovered that 170,000 children were being raised in Romania's impoverished institutions. As the children's plight became public, Fox, Nelson and Zeanah realized they had a unique opportunity to study the effects of early institutionalization.
The trio launched their project in 2000 and began by assessing 136 children who had been living in Bucharest's institutions from birth. Then they randomly assigned half of the children to move into Romanian foster families, whom the researchers recruited and assisted financially. The other half remained in care as usual. The children ranged in age from 6 months to nearly 3 years, with an average age of 22 months.[5]
Over the subsequent months and years, the researchers returned to assess the development of the children in both settings. They also evaluated a control group of local children who had never lived in an institution."[6] While Jacob's embrace and kiss were ceremonial, they are a profound example to those wanting to bless the lives of those they love – physical touch and affection actually affects the person to the very wiring of their brain.
The Blessing of the Words of a Faithful Father
15 And he blessed Joseph and said, "The God before whom my fathers Abraham and Isaac walked, the God who has been my shepherd all my life long to this day,[7] 16 the angel who has redeemed me from all evil, bless the boys; and in them let my name be carried on, and the name of my fathers Abraham and Isaac; and let them grow into a multitude in the midst of the earth."
Jacob blesses Joseph his son, by in turn blessing his sons. The two sons who are being blessed are linked to the previous generations of men who walked with God in faith, "Abraham and Isaac (and now Jacob and Joseph)."
"let my name be carried on," – Jacob identifies Joseph's two sons as his own. They would receive the same inheritance Joseph and his brothers. He is saying, "you belong to me; you are one of us." The boys never knew Canaan, they lived their entire lives in the palace in Egypt.
Genesis 43:17 "They served him (Joseph) by himself, and them by themselves, and the Egyptians who ate with him by themselves, because the Egyptians could not eat with the Hebrews, for that is an abomination to the Egyptians."[8] Genesis 46:33 "When Pharaoh calls you and says, 'What is your occupation?' 34 you shall say, 'Your servants have been keepers of livestock from our youth even until now, both we and our fathers,' in order that you may dwell in the land of Goshen, for every shepherd is an abomination to the Egyptians." There are two cultures clashing here – one of faith, and one of the world; Jacob as grandfather is saying to his grandsons, "We are the people of the one true God, and you are one of us."
"let them grow into a multitude . . ." Words of affirmation are powerful. "The Pygmalion effect describes situations where someone's high expectations improves our behavior and therefore our performance in a given area. It suggests that we do better when more is expected of us."[9]
https://www.youtube.com/watch?v=hTghEXKNj7g&t=201s "The kids were smarter when they were expected to be smarter by their teachers." (1:48 to 3:28)
Bruce Wilkerson in his book, The Seven Laws of a Learner gives a helpful template that someone wishing to speak positive words to a young person can use. He uses this formula in the context of helping a child grow in an area you want them to blossom in:
Examine the person you want to blossom – watch for opportunities to speak to them about a behavior you wish to continue.
Expose what the person did. "You just did _________." You describe what you saw them do. (past)
Describe your Emotion about what the person did. "That makes me feel __________." You tell them how you feel about what they did. (present)
Tell the person what you Expect of him in the future. "I believe you are becoming _________." (future) "The real issue isn't sharing your dream but finding his dreams!"
Endear yourself to the person through appropriate touch.[10]
The Blessing is Not Based on Birth Order (vv. 17-20)
17 When Joseph saw that his father laid his right hand on the head of Ephraim, it displeased him, and he took his father's hand to move it from Ephraim's head to Manasseh's head. 18 And Joseph said to his father, "Not this way, my father; since this one is the firstborn, put your right hand on his head." 19 But his father refused and said, "I know, my son, I know. He also shall become a people, and he also shall be great. Nevertheless, his younger brother shall be greater than he, and his offspring shall become a multitude of nations." 20 So he blessed them that day, saying, "By you Israel will pronounce blessings, saying, 'God make you as Ephraim and as Manasseh.'" Thus he put Ephraim before Manasseh.
 "Cain was older than Abel, but Abel's sacrifice was preferred. Ismael was Abraham's first-born son, but the voice of God said to Abraham, "through Isaac shall your offspring be named (21:12)." Esau was older of Isaac's twin sons, but Jacob, not to Esau, was the promise given. In every instance, as men looked back, it appeared to them that the unseen Hand had been at work."[11]
"Over and over in these narratives, the answer to the question "who receives the blessing," has been the same. Receiving the blessing that God offers does not rest on one's natural status in the world. On the contrary, the blessing is based solely on God's grace."[12] Who receives the blessing, is not the person who is supposed to receive it, according to the world.
 The Blessing Involved Remembering God's Presence (vv. 21-22)
21 Then Israel said to Joseph, "Behold, I am about to die, but God will be with you and will bring you again to the land of your fathers. 22 Moreover, I have given to you rather than to your brothers one mountain slope that I took from the hand of the Amorites with my sword and with my bow."
"In Genesis 28, after Jacob had been forced to leave home because of Esau, God appeared to him at Bethel and said, "I am with you" (v. 15). In chapter 31, where God appeared to Jacob to send him back to his own land from Haran, God said, "I will be with you (v. 3)" Two verses later, where Jacob is reflecting back over his experiences of God's blessing at Haran, he says, "God . . . has been with me (v. 5)." He says the same thing in chapter 35: "God . . . has been with me wherever I have gone" (v.3)."[13] And here in chapter 48, on his deathbed Jacob takes these same truths and shares them with his son and grandsons.
There were times in Jacob's life when he felt all alone, and it was God who was there to comfort him. "I am with you." He know the generation needs to hear this, and to know from the experience of the previous generation that God keeps his promises, that God is with us. When Jacob was a trickster and deceiver – God was with him. When he rededicated his life in the wilderness God was with him. When he turned back to his old ways again, transitioning from numb heart to revitalized heart – God was with him. God's presence was not dependent upon Jacob – God made a promise and He keeps His promises.
Every generation has to learn what it means to have faith and to trust God. The blessing we give to our children is to testify to them of the Lord's faithfulness, grace, and mercy.
Also, the blessing of the next generation is so important because the people would have asked, "what are we to do, Abraham is dead?" "if Abraham dies, there is Isaac; and if Isaac dies, there is Jacob; and if Jacob dies, there is Joseph; and if Joseph dies, Ephraim and Manaseh survive. God is with us. He will always raise up champions for the next generation – let us invest in them, let us bless them.
How do we know that God is with us? As Jacob went through ups and downs, times of being faithful, and times when he went back to being "the deceiver," there would have been times when he may have thought that God was with him no longer. But throughout his life, God kept coming back to him saying "I am with you." If you are in a season of asking this same question, then look to the promises of God (who is forever faithful). Dueteronomy 31:8 says, "It is the LORD who goes before you. He will be with you; he will not leave you or forsake you. Do not fear or be dismayed." Take him at His word. We don't base our faith on our feelings (as in it doesn't feel like God is with me), but ours is a trust based on faith – taking Him at His word.
____________________________
[1] H. Orton Wiley, The Epistle to the Hebrews (Kansas City, Missouri; Beacon Hill Press of Kansas City, 1984) 328.
[2] John H. Sailhamer, The Expositor's Bible Commentary, Volume 2 (Grand Rapids, Michigan; Zondervan Publishing, 1990) 269.
[3] James Montgomery Boice, Genesis, An Expositional Commentary (Grand Rapids, Michigan; Zondervan Publishing, 1987) 248.
[4] George Arthur Buttrick, General Editor, The Interpreter's Bible, Volume 1 (Nashville, Tennessee; Abingdon Press, 1952) 814.
[5] Suggested reading for further study on the development of a child's brain; Daniel Siegel and Tina Payne Bryson, The Whole-Brain Child (New York, New York; Bantam Books) 2012.
[6] https://www.apa.org/monitor/2014/06/neglect
[7] This is the first time that the image of God as a shepherd is mentioned (Boice, 257).
[8] Even though shepherds were considered an abomination to the Egyptians, Joseph had such an impact on their country that Jacob (his father) was able to bless the pharaoh, "And Jacob blessed Pharaoh . . ." Genesis 47:10.
[9] https://thedecisionlab.com/biases/the-pygmalion-effect
[10] Bruce Wilkerson, The Seven Laws of the Learner (Sisters, Oregon; Multnomah Publishing, 1992) 110.
[11] Buttrick, 815.
[12] Sailhamer, 272.
[13] Boice, 263.