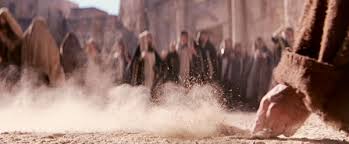 Ed Stetzer in an article submitted to Christianity Today said, "Based on my conversations with leaders from several denominations in the U.S. and Canada, I estimate that at least 400 church leaders (pastors, elders, staff, deacons, etc.) will be resigning Sunday."[1] That means that tomorrow (Sunday) across the country over 400 faith communities will be losing their pastors, key leaders, deacons, staff members, etc. because of the Ashley Madison leak of membership information. The truth is that 40 million men's sin has come to light. As a man who himself sins, I do not judge nor point a finger. These men thought their sin would remain hidden, as we all do.
Ashley Madison is a website that advertised itself as a means for a man to have an affair. But as we will see it really made it easier for a man to have the fantasy of having an affair. Popular figures, NFL stars, and millions of other not-as-popular men's names have been placed on the internet for the world to see. There have also been a string of suicides to this information leak where men were unable to deal with their sin being exposed.
In an article for Gizmodo.com Annalee Newitz wrote, "Overall, the picture is grim indeed. Out of 5.5 million female accounts, roughly zero percent had ever shown any kind of activity at all, after the day they were created."[2] As the story develops it has become clear that the site was made up of 40 million people. 35 million were men who paid to have access to women's accounts (who supposedly wanted to have an affair.) Of the less than 5 million all but around 3,000 were shown to be false accounts generated by ashleymadison.com. These were women's accounts that were completely fake. So 35 million men were interacting with false accounts.
Newitz says, "The men's accounts tell a story of lively engagement with the site, with over 20 million men hopefully looking at their inboxes, and over 10 million of them initiating chats. The women's accounts show so little activity that they might as well not be there."[3] There was no statistically mentionable activity by the women.
So what does this mean? It means that many men were paying for the fantasy of having an affair, but not many actually were having a "real" affair. They weren't aware of it, but the fantasy alone was enough to drive them to keep checking their e-mail on the site and to sift through the fake accounts. Newitz goes on to says, "Either way, we're left with data that suggests Ashley Madison is a site where tens of millions of men write mail, chat, and spend money for women who aren't there."[4]
How does this happen?
____________________________
Sin's Transformation
Genesis 3:6
[6] "So when the woman saw that the tree was good for food, and that it was a delight to the eyes, and that the tree was to be desired to make one wise, she took of its fruit and ate, and she also gave some to her husband who was with her, and he ate."
Independence
Eve observes the forbidden fruit and made up in her mind that it looked ok to eat. She believed the serpent's lies that God was keeping something "good" from her. This is what has snagged us all. We say things like, "I don't see anything wrong with this." "It looks ok to me, in fact I believe that this will make me very happy." "God is trying to keep this from me, because he doesn't want me to have this."
The fruit wasn't rotten, "it was good to eat." The fruit looked very appealing, it wasn't gross. She knew that this experience would allow her to know something that God did not want her to know. God tries to keep certain experiences away from us not because He wants to keep some happiness from us, but instead He wants what's best for us.
Adam instead of being the leader of the home, became the follower. Instead of correcting his wife and telling her the truth, he buys into the lie as well. He was right there the whole time. Satan had gone to the woman to disrupt the created order of what God had established. Adam became the woman (helper) and the woman became the man (leading).
Separation
Now when it is too late, they saw the folly of eating the forbidden fruit. They saw the happiness they had fallen from, and the misery they had fallen into. They saw a loving God provoked, his grace and favor forfeited, his likeness and image lost, dominion over the creatures gone.
They saw their natures corrupted and depraved, and felt the disorder in their own spirits of which they had never before been conscious. They saw a law in their members warring against the law of their minds, and captivating them both to sin and wrath. They saw as Balaam, when his eyes were opened (Num. 22:31), the angel of the Lord standing in the way, and his sword drawn in hand.
Their eyes were opened but what they saw they did not want to see. They saw themselves separated from God. Isaiah 59:2 says "But your iniquities have separated you from your God; your sins have hidden his face from you, so that he will not hear."
Because God is holy and righteous, He will not continue in friendship with those who disobey His commands. He hates everything that is wrong and punishes all disobedience of His commands by death.Romans 6:23 says "…the wages of sin is death…" Because Adam and Eve disobeyed God, they were cut off from their friendship with God. Their relationship with God was dead.
They had taken sides with God's great enemy, Satan, and they too, were now the enemies of God.
Imagine a green branch broken from a tree it would not die immediately, but in time separated from its life source it would die. The same thing happened to Adam and Eve. Death wasn't evident in their bodies on the day they disobeyed God. But they had died to God.
That part of them which was made in God's image, so they could know, love, and obey God, was immediately separated from God when they disobeyed His command. Their bodies would also eventually die, and they would go to a place of punishment which God prepared for Satan and the evil spirits.
Adam and Eve thought that they could cover their own sin. But God does not accept us based upon our outward appearance and behavior. Just as Adam and Eve tried to make themselves acceptable to God by putting on clothes, many people today think that they can make themselves acceptable to God by the outward appearance of respectability – becoming church members, being good parents, being law abiding citizens, holding membership in civic and charitable organizations.
I Sam. 17:7 says, ". . . man looks on the outward appearance, but the Lord looks at the heart." Are you trying to cover your heart condition by trying to look a certain way on the outside?
Genesis 3:8
[8] "And they heard the sound of the LORD God walking in the garden in the cool of the day, and the man and his wife hid themselves from the presence of the LORD God among the trees of the garden."
 God would come to the couple everyday at a certain time (in the cool of the day) and they would talk and learn. It was the couple's responsibility to oversee the Garden and the animals, and they would seek advice and direction from God. "Walked with God" is a favorite expression in Genesis, depicting the righteous conduct of Israel's hero's, including Enoch, Noah, and Abraham. Adam and Eve had a perfect relationship with God until now.
Now they hid amongst some trees and were seeking to hide their sin from their creator. They were embarrassed to be in front of each other. Eve because she had led them into rebellion and Adam because he had followed her, he participated in the sin.
There were signs that they were now separated from God:
 First, their attitude toward their bodies changed immediately. Before they disobeyed God, they were naked but unembarrassed. Now they were separated from God, and their minds were no longer under God's control. Their minds became evil, and their attitude toward their bodies changed. They were embarrassed by their naked bodies.
Secondly, they tried to provide for their own needs. Before they were separated from God, they looked to God to provide everything they needed. But now they tried to do things for themselves. They clothed themselves with fig leaves. They no longer trusted God to give them what they needed. They were trying to live independently of God.
 Sin has transformed the world. It brought a separation between the man and the woman but more importantly, it brought a separation between everyone and God. God could no longer come and walk with them because He cannot allow sin in his presence. Their relationship was broken.
But God has sent a Second Adam. This Adam corrected the mistake that the first Adam made. His name is Jesus Christ. I Cor. 15:45 says "So it is written: "The first man Adam became a living being" ; the last Adam, a life giving spirit. Jesus came to fix what was destroyed at creation.
________________________
It is my hope that when the men who stand before their congregations tomorrow that the congregants will see that they have fallen for the same lie that all mankind have fallen into. It is my hope that the churches will handle their admissions with grace and mercy and an understanding that they are themselves sinners. I hope that the men who step down get the help that they need (in their marriages, in their personal lives, with their children) and that they will come to see another path for their lives. We serve a God who is never surprised, but always have a plan. The universal fall of man is not an excuse, for leaders are held to a higher standard (1 Tim. 3:1-13 and Tit. 1:5-9).
God can take our sin and in His omnipotent power take our mistakes and use them for His glory. If you are on the list, then admit it, step down, mourn the sin, seek to rebuild the relationships, but don't give up. God is still with you, "for He will never leave you nor forsake you" (Heb. 13:5,6). We have all experienced the emptiness of sin and how it leaves us betrayed.
These men tried to fill an emptiness within them that God had designed to be found somewhere else. We have all done this (in other ways and forms). We should never excuse the sin, nor seek to run from it. It should be dealt with as Scripture commands, but at the same time our attitudes should not be the same as the men who rush to throw stones at the adulteress only to see Jesus writing something in the sand.
John 8:3-9
"The scribes and the Pharisees brought a woman who had been caught in adultery, and placing her in the midst 4 they said to him, "Teacher, this woman has been caught in the act of adultery. 5 Now in the Law Moses commanded us to stone such women. So what do you say?" 6 This they said to test him, that they might have some charge to bring against him. Jesus bent down and wrote with his finger on the ground. 7 And as they continued to ask him, he stood up and said to them, "Let him who is without sin among you be the first to throw a stone at her." 8 And once more he bent down and wrote on the ground. 9 But when they heard it, they went away one by one, beginning with the older ones, and Jesus was left alone with the woman standing before him."
What did Jesus write in the sand?
Perhaps a website.
__________________________
[1] http://www.christianitytoday.com/edstetzer/2015/august/my-pastor-is-on-ashley-madison-list.html
[2] http://gizmodo.com/almost-none-of-the-women-in-the-ashley-madison-database-1725558944
[3] Ibid.
[4] Ibid.