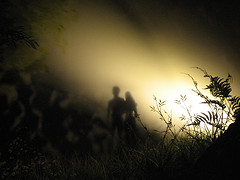 Genesis 1:28 "And God blessed them. And God said to them, "Be fruitful and multiply and fill the earth and subdue it, and have dominion over the fish of the sea and over the birds of the heavens and over every living thing that moves on the earth."
I usually don't like to deal with hypothetical questions because they tend to smack of past ethics classes or some late night college conversation, and ultimately they don't take us very far. But allow me to indulge in some hypothetical questions regarding the creation account. We are told in v. 28 that God tells Adam and Event to "fill the earth." What was God's original plan? What if Adam and Eve had not sinned in Genesis?  What would the world look like, specifically, would the family unit be different?
Hypothetically, it would be Adam as the Father who would have a son, who would have a child, and so forth (assuming no one sinned). There is no change so far; these sons and daughters would marry with no need for "incest law" or fear of genetic problems.
Adam lived to be 930 years old (Gen. 5:5), but had he not sinned then he would still be alive today. Where would all these "children" live?  How would it be different since heaven is where the believers go upon death, and there will be a new heaven and a new earth (Rev. 21 ff.) in the future – How does Genesis help us to understand the family?
In a sinless hypothetical world there are still families (perfectly designed to produce children) – How many children would they have?
These families are all related and live all over the earth, perfectly living in harmony together.
Together they would work to have dominion over the earth.
If Adam had not sinned 'Edens' borders would expand to encompass the world. Would the fruit of life be exported? Does this fruit have seed? Could it have been harvested among the nations?
In heaven people do not have children nor are they given in marriage (Matt. 22). But in this original utopia marriages would have lasted for eternity in Eden. How long would children have stayed at home before they were married and began families of their own? This is a reminder that children are a temporary stewardship, and we are not eternal "owners" of our children.
But here is the ultimate question, "how long would it have taken to "fill the earth?"' They are not given the follow up command "and when it is full, stop." If we assume eternal reproduction, eternal pregnancy, and no complications in Eden, Adam and Even would still be having babies. These children would have children, who would have children (exponentially forward). Surely, it would not take too long before the country sides would have turned to cities whose buildings would have reached the stars all over the earth.
Is it correct to say that God gave a command that He knew would not (or could not) be followed to its ultimate fulfillment? The earth has finite space, but the ability of a sinless mankind is capable of exponential growth. Eventually, there would be no more space. As mankind increased in number, the amount of earth to fill would have decreased. Eventually, the earth would be "full" Â but mankind would have lived eternally. Would reproduction have been a temporary phenomenon?
_______________________________________
As with all hypothetical questions we are left with no answers, only supposition and "educated" guesses. God has however given us what He desires for us to know about Him & His plan in the Bible.
Just because we don't know how it would have been done doesn't mean that it could not be done. Remember that the Bible does tell us that we are "fallen" and that our entire being has been corrupted by sin (Genesis 2-3). For as many people read the creation, fall, redemption, and restoration story of the Bible they are "full" of questions and it seems that these questions go on exponentially. Since there are only so many pages of the Bible, we are given the information we need. God always has a plan, and even if we don't always know how He will accomplish it, He will do it. We must acknowledge our fallenness and His love and perfection.