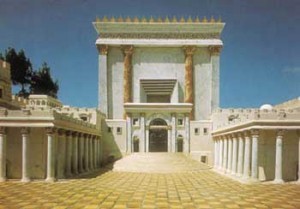 In the second temptation of Christ, whereas God had led Jesus into the wilderness, the Devil took Jesus to the temple in Jerusalem. If it were up to Satan, he would snatch and take us all, but God's way is to lead us. [1] God guides and leads us gently into a path of righteousness, he is not like Satan that snatches and forces to get his way.
The destination is referred to as "the holy city" instead of its proper name Jerusalem. Why, does God desire to highlight the city as being "holy?" To be holy is to be set apart, and to be dedicated to God, or to be used for a special worshipful purpose. Jesus was taken to the height of the city that was dedicated to God, yet was sinful, corrupt, and did not understand the things of God. It's leaders, Jesus called vipers, and snakes, and it's people would eventually kill Him. The city's purpose was to be set apart with the law, and to be distinct from the world, as a holy city.
The world would be drawn to it's light, and it's special and unique relationship with God. It's original intent was to point a lost world to the one true God. Instead it has turned inward, and hates non-Jews, except where the relationship will improve their economic situation. Jesus is overlooking a city where worship was fallen, it's people were sinful, and had corrupted His Word. Jesus knows that He has come to save them, to correct their interpretations of the Word, and to show them how God truly is.
Matthew4:5  "Then the devil took him to the holy city and set him on the pinnacle of the temple 6 and said to him, "If you are the Son of God, throw yourself down, for it is written, "'He will command his angels concerning you, and "'On their hands they will bear you up, lest you strike your foot against a stone.'"
Again, Satan uses the phrase, "If you are the Son of God," instead of "Since you are the Son of God." He is trying to drawn him into showing others that He is the Son of God. The pinnacle of the temple was very high and would have been seen by most people in the court who had come to worship.
Jesus quotes Scripture to pass the first temptation, so Satan beats Him to the punch by trying to out quote him. He quotes a passage from Psalm 91 (sort of). Angels would come and attend to Him later (v. 11), so why is it wrong for angels to help Jesus here? The jump, with angels catching would have been a spectacle to see, and would have drawn a following. [2] So why not?
Matthew 4:7 "Jesus said to him, "Again it is written, 'You shall not put the Lord your God to the test.'"
First, Psalm 91 (at least Satan's misquote) is focused on trusting God, "to dwell in the shelter of the Most High," as it were. We are to rest in Him, while the world around us is in chaos. Jesus comes back with a quote from Isaiah (7:12). If Jesus were to jump off of the temple in a display of greatness, would not have been brave or a show of faith — but would have been outside of God's plan that had been set before Jesus (including the cross, miracles, teaching, etc). How would Jesus begin His ministry? For Jesus to jump, would have been prideful. He would have begun His public ministry in pride, apart from the Father's direction.
pride: running ahead without God. trying to do everything on your won.
How then are we to do ministry? What can we learn from Christ and this passage. There will be a constant temptation to put on a spectacle in order to attract a crowd. That event, billboard, website, post card, etc that you think would be so cool, may just be you jumping off the temple and expecting God to rescue you. Â It could be completely outside of God will and plan for your ministry. So how do we know that the idea is ours verses God's? This is the basic and foundational Christian precept.
We are to abide in Christ and "hear His voice." If you can't determine between yours and God's then you need to keep listening until it is clear. [3] Â Jesus fasted and prayed for forty days and nights and was without sin — I am a dreadful sinner who is completely corrupted by my sin. Would it really be that much of a stretch to say that we may need to spend more time with God before we roll out that new program, idea, or "feeling," we had yesterday. Slow down, pray, and submit to the voice of our Father. Â Stop trying to impress everyone and wait on God to do that for you. Â Jesus was successful because he followed the Father perfectly. My only hope is to follow as close as I can, and cry out for mercy.
[1] Psalm 23:3 "The Lord is my shepherd; I shall not want. 2 He makes me lie down in green pastures. He leads me beside still waters. 3 He restores my soul. He leads me in paths of righteousness for his name's sake.
[2] What would have the followers of this Jesus have been like? Would they follow His example by being shot out of cannons, jumping off of tall buildings, or giving away motorcycles at church? Uh-oh. The church and it's members get into trouble when the point becomes being spectacular and drawing a crowd instead of listening to the voice of God and accurately handling His Word. (2 Timothy 2:15)
[3] John 10:1-5