Peace
Luke 2:1-16
Introduction
Trees are beginning to appear in windows, radio stations have begun 24 hour rotations of Christmas music and our communities are being transformed into winter wonderlands. Why do we put ourselves through all the paces each year when Christmas comes?
Maybe we're trying to recapture the magic of our childhoods. Or maybe we believe if we work hard enough we'll end up with a Christmas similar to those described in all of our favorite Christmas tunes.
This year, let's celebrate the true meaning and spirit of the season. Coming home means more than a hearth and a tree. It also means remembering, and renewing our faith in Christ and our church which is our spiritual family. I am looking forward to the best Christmas Ever.
I. A Humble First Home (vv. 1-7)
"In those days a decree went out from Caesar Augustus that all the world should be registered. 2 This was the first registration when Quirinius was governor of Syria. 3 And all went to be registered, each to his own town. 4 And Joseph also went up from Galilee, from the town of Nazareth, to Judea, to the city of David, which is called Bethlehem, because he was of the house and lineage of David, 5 to be registered with Mary, his betrothed, who was with child. 6 And while they were there, the time came for her to give birth. 7 And she gave birth to her firstborn son and wrapped him in swaddling cloths and laid him in a manger, because there was no place for them in the inn."
A. Coming Home to Purpose
A rich man was determined to give his mother a Christmas present that would outshine all others. He read of a bird that had a vocabulary of 4000 words, could speak in numerous languages and sing 3 operatic arias. He immediately bought the bird for $50,000 and had it delivered to his mother. The next day he phoned to see if she had received the bird. "What did you think of the bird?" he asked. She replied, "It was delicious."
In the opening verses of Luke chapter 2 there are many details that are given. What was going on, who issued the decree, who the governor was, where they went from and where they went to — how everyone was moving and the mood of the opening was chaotic.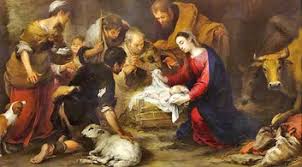 These details are given so that we can verify historically that this story really happened as it is given to us in Scripture, and that Jesus Christ's birth fulfilled prophecy that had been given many years before to show that He was the Messiah.
First we see "a decree" was given. This is an imperial edict (Acts 17:7). The decree was for tax purposes. Registration required a personal appearance at one's principal place of residence. For the Jews this meant their ancestral home. Since Joseph was of the lineage of David, he was required to go to Bethlehem.
The law required that only the men need travel to the ancestral home, register, and travel back – but we see that Mary went with Joseph on this awful trip. "From …Nazareth … to Bethlehem" This would entail a trip of eighty-five to ninety miles if they went through Samaria, the trip would have included mountainous and rough terrain.
They would have traveled through the land of Ruth and Boaz, and the ancient home of their great-great-grandfather King David. For a woman "great with child," it would have been miserable.
Why would Mary have gone? Was it to get away from the stigma of having a child without a husband? Was it to just to be with Joseph because she wanted him to be there for the birth? Did she realize that in order to fulfill prophecy her son needed to be born in Bethlehem? For whatever reason she went, they both find themselves in a foreign city, away from their families, away from the comfort of home, and with no proper place to deliver a child.
"And while they were there, the time came for her to give birth." – After being required by law to travel a very long way, and being away from all they know that is familiar, "the time came for the baby to be born."
We see that even in the midst of chaos and change – Mary gives birth to Jesus, wraps him in strips of cloth, and places him in a make shift bassinet, a manger. All of these are normal activities for a mom – the problem is that it is under extreme conditions and the world is swirling in chaos around them. Mary and Joseph were able to be normal parents and do what parents naturally but under extreme conditions.
They could have yelled and argued about the government and its' edicts. They could have yelled at each other, and how each had added to this situation, "Why did you have to come? Why don't you make more money so we can live better than this? They could have even argued with God, "Why is this happening to us?" We deserve better!"
But they don't. We see a young couple, in spite of all the difficulty surrounding their lives doing the best they can with a very difficult situation – a child has been brought into the world. This was not just any child, it was a child that angels had spoken with them about (Matt. 1:20 Joseph, Luke 1:26 Mary)
So we see that in this time of chaos the child brought them hope – he was the Messiah, the promised one, who would as the angel said in Matthew 1:21 "save his people from their sins." Mary and Joseph were able to see past the difficulty and even the pain they were experiencing, because they understood that they had something much bigger to do.
They realized that their lives were not about finding a more comfortable saddle, with a cup holder, or booking ahead at the Bethlehem spa and suite – there was a much bigger plan that they were to be a part of. God has a purpose for your home, and it is a part of a larger plan in which you are to share the story of the one who can "save his people from their sins."
The ancestral homes of Mary and Joseph originally came from the dividing up of the Promised Land (Joshua 14 ff.). God's people were to go into this new land and conquer their enemies, and as a whole nation, they were to draw the surrounding nations to worship the One True God.
God began the nation with one man named Abraham and God told him that He would bless him so that the world would be blessed through Abraham's family. Genesis 12:3 "I will bless those who bless you, and him who dishonors you I will curse, and in you all the families of the earth shall be blessed."
So Mary and Joseph are returning to their ancestral home where God promised that He would bless the world through their family – now Christ was born who will "save his people from their sins." John 3:16 "For God so loved the world, that he gave his only Son, that whoever believes in him should not perish but have eternal life."
They are returning to an understanding of why they exist as a family. Do you and your family need to return to a "spiritual place, a spiritual home" where you are reminded of why God has blessed you? Do you need to see beyond your current difficult experiences to understand that there is a bigger picture that you are a part of – a plan to share Christ with the world? Christmas loses its excitement when we forget the meaning behind the tinsel.
B. Coming Home to Provision
Why would God allow the King of Kings and Lord of Lord to be born in a stable? Why not wait until they were close to a palace or a nice home? God is sovereign and His timing is perfect. Galatians 4:4-5 says "But when the time had fully come, God sent his Son, born of a woman, born under law, 5to redeem those under law, that we might receive the full rights of sons." In the fullness of time. It was God's will for His Son to be born in humblest of circumstances.
Micah 5:2 "But you, Bethlehem Ephrathah, though you are small among the clans of Judah, out of you will come for me one who will be ruler over Israel, whose origins are from of old, from ancient times."
God used the imperial decree in the lives of Mary and Joseph to bring about the fulfillment of Scripture. The Messiah or The Deliverer was prophesied to be born in Bethlehem so God had to get them both to Bethlehem. Bethlehem means "house of bread" and now the "Bread of Life" (John 6:35) was about to be born there.
So now, the one who provides for all of our needs (specifically salvation) has been born. John 1:14 "And the Word became flesh and dwelt among us, and we have seen his glory, glory as of the only Son from the Father, full of grace and truth." There in that shelter, was born the Son of God, the Savior of the World, the Mighty God, the Eternal Father, the Prince of Peace, the King of Kings and Lord of Lords, Immanuel.
Christ was in a crude shelter, because there was no room for them in the inn – That night swirled in hurriedness, distraction, and everyone was trying to find comfort in a busy time. Everyone was trying to bring order to their lives. To be in a city were everyone was trying to take care of the government business so that they could return to their normal life to go back home to life as usual.
So as everyone was trying to do these things they missed the one who would "save his people from their sins." Another part of coming home is to remember that Christ is the only one who can give us what we truly need. The longer we try to bring order to our lives, our marriages, our families, our jobs, in our own effort the more miserable we will be.
But if we allow God's plan to happen in our lives (stinky manger, sleeping on hay, smell of animals – messiness) and follow Him on obedience, seek His provision then Jesus will fill that emptiness within us.
Tennis star Boris Becker was at the very top of the tennis world — yet he was on the brink of suicide. He said, "I had won Wimbledon twice before, once as the youngest player. I was rich. I had all the material possessions I needed … It's the old song of movie stars and pop stars who commit suicide. They have everything, and yet they are so unhappy. I had no inner peace. I was a puppet on a string."
Becker is not the only one to feel that sense of emptiness. The echoes of a hollow life pervade our culture. One doesn't have to read many contemporary biographies to find the same frustration and disappointment. Jack Higgens, author of such successful novels and The Eagle Has Landed, was asked what he would like to have known as a boy. His answer: "That when you get to the top, there's nothing there." Christ fills that emptiness.
II. A Heavenly Eternal Home (vv. 8-16)
8 And in the same region there were shepherds out in the field, keeping watch over their flock by night. 9 And an angel of the Lord appeared to them, and the glory of the Lord shone around them, and they were filled with fear. 10 And the angel said to them, "Fear not, for behold, I bring you good news of great joy that will be for all the people. 11 For unto you is born this day in the city of David a Savior, who is Christ the Lord. 12 And this will be a sign for you: you will find a baby wrapped in swaddling cloths and lying in a manger." 13 And suddenly there was with the angel a multitude of the heavenly host praising God and saying, 14 "Glory to God in the highest, and on earth peace among those with whom he is pleased!" 15 When the angels went away from them into heaven, the shepherds said to one another, "Let us go over to Bethlehem and see this thing that has happened, which the Lord has made known to us." 16 And they went with haste and found Mary and Joseph, and the baby lying in a manger.
Shortly after the birth of the Savior of the world, an angel appeared and stood before a group of shepherds in the hills of Bethlehem to announce the birth of the "Shepherd of Israel" (Gen.48:15).
Scripture in many places refers to Jesus as a shepherd. For instance, in Psalm 23 he is called the faithful shepherd; in Isaiah 40:11, the tender shepherd; in Ezekiel 34, the caring shepherd; in John 10, the good shepherd; in 1 Peter 5, the chief shepherd.
Shepherds were despised by the orthodox Jews of the day because they could not keep up the requirements of the ceremonial laws, the feasts, the washing of hands, etc. Thus, shepherds were very much part of the lost sheep of their day.
But the angel's announcing to shepherds the birth of the Shepherd of Israel was designed to give hope to these men, Luke 19:10 "For the Son of Man came to seek and to save the lost." A humbly born Savior reaches out first to the lowliest of people in society, shepherds.
Not only had Jesus been born to seek and save these lost shepherds but also, as Luke details in chapter 4, quoting Jesus' words from, Isaiah 61:1-2 "The Spirit of the Lord God is upon me, because the Lord has anointed me to bring good news to the poor; he has sent me to bind up the brokenhearted, to proclaim liberty to the captives, and the opening of the prison to those who are bound; 2 to proclaim the year of the Lord's favor,."
The angel's first words to the frightened shepherds were, "Fear not, for behold, I bring you good news of great joy that will be for all the people." He was declaring good news to a society suffering from insecurity, meaninglessness, and the futility of life. And this good news was for all the people.
Jew, Samaritan, Roman, Greek and Barbarian, regardless of their position in life, whether they be master, slave, rich, poor, king, peasant. This was good news for all, regardless of sex, color, and class, the good news of salvation by grace through faith was given for everyone.
"For unto you is born this day in the city of David a Savior." The long-awaited Messiah, God's Anointed One who is the Lord God, had been born in the flesh so that man, who has rebelled through Adam against the Creator, and had no power to save himself from the bondage of Satan and the power of sin, could be born again. God became man, so that as a man (the perfect man, the sinless man), He could take God's punishment for sin upon Himself.
"a Savior" – If Jesus was mankind's Savior, what was He saving it from? What do we need to be saved from? Romans 3:23 "for all have sinned and fall short of the glory of God," It is our sin that creates a separation between us and God.
Because we are sinners, there is nothing that we can ever do to earn a place in heaven – we will always have sin on us. Christ would be born into the world and never sin – a perfect man with no sin could act as a substitute for you. Our sins could be placed upon Him.
"And this will be a sign for you: you will find a baby wrapped in swaddling cloths and lying in a manger," declared the angel. The Savior of the world was placed in a feeding trough for his bed. God gave the shepherds directions – God wanted the Shepherds to see and experience Christ themselves not just hear about Him.
God coming to the earth is not knowing about Jesus, knowing facts about the plan for mankind's sins to be dealt with, but it's all about meeting Christ Himself – the angel said to the shepherds "you will find" there involves a seeking on the part of the hearers.
Matthew 7:7-8 "Ask, and it will be given to you; seek, and you will find; knock, and it will be opened to you. 8 For everyone who asks receives, and the one who seeks finds, and to the one who knocks it will be opened." This morning are you seeking to fill the emptiness and lack of purpose? There is an answer – His name is Jesus Christ.
Revelation 3:20 "Behold, I stand at the door and knock. If anyone hears my voice and opens the door, I will come in to him and eat with him, and he with me."
There is an immense difference between knowing about the Christ of Christmas, and knowing the Christ of Christmas. This morning do you know Him? Would you like to meet the one who will bring peace to your troubled soul? Would you like to meet the one who was born in a manger and eventually died on a cross – all for you?
This morning if you would like to meet Christ, if you would like for your sins to be taken away, for that emptiness to be filled, is there room in your heart for Christ? "Dear Jesus I know that I am a sinner and need Your forgiveness. I believe that you died for my sins. I want to turn from my sins. I now invite you to come into my heart and life. I want to trust and follow You as Lord and Savior. Amen."