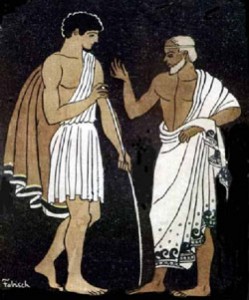 In the course of serving as "pastor" in various capacities I have been approached over the years by several men who feel they are called into ministry.  Since there is no fill-in-the-blank or multiple choice test one can take, it becomes more of a "feeling" or specifically a "knowing" that God has called one to ministry.
We know the Bible commands all to ministry, but there are some he calls to leadership of the flock as a position of authority. Some are attracted to this position because they desire "to lord over" people.[1] These individuals want others to call them "pastor" and crave power over people. Others want to lead and have control.  But are not ready for this responsibility, and in their "ignorance on fire" they are reckless and destroy people's lives without even knowing it.
As an established leader you should have a heart to mentor and guide someone else into serving the Lord and His church, but where do you start? You may even feel like you "don't have it all together" yet, and you say to yourself, "who am I to lead anyone else in ministry?" I often times feel this way, but I also recognize that the Lord has taught me many things over the years, often times because of my ignorance and pride I ran into situations and obstacles that often times were creations I built myself. I do not want another brother in Christ to do the same things.
So the following are some suggestions from someone who "doesn't have it all together" yet and is still in a lifelong process of learning.
 ______________________________
Suggestions on How to Mentor 
First, just because a person tells you they are called to ministry and has approached you, doesn't mean they are actually called. I would suggest at least a year long mentoring relationship where you introduce them like "this is ________________ and he is seeking the Lord's will for his life." Not, "This is __________ and he is called to ministry." It's hard to gracefully back out of the second one. It may be that they just want to go deeper in their relationship with the Lord, or that up to this point have not really been discipled in their faith.  What they perceive as a call may actually be a desire for a closer walk with the Lord.
I have mentored two men who because they held a position of leadership too soon and I moved them too fast went on to destroy churches and people's lives. Be extremely careful who you give a title and position to. Watch out for your own pride in wanting "to show them off" as a person you are mentoring — watch your heart.
Don't immediately begin with topics of study like leadership, political maneuvering, preaching, etc. – these are advanced topics. Instead, begin with determining where they are with the Lord – it has been my experience that few are very well equipped to accurately handle the Word of God.[2] So for the first six months you could focus on topics like Bible study, being a godly husband, time management, being a godly friend and father, prayer, etc.
These topics of discussion should be considered basic Christian life topics but you will be amazed at how few Christians actually are living a godly life and displaying maturity in spiritual matters among those who desire to lead others in the church.
But do immediately give them a service in the church. It should be a non-visible task that will require them to truly serve the church. If a guy Is not willing to regularlly set up chairs for a service, clean toilets, clean up after a fellowship dinner, etc. then they are not going to be worth much in ministry in the long run. If they are only happy if they are up in front of people, receiving others praise, then this will give you an early indicator of their heart.  This will also more than likely give some much needed relief for a ministry leader somewhere in the church.
But do have a plan in your mentoring. Don't sit too many times over coffee in idle discussion. This will not help them in the long run. If they are called they are going to want to get started as soon as possible.
Now after six months of basic Christian living topics you are now going to move into other topics. After meeting regularly (even weekly) you should have a pretty good idea of the call upon their life. Even if you help them determine that they are not truly called, they will have a greater discipleship life, they will be stronger men of God in their homes and community, and their walk will be stronger with the Lord because of your mentoring. If they are not called, just tell them how you feel, and let your sessions end.
But if you feel you should continue, it is at this point that I would give them a "ministry. " Again it should not be too visible, and how they handle the ministry will give direction as to how you should mentor them. [3]  If they are not faithful in doing minor ministry tasks, they should never be allowed to have responsibility for greater tasks that will affect people's lives.[4]
I would suggest meeting weekly at this point and give the mentored a homework assignment in between meetings. If they are not willing to read a chapter or two of a book and be prepared to talk about it, put a lesson together, or make a visit in the hospital (or something like these things) then this will tell you where they are in the searching process.
I once had a man come and tell me he wanted to have a deeper Bible study and that he wanted to meet regularly with me. So I told him to read the first few chapters of John and that we would meet to discuss them.  I told him to let me know when he was finished with these few chapters, but weeks dragged on to months – which showed me that he really did not want to have a deeper walk with the Lord – he wanted me to do all the work and unload information on him. If someone is truly called to ministry they will do the work.
The mentoring process takes a great amount of time, so just be aware of this when you commit yourself to a man who says they feel called to ministry.  But it is a much needed responsibility that pastors bear.
It is at the one year mark (or other designated point) that the relationship changes from mentor to coach. You stop meeting regularly, and you become available for occasional questions, discussion, and moral support. Â The apprentice needs to find godly friends, other than you, Â who they can have regular support to make the transition to a place of leadership.
It is not an understatement to be extremely careful with who you place into leadership positions, and whom you attach your name and reputation to. It is better to be without a leader than to have the wrong leader or to put someone in a place of leadership before they are ready.
---
[2]Â 2 Timothy 2:15
[3] 1 Timothy 3:6
[4] Matthew 25:21