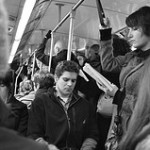 Matthew 4:8 "Again, the devil took him to a very high mountain and showed him all the kingdoms of the world and their glory. 9 And he said to him, "All these I will give you, if you will fall down and worship me."
The taking of Jesus by the devil and going to various places was supernatural – so that Jesus can see the vast numbers of people. What is Satan trying to accomplish by showing Jesus the multitudes and "ethne" of people?  What is the temptation for Christ? As a man he had only seen those people in his geographic region. So now he sees the "multitudes" (Matthew 28:17 ff.) We see the short cut (avoid the cross) here in the beginning of the book, and we see the real plan in the end of the book (the horror of the cross).
Satan has the temporary authority to possess the nations; to give them away or to keep them as the "ruler of this world" [1] and "the whole world lies on the power of the evil one."  The world has believed the Father of lies and its' own glory would have been worshipping false gods, and all sorts of wicked and evil things. Were all these evil and wicked people worth Him dying a cruel and horrific death on a cross? Jesus saw it all and still died for it anyway.
Romans 5:8 ". . . God shows his love for us in that while we were still sinners, Christ died for us."
Jesus saw a world in need of a Savior. Satan intended to tempt Christ by showing Him the multitudes (in sinful rebellion) but it only reinforces the mission that the Father has sent Him on – to redeem all of the world. All of His creation desperately needed a Savior, a Redeemer.
That redemption would come at a price. Since the beginning, something/someone would have to die, and His blood must be shed. [2] Satan knows that Jesus, in order to redeem the world has to die under the wrath of the Father. He had an idea of what the Father's wrath will be like – he will himself experience it one day.
The temptation for Jesus is selfishness; for him to save himself the pain of the cross and to hell with everyone else.
10 Then Jesus said to him, "Be gone, Satan! For it is written, "'You shall worship the Lord your God and him only shall you serve.'"
Satan knows his time is limited, and that the Father's wrath is coming – therefore because Satan hates the Father his desire is to take the multitudes (the ones who the Father desperately loves) with him.
For Jesus to worship Satan would be a shortcut around the cross. He would save the world and Himself the pain only momentarily. God's wrath would still be stored up against mankind, and the sin problem would not have been dealt with. The world would still be in need of a Savior – and now the only One who could have saved them would have sinned in selfishness, [3] a Holy God would still be separated from sinful creation. No restoration would have taken place, and no intimacy regained. Nothing but time would have been gained. Man does not need more time to destroy himself with sin, nor does he need more time separated from His Creator who infinity loves him.
If Jesus had worshipped Satan and avoided the cross, it would have meant doom for mankind. Spiritual shortcuts never accomplish what faithful obedience eventually does. If you are tempted to take the spiritual shortcut, let me point you to Jesus and allow Him to illustrate why this is true. You cannot do what God has created you to do if you constantly take spiritual shortcuts and try to live this life by your own rules. If you have failed this temptation, I am right there with you. I have been selfish time and time again. But let's journey this next distance of road together knowing that it doesn't work.
Matthew 20:27-28 ". . . and whoever would be first among you must be your slave, 28 even as the Son of Man came not to be served but to serve, and to give his life as a ransom for many."
11Â Then the devil left him, and behold, angels came and were ministering to him. Thank you Jesus for being selfless and faithful.
[1] Jn. 12:31; 1 Jn. 5:19.
[2] Genesis 3:20
[3] Romans 2:5, 5:9