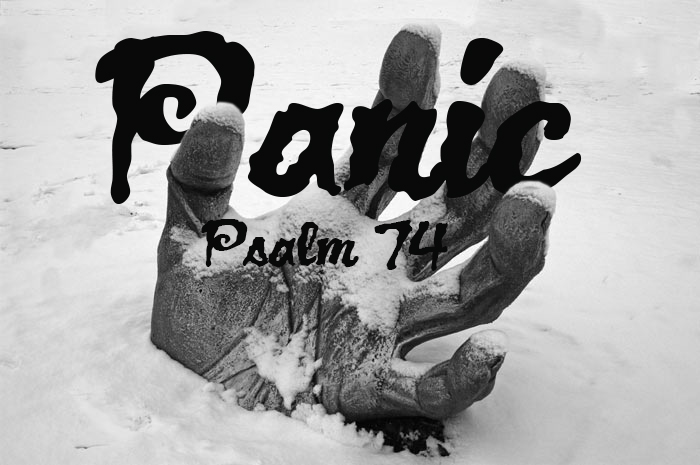 There was a time when my boys were of an age where they loved to get up and turn on the TV and choose "their" show (Batman Brave and the Bold, Star Wars Clone Wars, H-G's was Olivia), etc. One morning Kimberly had gone to run some errands with the rest of the kids, and Caleb I were left in the house. I was going to do some yard work so I called Caleb's name. He didn't respond, so I called a little louder, he was focused on this tv show that he was watching, and I he really didn't hear me. But I told him, "I'm going out to the garage." So I went out into the garage and started to get the lawnmower ready to cut the grass, I put some new string in the head of the weed eater, filled them up with gas, and I was out there about forty-five minutes just doing different things.
When the TV show went off, Caleb regained consciences and began to look around. He began to run through the house yelling for Kimberly and I. No one was in the house and he began to panic. His loving father was not there, and he felt all alone. Eventually he came outside, really upset – to find me in the garage.
Have you ever had a time when suddenly you realized that God was not there anymore, or at least it felt that way? You pray, but don't sense His presence. You serve, and discover that His power is not there anymore – you know you are doing it in your strength. You come to worship – But He doesn't speak to you – you are just going through the motions. You seek Him, but you can't seem to find Him anywhere – He is gone. Just like with Caleb, God told you "I'm not staying here anymore, I want you to go with me", but you have allowed ourselves to be distracted by something. For some time it has had our complete focus. But now there is an awakening.
"Few things in life are more excruciating than suffering defeats while serving God. When God's work is met with setbacks, his people agonize over these losses and long for God's kingdom work to be reestablished. And until God's kingdom is again prospering, distress fills the hearts of his servants. Until we find Him, and are in His presence again there is panic. This is the focus of Psalm 74."[1] This lament expresses how God's people experienced agony because of their devastation and were calling upon him for relief and restoration.
In 2 Kings 25 the enemies of God have destroyed the temple, and even worse it seems that God has forgotten them. It occurs 586 years before Christ is born – those who were not killed by Babylon were carried off into exile. The people are pleading for God to reestablish his people in their land. So they pray – but if we find ourselves in a similar situation what should we pray for? The following Psalm walks us through how to pray for the panic to stop, and our hearts to be calmed.
I. Pray with a Realistic Picture of Reality (vv. 1-3)
O God, why do you cast us off forever? Why does your anger smoke against the sheep of your pasture? 2 Remember your congregation, which you have purchased of old, which you have redeemed to be the tribe of your heritage! Remember Mount Zion, where you have dwelt. 3 Direct your steps to the perpetual ruins; the enemy has destroyed everything in the sanctuary!
Because of the events that occurred around them, God's people cry out and ask God, "Why have you rejected us forever?" God had not rejected them; he had withdrawn the power of his presence from them. The psalmist asked how long will this rejection last? His abandonment was demonstrated by the ransacked city and ruined temple (Psalm 79:1).
"Why does your anger smoke against the sheep of your pasture?" – God's people see the image of a smoldering city that had been devastated by a foreign power and link it to God's rejection and abandonment of his people.
The psalmist asks God to remember how He has dealt with them in the past – his people who He had purchased from Egypt (Ex 20:2). God had chosen them to be His inheritance (Deut 4:20), those that He has redeemed (Ex 15:13, 16), God had dwelt among his people on Mt Zion (1 Kg 6:12-13), which was God's holy hill (Ps 2:6), and dwelling with them (Ps 132:5, 7). God has done all of these same things for us.[2]
The Psalmist is asking God to look at the smoldering temple, how God's people have been carried off into exile – in other words, "Lord look at our current condition." This was not just a short term thing, but "perpetual ruin." The destruction keeps going on and on and on.
"Lord this has been going on for some time now", and "the enemy has destroyed everything in the sanctuary" There was nothing left within the temple that the enemy had not desecrated and destroyed.
II. Pray With A Realization of the Destruction (vv. 4-9)
4 Your foes have roared in the midst of your meeting place; they set up their own signs for signs. 5 They were like those who swing axes in a forest of trees. 6 And all its carved wood they broke down with hatchets and hammers. 7 They set your sanctuary on fire;
they profaned the dwelling place of your name, bringing it down to the ground. 8 They said to themselves, "We will utterly subdue them"; they burned all the meeting places of God in the land. 9 We do not see our signs; there is no longer any prophet, and there is none among us who knows how long.
The psalmist now points us to the foe himself. He comes into God's house of worship and roars! He lifts up his battle flags and plants them right there in the meeting place where God's people worship.
1 Peter 5:8 "Be sober-minded; be watchful. Your adversary the devil prowls around like a roaring lion, seeking someone to devour." While God's people are distracted and focused on everything but the Lord, the enemy enters into the very temple of the Lord, and roars. His teeth snap the necks of the weak and the young.
As the enemy of the Lord he raises his disgusting and foul flag and he dares to plant it among the congregation. The enemy who roars says, "I have this one, and this one, and this, and this one, and this one, and this one – they are mine." All the while, God's people stare blindly into space.
The temple had beautifully carved wood paneling build by master craftsmen. So when we see "They were like those who swing axes in a forest of trees. 6 And all its carved wood they broke down with hatchets and hammers." The enemy takes his ax to the temple paneling and splinters the temple. The enemy seeks to destroy what has been built. It is so much easier to tear down and burn rather than build.
How many churches has Satan taken his hatchet to, so that at the end of day it lays as a pile of splinters? Some here, some there – churches litter the landscape that have been destroyed – that have closed their doors for the last time.
Then when it was completely devastated, before it has a chance to rebuild – he goes one step further "They set your sanctuary on fire; they profaned the dwelling place of your name, bringing it down to the ground." There is a very real enemy who seeks to bring every church burning to the ground.
The enemy has a plan and he is relentless in his carrying it out. The enemy is set on bring about our destruction – in hell they hold pep rallies where 8 They said to themselves, "We will utterly subdue them"; they burned all the meeting places of God in the land." They will not be happy until every church is destroyed – including yours. Have you not seen him parade with his flags and clamp his teeth on your fellow church member? You seek to build, but he splinters it again and again with his ax of destruction.
"9 We do not see our signs; there is no longer any prophet, and there is none among us who knows how long" – There is nothing more terrifying and discouraging then not knowing how long will this pain and devastation continue. How long will this condition last among God's people? Will the church wake up?
Will it regain consciousness? When will the destruction become so great that it will awake and do something? Will the church have to burn around us? The splinters are hitting you in the face. The person that sat next to you last week isn't there anymore, only his foul and horrific flag is left. Blood paw prints stains the aisles and the mother's around you weep.
III. Pray with God's Reputation in Mind (vv. 10-11)
10 How long, O God, is the foe to scoff? Is the enemy to revile your name forever? 11 Why do you hold back your hand, your right hand? Take it from the fold of your garment and destroy them!
Why does God seem to do nothing as His temple is destroyed and His people are carried off into captivity? To answer this question we go back to 2 Kings 25.
2 Kings 25 tells us that the nation is punished because of the sins of Manasseh. Manasseh was a king that we first see in 2 Kings 21:2-9 "And he did what was evil in the sight of the Lord, according to the despicable practices of the nations whom the Lord drove out before the people of Israel. 3 For he rebuilt the high places that Hezekiah his father had destroyed, and he erected altars for Baal and made an Asherah, as Ahab king of Israel had done, and worshiped all the host of heaven and served them. 4 And he built altars in the house of the Lord, of which the Lord had said, "In Jerusalem will I put my name." 5 And he built altars for all the host of heaven in the two courts of the house of the Lord. 6 And he burned his son as an offering and used fortune-telling and omens and dealt with mediums and with necromancers. He did much evil in the sight of the Lord, provoking him to anger. 7 And the carved image of Asherah that he had made he set in the house of which the Lord said to David and to Solomon his son, "In this house, and in Jerusalem, which I have chosen out of all the tribes of Israel, I will put my name forever. 8 And I will not cause the feet of Israel to wander anymore out of the land that I gave to their fathers, if only they will be careful to do according to all that I have commanded them, and according to all the Law that my servant Moses commanded them." 9 But they did not listen, and Manasseh led them astray to do more evil than the nations had done whom the Lord destroyed before the people of Israel."
There was a king who led the people to walk away from God. And the people willingly followed and left the Lord, and did things in the presence of the Lord that were horrible. The Lord moved, and His people did not follow, and it was only as they were being carried off into captivity that they awoke and realized what was going on.
IV. Pray With a Worshipful Heart (vv. 12-17)
12 Yet God my King is from of old, working salvation in the midst of the earth. 13 You divided the sea by your might; you broke the heads of the sea monsters on the waters.
14 You crushed the heads of Leviathan; you gave him as food for the creatures of the wilderness. 15 You split open springs and brooks; you dried up ever-flowing streams.
16 Yours is the day, yours also the night; you have established the heavenly lights and the sun. 17 You have fixed all the boundaries of the earth; you have made summer and winter.
When things seem the darkest and you don't know how you will continue, it is helpful to remember what God has done for you in the past. The psalmist says "you" eleven times in vv. 12-17 – and he praises the Lord for what he has done for His people. He praises God for his strength to crush and control.
For example, we don't know what a Leviathan is but God has crushed it. God has power over all of creation, streams, brooks, day and night, stars and moons, seasons, and where the land begins and where it ends – God is in control. God has the power to stop this condition that His people are in.
Even after Israel had turned to false gods, (which involved the killing of their own children), even after all that they had done – God was still their God and He was still their king. When they turn from their wicked ways, He is still there. This God and King is always seeking to restore and redeem his creation "working salvation in the midst of the earth."
God is able to see and understand something that we can't. Since he "is from old," He has seen all this before. A people who follow God, then turn from Him, then He must discipline them, and then they return – only to repeat the cycle again.
V. Pray with God's Promises In Mind (vv. 18-23)
18 Remember this, O Lord, how the enemy scoffs, and a foolish people reviles your name. 19 Do not deliver the soul of your dove to the wild beasts; do not forget the life of your poor forever. 20 Have regard for the covenant, for the dark places of the land are full of the habitations of violence. 21 Let not the downtrodden turn back in shame; let the poor and needy praise your name. 22 Arise, O God, defend your cause; remember how the foolish scoff at you all the day! 23 Do not forget the clamor of your foes, the uproar of those who rise against you, which goes up continually!
When the nation has forgotten why God had allowed the destruction of the temple, the psalmist asks God to remember. But to remember how the enemy has mocked Him and His name. He is asking God to not hand over his covenant people to the world or "wild beasts."
Genesis 17:1-22 – God had promised to preserve them as a nation. When the "wild beasts" invaded their land they brought violence, and it filled the land with darkness – which is a reference to the grave. So the psalmist asks on behalf of the oppressed, poor, and needy for God to rise up and defend their cause. God's people understood that as God's people they were to be serving and helping the oppressed, the poor, the needy, the widows and orphans.[3]
Mark 10:45 "For even the Son of Man came not to be served but to serve, and to give his life as a ransom for many." If God would spare and restore the church, then it would be for the reason that it could bring His name glory and be His hands in feet by serving others (widows, orphans, poor, needy).
So you went to church on Sunday? Did you eat some lunch afterwards? This week you plan to take the kids to ball games and swim practice. You'll go to work and put in another week. You'll probably even go back next week sing some songs and hear another massage. But be prepared to see another flag, and the enemy will claim another. Will it be one of mine? Will it be one of yours? Will we awake from our distractions?
There is a way to change the course of the wayward church – They don't have to sit by and watch as the enemy plants his flags and destroys their families. Jeremiah 29:10-14 "For thus says the Lord: When seventy years are completed for Babylon, I will visit you, and I will fulfill to you my promise and bring you back to this place. 11 For I know the plans I have for you, declares the Lord, plans for welfare and not for evil, to give you a future and a hope. 12 Then you will call upon me and come and pray to me, and I will hear you. 13 You will seek me and find me, when you seek me with all your heart. 14 I will be found by you, declares the Lord, and I will restore your fortunes and gather you from all the nations and all the places where I have driven you, declares the Lord, and I will bring you back to the place from which I sent you into exile."
They can awake and cry out to God.
__________________
[1] Max Anders (ed.), Homlan Old Testament Commentary, Psalms 1-75 (Nashville, Tennessee; Broadman & Holman, 2003), 373.
[2] Ibid.
[3] Ibid. 374.