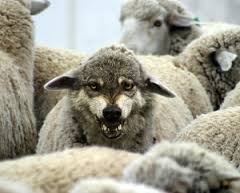 Matthew 7:15-20 "Beware of false prophets, who come to you in sheep's clothing but inwardly are ravenous wolves. 16 You will recognize them by their fruits. Are grapes gathered from thornbushes, or figs from thistles? 17 So, every healthy tree bears good fruit, but the diseased tree bears bad fruit. 18 A healthy tree cannot bear bad fruit, nor can a diseased tree bear good fruit. 19 Every tree that does not bear good fruit is cut down and thrown into the fire. 20 Thus you will recognize them by their fruits. (ESV)"
This passage comes from a series of Jesus' teachings that range from prayer, the Golden Rule (which immediately precedes it), building one's life on a solid foundation, etc. It is a warning to the church against false prophets. It begins with the warning to "beware." They should be aware that false prophets will come and want to be a part of their group.
False prophets in the Bible tended to fall into three categories:
1) those whose worship false gods and served idols, 2) those who falsely claimed to receive messages from the Lord, and 3) those who wandered from the truth and ceased to be true prophets.[1]
It is this last group of false prophets that are the most to be feared. They could have come to your group and been vetted, and even have been an esteemed leader, but over time their hearts have changed and they now have different motives and reasoning to be apart of a group of God followers. It is characteristic of this last group of false prophets to be employed by the powerful and rich and that they tell what these groups want to hear. They give flattering, positive, and pleasing words in their sermons, and are focused on being popular but give false messages (Jeremiah 28:1-17).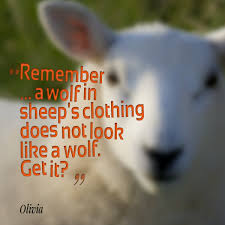 The false prophet appears, on the outside, to be gentle and like everyone else around them, but on the inside are "ravenous." The greek word here translated as "ravenous" (ἅρπαγες) is used three times in the New Testament. Here in Matthew 7:15, Luke 18:11, and 1 Cor. 6:10. In the second two examples it is translated as "swindler," and the first as "hungry, famished." If you take into consideration all three examples it carries the idea of desiring to take and consume.
The wolf wants to get close to the flock because he desires to consume them. His stomach growls, his mouth waters, and his entire focus is to devour. The false prophet is incredibly dangerous, but he is not seen as such because of his "sheep's clothing."
The danger of allowing a false prophet into the fold is the resulting "diseased" fruit (vv. 17-18). His messages sound appealing, popular, and pleasing to the hear, but they are void of truth and the resulting spiritual fruit in the lives of the congregation leads to disease.
Before a prophet (teacher, leader, etc.) Is allowed into the flock to teach their "fruit" of past leadership should be carefully inspected.

The Wolf's Motivation
The wolf described here is incredibly hungry and desired to eat/consume the sheep. He wants what they have. The lost world or even those who have fallen away want what they see other believer's as having — they just don't understand how to have it in an acceptable way. In their lost or wayward condition they hate others for what they have and want to destroy them because of it.
In the Orchard; A Comparison

A True Prophet
Speaks the truth
Prunes, treats for illnesses, strengthens, and may even cause momentary pain for the purpose of future strength, is focused on the overall health of the orchard, known by good fruit, are open with their lives, giving

A False Prophet
Speaks lies
Pretends nothing is wrong, ignores problems, takes what he can, no thought for the future of the orchard, is only focused on today, consumes, seeks to hide, keeps things hidden, will be known by bad/diseased fruit, may even seek to blame others for past poor leadership
How Should One Respond to a False Prophet?
"Every tree that does not bear good fruit is cut down and thrown into the fire. 20 Thus you will recognize them by their fruits."
Whereas the wolf sought to consume the sheep, in the end it is they whom are destroyed. So what should the group do when they realize they have a false prophet among their midst?
1. Cut the false prophet off from its' "roots." Cut his influence down to the ground. His immediate separation from the group should be immediate.
2. Do not allow the false prophet to have any kind of foothold in the church at all "thrown into the fire."
When you cut down and burn a diseased tree a new tree can be planted to take it's place. As long as the diseased tree is there in the orchard it takes/consumes sunlight, nutrients in the soil, space, etc. It has to go because it consumes needed elements from the trees around it.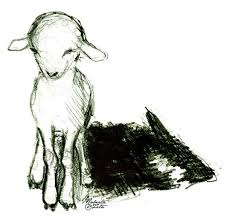 How Does One Protect Themselves From a Wolf In Sheep Clothing?
1. Take time to investigate, don't assume.
2. Don't let appearances guide decision making. Both true and false prophets look the same from the outside. All leaders should be "allowed in" based on what is on the inside, and from past leadership's "fruit."
_______________________
Jesus gives this teaching as a way of encouraging the church to compare His teachings, actions, and "fruit" of His ministry to see if He is indeed a genuine prophet. But it is also given as a warning to church to beware of false prophets. Once they are in the fold and amongst the flock the damage they inflict can be extremely devastating and life changing for the sheep they influence or consume.
___________
[1] Ronald F. Youngblood, Gen. Ed., Nelson's New Illustrated Bible Dictionary (Nashville, Tennessee; Nelson Publishing) 440.