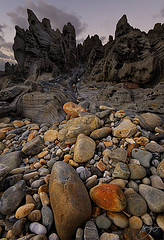 When we journey through the book of Matthew we land in chapter four where we discover that Jesus is led (by God) into the wilderness for the expressed purpose to be tempted.
Matthew 4: 1-3 "Then Jesus was led up by the Spirit into the wilderness to be tempted by the devil. 2 And after fasting forty days and forty nights, he was hungry. 3 And the tempter came and said to him, "If you are the Son of God, command these stones to become loaves of bread."
First, why does Jesus need to be alone during this temptation? We see later that He will be strengthened through this time (even as he has fasted for forty-days and forty-nights.) But when we face temptation, it is a completely solitary event. Surrounded by thousands of people, when we face temptation, it is completely between us a our Creator in how we deal with it. Temptations are extremely private affairs. The consequences may be public, but at the moment of temptation, there are just two people present (the Creator and his creation).
Why does Jesus need to fast during this time (so that we follow His example? So that He would be weakened?) We see that He is again fulfilling Scripture as he went through this time of temptation. Just as the Israelites had been in the wilderness for forty years, Jesus' fasting pushes us back to ancient Hebrew history.
Deuteronomy 8:2-3 "And you shall remember the whole way that the Lord your God has led you these forty years in the wilderness, that he might humble you, testing you to know what was in your heart, whether you would keep his commandments or not. 3 And he humbled you and let you hunger and fed you with manna, which you did not know, nor did your fathers know, that he might make you know that man does not live by bread alone, but man lives by every word that comes from the mouth of the Lord."
Whereas God's people had failed and rebelled in the wilderness, Jesus would remain faithful and would follow God where ever He led Him. Â God led Jesus into the wilderness to be tempted. God led the Israelites into the wilderness in order to take them to the Promised Land, and to teach them to rely upon Him (to test their heart). The first generation did neither, but the second Adam [1] would always do both. Whereas other men and generations had failed, Jesus would not.
Having some time to think about how he would tempt Christ (about thirty years), The Accuser (i.e. the devil) began by saying, "If you are the Son of God. . ." Does Jesus feel like He needs to show others who He is? Sure He does, he has just been baptized and God spoke from heaven. The cats out of the bag, so to speak. Why not turn the stones to bread and fill his stomach. He would perform miracles later in to order to show others who he was (the promised Messiah). Why not now? Kill two birds with one stone, so to speak.
Why doesn't  the tempter say, "Since you are the Son of God, . . ." It is because he is trying to get Jesus to show others who he is (even if He is alone) on Satan's timetable. To do what seems right at the time, apart from God's guidance. The Israelites failed the test because they did not believe that God would feed them. Jesus knew that in order to pass the test (the right way) he had to trust God to feed Him as well (not himself). Trusting God, and not trusting himself. Man that's a big one, I think it's worth repeating. . . . .trusting God, and not trusting myself.
So we see Jesus' response in verse four, "But he [Jesus] answered, "It is written,"'Man shall not live by bread alone, but by every word that comes from the mouth of God.'" [2] God would speak to Him, and tell Him what to do next. So for now, he waits — forty days or so. God seems to take us to our limits before showing us the way. After all, who needs to trust God when our stomachs are full?
There will be times when you know that God has called you be be something, or to do something. Jesus was called to be the Savior of the world. Satan will try to get you to doubt this calling. Or the Tempter may try to draw you to prove to others that you have been called to do this, by displaying your "greatness" (in pride and apart from God).
You fill in the blank: "If you are a _____________ (preacher, man of God, daddy, children's pastor), then show others your greatness and prove that you are great! Show them how wonderful you really are! If we were to boil these verses into one word, it would be trust. Who do you depend upon? Are we to make our own plans and ask God to bless it? Or do we wait, and wait, and wait (40 days for Jesus) to hear what our next move should be.
God will reveal His will (and perfect plan) in time. He will receive the glory. Don't worry if you failed the test (again). I sure have. Jesus passed this temptation, and because of Him and His greatness, I am standing to face another day, and an eventual timeless eternity.
[1] 1 Corinthians 15
[2] Deuteronomy 8:3 "And he humbled you and let you hunger and fed you with manna, which you did not know, nor did your fathers know, that he might make you know that man does not live by bread alone, but man lives by every word that comes from the mouth of the Lord."