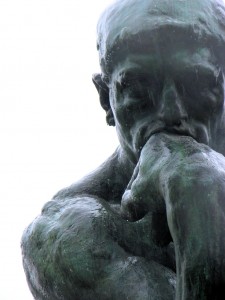 Have you ever found yourself in a situation (conversation, meeting, accusations being made, etc.) and all that is within you wants to react severally? In these moments you feel defensive and anxious.
As a leader you also feel like you need to be decisive and react quickly with a "come back" that is thorough and well thought through – but in your heart you know it's not.
Many times when I have been in these situations and have pushed on, even when my heart was saying "stop Drew, you are about to get yourself in trouble,"
I have said things I wish I could take back. No so much because they were untrue, or mean spirited toward another person, but well just not very well thought out responses. What I have found is that if I am confused with my emotions, then it is best to be quiet (in the heat of the moment) and step away. It does not make you look weak or ignorant to ask for time to respond, or to schedule another time to discuss the issue.
This gives your (and their) emotions times to calm and it gives you time to think. I do best when I go off by myself to think, pray, meditate, read Scripture, and journal. Many times it helps me to lay things out on paper and contemplate the issue at hand.
"On the lips of him who has understanding, wisdom is found, but a rod is for the back of him who lacks sense." Proverbs 10:19
So let me encourage you to step back, out of the heat of discussion, and consider the following:
______________________
Some Things To Think About
1. Take the time to put into words (on paper) the issue. Write it out. If there is more than one then put them into categories.
2. Write down how you are feeling and why you think you are feeling this way.
3. Ask, "what am I assuming about this issue that I cannot show with facts?" Are you reading things into the issue from your history? In other words, is there emotional baggage that is affecting how you are dealing with this issue?
4. Make a list of the things that are "bugging" you about the issue. Write down, "This bothers me because . . ."
5. Seek a solution – don't just gripe. It's easy to things to complain about. Be a problem solver. As a leader you must be able to put your emotions and feelings to the side for the greater good or the organization. People are looking to you to set the example and to lead.
6. Eventually, when you return to "Lions Den" and your solution is not accepted, or your feelings are not acknowledged, then shake it off and move on. To hold on to ill feelings will greatly affect your ability to lead.
7. Avoid burning bridges over minor issues. The time away helps you to realize if this issue is "a deal breaker" or (while you may feel very strongly about it) really is not that important compared to maintaining a good relationship with those on your team.
There is a saying, "Cooler heads prevail." If you show yourself to speak too regularly without much thought then you will not be trusted. When truly difficult situations present themselves, your leadership will not be considered.
However, if you can learn the discipline to think, specifically to step away from the heat of the moment, and then come back with a well thought through plan then your leadership will be trusted (even if they don't agree). In the end, trust is what is at stake.
If you as a leader can show yourself calm in heated moments, then you can hold on to the trust until another day. If your opponent shows themselves to be irrational and too emotional then simply allowing them to show this will only aid your leadership when you return to the issue later.
It's time to think.
____________________
click here for further reading in this topic.