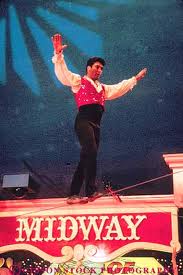 In many ways leadership is a balancing act. Some guys do it with flare, others of us are just glad to be hanging on and not have fallen to our death. Some leaders move gracefully and with pizazz, with others it becomes tedious step-by-step events of terror. But in the tightrope of ministry, one must know how far to step, when to bring up topics to discuss, how to deal with "personalities," and on and on the rope goes in which one must stay balanced.
The leader must weave through obstacles and must constantly keep multiple things in mind. As one progresses through the years these balancing movements become reflexive and intuitive. So with age comes wisdom, and when you see someone about to make a misstep you cringe and yell "stop, you're going to fall," and you pray there's a net.
But all leaders must fall off the wire, it's how one learns the intuitive feeling of balance and if your lucky gain the flair of showmanship. But tightrope walking begins only inches off the ground, and with experience moves heavenward. So fall from this height are for more forgiving when you are getting started, rather than falls from the "Big Top."
_________________
Tension
Like the tension in the wire, the leader in ministry needs two anchored ends to support him in his dramatic walk along the rope. The first anchor is outreach, evangelism, and ministry. For our discussion I categorize these purposes of the church as "kingdom" work. The second anchor is discipleship, fellowship, and worship, and we will call these three "church" work. 
If there is too much of an angle on either side, then the tightrope walker too easily slides down the steep angle and falls. If there is too much slack in the rope where either side gives way, then the walker does not have the support needed to make the walk. Both are needed equally, both must be securely anchored, and both must be of equal level (i.e. importance) in the life of the church.
Fellowship balanced with Outreach.
Worship balanced with Missions.
Discipleship is balanced with Ministry.
All things balanced with Love.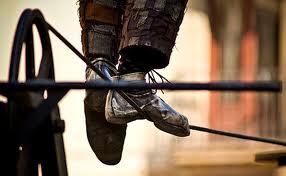 If you focus too much on missions, then people could begin to feel out of touch with the church body as a whole. The church will begin to say things like, "Why are we trying help all these people (over there) when there are people needing help right her in our own church body?"
This is not an "either/or" situation, it is a "both/and" situation, and both need to be balanced. If the church is not reaching out, and it over emphasizes fellowship, then it easily becomes inward focused and selfish. Marble columns go up everywhere in the cathedral while the nations are ignorant of Christ. Volunteers become scarce as everyone has "stuff they need to do."
When missions is overly pushed then people are left feeling used and neglected. Those that are faithful, hardworking volunteers get burned out and the volunteer base shrinks to nothing. If we think of "missions" as seeking to reach a certain people group, or changing how you do things in order to reach people (i.e. immersion in a different culture), then it is not too difficult to find a church that has changed everything to reach lost people with their church services.  If missions is overly emphasized, then the services resemble rock concerts, the preaching becomes "talks" with little Bible content, and the most important person in the room is the guest and not God. All of this is done for the purpose of making the lost culture to feel "more at home."
If worship is overly emphasized then the service changes little over the years. There is no thought (or very little) to guests and they are left feeling like "outsiders" who don't speak the foreign language of church (bulletin, atonement, right hand of fellowship, reading music, finding books in the Bible in seconds, etc.).  The lost world must make a huge effort to overcome these obstacles in order to climb into congregations. Worship tends to focus more on tradition than making changes to stay "culturally relevant."
Lastly, when discipleship is overly emphasized then people learn a lot about God and His Word, but do very little of the things He commands His followers to do (sharing the gospel, feeding the poor, helping the widow, giving our coats to those without one, etc.) They tend to stay in classrooms and argue over doctrine, while they do little with the doctrine.
When ministry is overemphasized soldiers are ill equipped to do ministry. Like a soldier handed a rifle with no instructions, dangerous doctrine, sinful solutions to problems, and bad application of Scripture are not very far away. When churches focus little on equipping and are heavy on ministry then you better keep your head down because they know little of the Evil One's schemes nor the Creator's Plan for them and the world.
_________________
When a church is able to find the balance between "kingdom" and "church" work, then they grow in knowledge and life experiences. Their assumed doctrine is challenged and made more concrete through encountering a lost world. Their hidden sins are brought to the surface and dealt with through being held accountable by fellow believers.  Their spiritual gifts are exercised in service to the Lord, so they feel more satisfied and content with life.  New friendships are made (outreach) and old ones are deepened (fellowship). Ultimately God uses one's faithfulness to His plan (church and kingdom work) to make the Christian (and then the church) more like Christ. To be out of balance, with any of these purposes, leads to a person being damaged and the church misses it's calling.