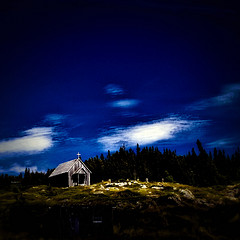 Two weeks ago I preached a sermon that dealt with a general broad study of the Holy Spirit, and the following is a response from a member of DBCC. I asked him if I could post it, and give my response as a blog entry. So, thanks Billy for a great question, and for letting me share it.  My responses are given in italics.
Drew,
I just wanted to say thank you for today's sermon.  It was one of those little triggers that helped a lot of different things click into place for me in terms of my understanding of the core aspects of central doctrine.  If you don't mind I'd like to run a quick version by you to check that I haven't mixed anything up – mainly in reference to the Holy Spirit as that was the topic of today's sermon and also because I don't want to make this an essay of epic proportions.
In short, I tend to think of creation, God's plans, & etc. in terms of logic and engineering. Maybe that's weird, but I think we all have to have some sort of parable or framework with which to aid our minds when we ponder the infinite.  I know this framework doesn't work for everyone, but it seems compatible with the description of our creator in Proverbs and elsewhere (he had his reasons for what he did and they were wise and well thought out).  As an example: I've managed to grasp the concept of sin as a deviation or perversion of God's intent or design (because design intent is something engineers work up all the time).
When you were going over the many titles of the Holy Spirit (Spirit of: holiness, knowledge, might, truth, grace, judgment, adoption, revelation, etc…) it struck me that the Holy Spirit is the essence of these things: the standard by which the designs of God the Father are defined.  Just as there's a big platinum sphere by which a kilogram is defined, the Holy Spirit is love, is truth, is the very aspect of God's design by which we recognize the goodness of God.  Taking the greatest fruit, love, as an example: the Holy Spirit's defining capacity is made most clear when it comes alongside of us and, as much as our own acceptance of the Spirit allows, we can see love in the light God defines it as.  In fact – it is only then that we may comprehend true love enough to understand the purity and magnitude of the love Christ had for us when he died on the cross and respond appropriately.
Of course, the Holy Spirit is far more active than just a set of definitions and design parameters.  You said that the Holy Spirit is responsible for renewal and regeneration.  I'm quite a bit less sure about this next set of thoughts, but as I see it, there was no greater feat of renewal and regeneration than the resurrection of Christ – was this the work of the Holy Spirit (as opposed to God the Father or Christ himself)?  It would make sense logically as Christ had surrendered divinity (or the form of Godliness) while a man, and God was viewing Christ in light of our sins which he took upon himself, so this alienation needed a third party to act.
Since it is not Billy's intent to focus on the divinity of Christ, or the idea of Christ's incarnation I will just point to this article, especially the section "Emptied His Glory?" http://kenosis.info/index.shtml I especially like his remark about going on vacation with your family — do you want your wallet to be concealed or empty? The only way for Christ's death to be a substitution for the sin of mankind would be if He were fully divine. Christ concealed his divinity in flesh, he did not cease to be divine.
Also, as a church, for the Christmas series we are memorizing John 1:1, 14a — I wish that I would have encouraged the church memorize all of 1 John 1:14, because it goes on to say, "
And the Word became flesh and dwelt among us, and we have seen his glory, glory as of the only Son from the Father, full of grace and truth (ESV). John was one of the three disciples who saw Christ's glory on the Mt. of Transfiguration in Matthew 17. Jesus was momentarily transfigured from His flesh so that the disciples could see Him. He wasn't transfigured from man to God.
I know there are passages that talk about Christ raising himself from the dead and stealing the keys & etc… so it's entirely possible that he resumed his form of Godliness just after the point of death (likely for some of these events) but there was still a breach which needed someone to say "those sins died with Christ, but since he was innocent they couldn't stick through with his resurrection – so look at him now" (I imagine there was probably more technical lingo and quite a bit more fanfare than that).  Could this be right?  Is it even close to how the Holy Spirit had a role in our most pivotal point in history?
Mankind's sin is described to us as being a debt that is owed to God. Mankind can not repay this sin debt, so God in His love provided a way (the only way, John 14:6) through the substitutionary death of His Son Jesus. Jesus was fully God, and fully man. We see in Matthew 3:16-17 Jesus' baptism, "And when Jesus was baptized, immediately he went up from the water, and behold, the heavens were opened to him, and he saw the Spirit of God descending like a dove and coming to rest on him; [17] and behold, a voice from heaven said, "This is my beloved Son, with whom I am well pleased." (ESV) The Holy Spirit, in that Jesus was a man, rested upon Him, empowered Him, counseled Him, etc. and was with with him (paraclete) even through His death on the cross, and resurrection. We do not see any indication that once The Holy Spirit "rested upon Him" that He ever left Him. even in His death.
Romans 6:3-4 says that "Do you not know that all of us who have been baptized into Christ Jesus were baptized into his death? [4] We were buried therefore with him by baptism into death, in order that, just as Christ was raised from the dead by the glory of the Father, we too might walk in newness of life." (ESV) So if we are discussing the Trinity, and who did what regarding the substitutionary atonement of mankind's sin, The Father was the one who sent the Son and raised Him from the dead by His glory, The Son became flesh and lived a perfect sinless life and took the sin of the world upon Himself  and died in its' place, and the Holy Spirit who strengthened, counseled, and walked beside Christ through it all. God (as a Trinity) is the only hero in the salvation story, the Father who gives, the Son who endures, and the Spirit who strengthens — the God who is love.
In light of the Holy Spirit's activities with believers, I think serving as the design parameters fits well with why it is the Holy Spirit who is responsible for renewal, regeneration, and sanctification.  What better than the definition of holiness to transform us to be more and more like that standard by which God designed.
Anyway, thanks again for the sermon.  I really appreciate it when they get a little technical and you rattle off a lot of cross references and points to consider.
Also, if you're taking requests for the Christmas series – I've always wanted to hear it according to Revelations 12.  Matthew and Luke have some great stuff, but nothing strips away the sentimentality of a baby in cold weather (and the resulting trees, ornaments, gifts and etc…) than dragons, the heavenly D-day and our continuing war.
I'll have to get back to you on that one.
Let me know what you think,
Billy
PS – carbon copied to Heidi since she had to miss the sermon.
Heidi and Billy faithfully serve at Daybreak Community Church, and are great friends. Thanks again for you for your question and encouragement.