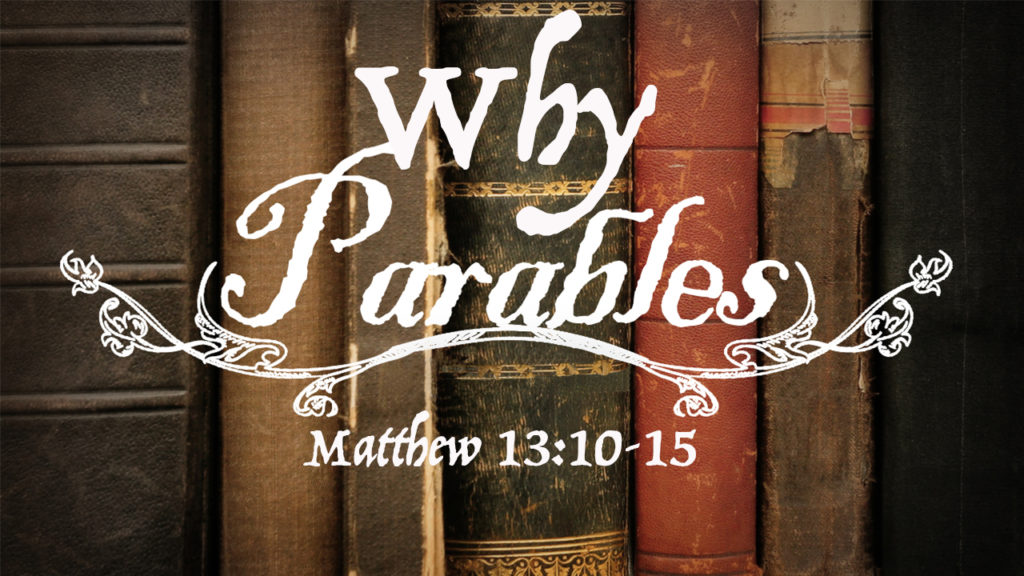 Matthew 13:10-15
"Then the disciples came and said to him, "Why do you speak to them in parables?" 11 And he answered them, "To you it has been given to know the secrets of the kingdom of heaven, but to them it has not been given. 12 For to the one who has, more will be given, and he will have an abundance, but from the one who has not, even what he has will be taken away. 13 This is why I speak to them in parables, because seeing they do not see, and hearing they do not hear, nor do they understand. 14 Indeed, in their case the prophecy of Isaiah is fulfilled that says: "You will indeed hear but never understand, and you will indeed see but never perceive." 15  For this people's heart has grown dull, and with their ears they can barely hear, and their eyes they have closed, lest they should see with their eyes and hear with their ears and understand with their heart and turn, and I would heal them.'"
The setting of this conversation between Jesus and his disciples seems to be as a huddle while the crowds stand waiting to see what else Jesus may say or do. The disciples are picking up from the reactions from the crowd that they do not understand what Jesus is saying. So they ask the question, to the side, "Jesus, why are you speaking to them in parables?" As if to say, "Jesus wouldn't it be better to speak to them directly, without the stories?"
Jesus responds to the disciples question by making a statement that balances divine sovereignty with human responsibility.[1] The first comment is definitively predestinarian in nature, "To you it has been given to know the secrets of the kingdom of heaven, but to them it has not been given." The disciples were chosen by Jesus, and therefore given the secret of the kingdom of heaven; which is how He [Jesus] was completing prophecy and was the promised Messiah who would save the world from its' sin.
The disciples were allowed in on the secret of who Jesus was and what His plan was, even if they didn't fully understand it or know it fully at this point. The crowds were not allowed in on this secret. Therefore, Jesus' teaching of the gospel and the kingdom of heaven were not irresistible in nature, the people had a personal choice to make.[2]
That which is given or taken away in verse 12 is insight or understanding of the gospel. By telling the crowd the secrets of the kingdom of heaven as a parable those sinners who want redemption and salvation from God may have it, but the religious self-righteous and prideful will never see themselves as the character in the stories Jesus tells and therefore never see the connection between Jesus and them being saved from their sin. The self-righteous think they are without sin and therefore don't need saving.
Jesus then says, "because seeing they do not see, and hearing they do not hear, nor do they understand." He chose to teach in parables because the crowds were hard hearted in their response to His previous teachings. Tasker says in his commentary on this passage, "Men can and do reject it. Indeed, it can be accepted only by those whose hearts have been made ready to receive it, just as seed can produce a crop only when it is sown in ground prepared for its fertilization."[3]
Think of Jesus' teachings as truth that moves toward the person. Our eyes, ears, and hearts act filters, and if it makes it through the filter then it affects our perception and understanding of ourselves and of God. But we have control over these various filters. We can choose what our hearts pursue and even love.
We can choose to look but not see what is right there in front of us. We can listen but only hear what we want to hear or read in our own thoughts and perceptions into Jesus' teachings. The truth can be right in front of us, but because we are not willing to perceive it, or change our lives to be shaped by it, we can voluntarily ignore it. So those who are open to Jesus' teachings and are willing to change their lives based upon them will understand "the kingdom of heaven" further. But if you have had some understanding of the gospel, but choose not to change, even that perception that you had will soon disappear.
In passages such as these it would be easy to become enthralled in a discussion of Arminianism, Calvinism, predestination, election, etc. and completely miss the point.[4] If you have been given grace enough to understand that you are a sinner then run to the cross. In Jesus' teachings we find salvation and a life of freedom and forgiveness. If He has shown you an area of your life that needs work, forgiveness, or action, then allow Him to lead you in doing it.
In verse 15 it says, "For this people's heart has grown dull," It is a progression taken with multiple decisions to step away from God and toward rebellion. Increased understanding of God comes from obedience and chasing after Him in steps – a dull heart is produced from being disobedient, self-righteous, and walking away from His grace.
James 2:14-17 "What good is it, my brothers, if someone says he has faith but does not have works? Can that faith save him? 15 If a brother or sister is poorly clothed and lacking in daily food, 16 and one of you says to them, "Go in peace, be warmed and filled," without giving them the things needed for the body, what good is that? 17 So also faith by itself, if it does not have works, is dead. (ESV)"
______________________________
[1] Craig L. Blomberg. The New American Commentary; Matthew; vol. 22 ( Nashville, Tennessee; Broadman Press) 215.
[2] RVG Tasker. Tyndale New Testament Commentaries, Matthew (Grand Rapids, Michigan: Inter-Varisty Press), 137 & Ibid.
[3] Ibid. 137.
[4] Even if one tends toward Calvinism, we still have Jesus presenting to all while knowing that most would not receive His message.
*** For further information on Calvinism and it's current role in the Southern Baptist Convention see  E. Ray Clendenen. The Southern Baptist Dialogue; Calvinism (Nashville. Tennessee; B&H Publishing Group) 2008.