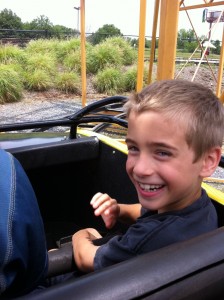 This picture was taken at Caleb and Joshua's birthday party a few weeks ago (Caleb was about to go for his second time on the roller coaster). We were at Adventure Park for a little over three hours and had a blast. As the day went on Caleb told me that he couldn't stop smiling. He screamed with delight riding the roller coaster, spun in the whirl-a-hurl, and was shot with water canons in the bumper boats. Â It is a wonderful feeling to know that as a parent you have orchestrated something that is truly bringing your kids happiness.
Matthew 7:7-11 "Ask, and it will be given to you; seek, and you will find;knock, and it will be opened to you. 8 For everyone who asks receives, and the one who seeks finds, and to the one who knocks it will be opened. 9 Or which one of you, if his son asks him for bread, will give him a stone? 10 Or if he asks for a fish, will give him a serpent? 11 If you then, who are evil, know how to give good gifts to your children, how much more will your Father who is in heaven give good things to those who ask him!"
I love to give my children good things, and to bring them joy. It is unlike any feeling that I have ever experienced. The Bible is true that I am evil, make mistakes, and will fail more times than I succeed. But what a joy to know that God, my (perfect) Father, delights in blessing His children with "good things." It's not about getting more stuff, but the relationship. God knows what you need, and He delights in giving it to you — but he desires the relationship so He requires that you ask. He does not give you what you need from afar, He delights in seeing your face, talking with you in the cool of the day, and hearing from your heart. His delight is you and your relationship with Him.
I went on the roller coaster with Caleb, I go to the beach on vacation and build sand castles, and I sit beside him in Cub Scouts. I delight in my relationship with my son (and all of my children). It brings my heart joy to know that God does the same thing (but infinitely more) when He thinks of me as His child. Â Go and spend some time with your Heavenly Father today, He is waiting with a smile on His face.