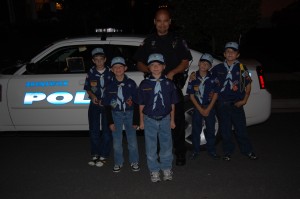 Wait, it's not what you think.
The Bears from Pack 277 were visited by a Brunswick Police Officer who took time from his busy schedule to talk to the boys about police work. The Bears asked many questions (mostly influenced by Batman and other television shows). Some questions included, "what if everyone from jail escaped at the same time?" and "what if there were three bad guys against you, what would you do?" and so on and so forth.
The officer explained what the badge means, its origins, and explained the equipment that he carried with him as an officer (including handcuffs). Caleb locked himself in the handcuffs and had to be released. Then they went out to the officer's car where he explained his computer, how he pulls people over, and the spot light on the side.
The officer was very gracious and patient with the boys and taught them some much needed information.
Thank you Brunswick Police Department.