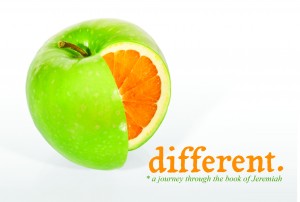 Series Title: different
Sermons:
5.16        Jeremiah 1 "A Different Message"
5.23        Jeremiah 2 "Different Way to Live"
5.30        Jeremiah 13, 14:13ff. "A Different Way to Think"
6.6        Jeremiah 18, 33 "A Different Way to Walk"
6.13        Jeremiah 20 "A Different Way to Talk"
6.20        Jeremiah 27, 28 "A Different Way to Understand"
6.27        Jeremiah 29; 31:31ff; 32 "A Different Way to Relate to God"
7.4        Jeremiah 36, 38 "A Different Way to Succeed"
My Next Steps:
1.    Memorize series memory verse; Jeremiah 33:3
2.    Read the entire book of Jeremiah by the end of the series.
3.    Take the 301 Class – "Discovering Your Ministry"
4.    Commit to helping others discover their life's purpose – I want to help at a Back yard Adventure Camp this summer.
5.    Commit to being "different" in your life, so that you stand out as a Christ follower –
What ever form you feel would give God glory with your life.
Font: YanoneTagesschrift
Istockphoto # 11367210
Blurb:
Have you ever just wanted your life to be different? If you could just take that away, of if you could just get this thing, or change that part of yourself. . . ? Do you feel trapped, stuck, or overwhelmed? Do you try to fill that empty part of your soul, but nothing has worked?
Join us as we journey through the book of Jeremiah where we will draw practical, real life applications for how we are to fulfill our God given reason for living.
Life can be different . . . yeah, it really can.