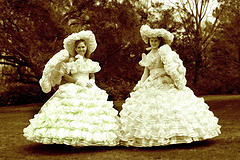 Something happened this week that took me by surprise. I was reared in Russell County Alabama, was picked up by my grandparents for church since I was old enough to walk, and went to a southern university (War Eagle!). It was out of college that I felt called to ministry and was off to seminary in North Carolina. I then was called to be a pastor in Maryland.
Honestly, with eleven years having passed, I don't really remember the culture differences upon my arrival, but I know there were many. The one that stands out the most was my southern draw. After about seven to eight years it had gone away. I intentionally worked on it, because it would be a point of distraction when I preached or did public speaking.
So when Kimberly and I felt called to move back to the deep south, I was surprised at how I have been reacting to the difference I sense within me. I thought I would instantly be right at home; and in some ways I am, but I other ways I am not. I have felt the inward resistance to allow myself to change to the cultural differences. My children after only a couple of months of school have already begun to break single syllable words into multiple syllables.  They seem to be doing fine, making new friends, and blending in. I on the other hand am slow to change.  If someone were to ask where these differences are, I couldn't really put my finger on it, only that things are different. But here are a few:
1)Â Â  Southern Hospitality is still alive. It has not disappeared during my absence. My family has been overwhelmed by the love from the congregation where we serve, and the welcoming community as a whole. Church functions include vast amounts of food that often times has been hand made. We had so many people bringing us food after our arrival that we could not keep up with thank you cards.
We have experienced several funerals where the church and community bring large dishes for the family where they all eat together. Mourners sit together, eating a home made meal and tell stories of the deceased.
As I was writing this article in Atlanta Bread a man came in and began to ask for money. He was holding a plastic jar with a screw on top. I instantly gave him my rehearsed answer that I had given hundreds of times before. The southern woman sitting across from me instantly reached into her purse and pulled out several ones and gave it to him with a smile. I don't believe that there really is a raffle for his sick son, but she gave it knowing that it probably was a scam.
2)   Respect for One Another. My children were instructed the first day of school to say, "Yes, Ma'am" and "No, Sir." As we were introduced to various children and their parents the children would respond in this way (without having to be told to do so).  There is a cultural understanding that adults (especially older adults) are to be treated with a great deal of respect and honor.
3)   The Centrality of the Church in Everyday Life. There are still communities where the family understands how important the church is to their lives, and protects that relationship from encroachment. When we began meeting with Cub Scouts, several of the parents were very vocal about not planning events on Sunday mornings because "we go to church on Sunday."
Football is king in South Georgia, but there are no practices, scrimmages, weight lifting sessions; nothing is done on Sunday mornings (or Sunday at all for that matter). Students still pray before the local Friday night high school football games, and they even say, "in Jesus name." Like a cool breeze, it is so refreshing.
Children don't come to church dressed in cleats and sporting attire. They are there for church; it is not a pit stop on their way to the real event.
Every culture has a negative side (if it didn't I wouldn't have a job). So, while church is central to the culture, there will be people there who are not authentic Christ followers. I know, "surprise!" Their belief may even be based on the religious assumption that going to church will earn them a spot in heaven.
I am slow to change, and tend to think about things too much. I over plan, and think too much about worst-case scenarios. I love books like "Worst Case Survival Handbook; the man skills edition." Perhaps the reason why I resist is that I am not sure what the worst-case scenario would be in this new environment. What I am finding disturbing is that I am beginning to see that I have developed a hard edge. The cold winters of Maryland and hard years of ministry have taken a toll that I had not expected. The southern culture exposes that hard-heartedness and I am not comfortable with that (yet).