In Ephesians 3:14-19 Paul is praying for believers in Christ, which he calls "you." He is praying so that they will take an action, "to grasp," and understand the volume of God's love for them. This action and understanding will be to the fullest.
"14 For this reason I bow my knees before the Father, 15 from whom every family3 in heaven and on earth is named, 16 that according to the riches of his glory he may grant you to be strengthened with power through his Spirit in your inner being, 17 so that Christ may dwell in your hearts through faith—that you, being rooted and grounded in love, 18 may have strength to comprehend with all the saints what is the breadth and length and height and depth, 19 and to know the love of Christ that surpasses knowledge, that you may be filled with all the fullness of God."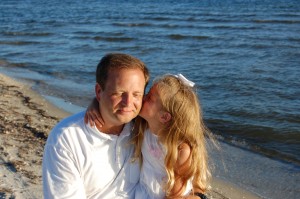 Paul's main idea is to get the reader to understand how great God's love is for His children. It is described as four never ending  axis of a sphere, "breadth and length and height and depth." The passage goes on to say, that this volume of love is "the fullness of God." We know that God is eternal, never ending, and beyond measurement — so it is like our universe. God's love is like the vastness of eternal space. It is a massive sphere, that is eternal in all four directions. We are surrounded by this volume of love from God, a volume beyond comprehension and measurement. No matter how far you travel in any direction, His love for you will never end. You are always surrounded by God's love.
What happens if a person does not have this information? What is a person's life like if they do not know of God's love for them, and how deep, long, high, and deep it is? There will be an emptiness within them that they will seek to fill. They will do this in an earthly, fleshly, and fallen way. They will fill this empty area of their lives with what they think will make them happy. This passage shows us that if we can grasp ahold of the tremendous love God has for us, then it will fill us to the full — there will be no need to put anything else there. There will no longer be any emptiness, only the fullness of God.
If you take this same principle and apply it to the family, we get a very similar picture. If a daughter does not know of her father's love, there will be places within her heart that she will seek to fill. She will desire to end the pain of the emptiness of the relationship by filling it with a false and sinful relationship with the first guy who comes along and tells her things Father's should tell their daughters ("you are beautiful," "I love you," (words of affirmation) "Can I have a hug?" (appropriate physical touch) or "I will protect you" (safety)). If a Father is engaged in his daughter's life, and tells her what she desperately need to hear, it will act as a anti-virus to the lost world who tries to destroy her.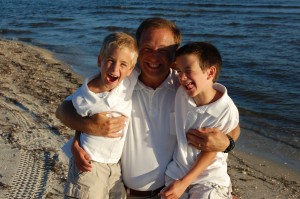 Love also gives stability. The Ephesians passage discusses being "rooted and grounded" in this knowledge of love. When (not if, but when) our lives get chaotic and we become apprehensive, it is the knowledge of God's love for us that allows us to remain stable and calm (even at peace). This knowledge of love acts as a handle. We can hang on to it, knowing that the ship of life may be rocking and rolling, but we are secure as long as we hang on to the knowledge of God's love. Satan (even from the beginning) tries to get believers away from this very important and foundational truth. If he can get you to doubt God's love for you then you will become very unstable, and he can then guide you to destruction.
This knowledge of love and the stability it brings gives one power for living. Paul says,"strengthened with power through his Spirit in your inner being." The word for power here is the Greek dynomos"where we get our English dynamite. You will have strength like dynamite to live in this world. Not only will you have a fullness in your spirit, and your life will be stable and firm, but you will also be able to go out and make a difference with a dynamite impact.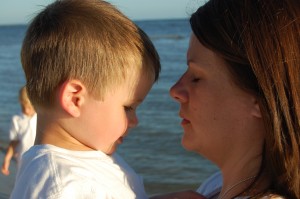 Think of this same impact that parents have upon their children. If your children are able to comprehend the immense depth of your love for them, then they will have a fullness in their spirits, they will be stable in how they live their lives, and they will be able to launch out with power.
Have you told your kids how important they are to you today? Tell them that you love them. A father's love, expressed, will change his children's lives. A mother's love, shown, will change the world.