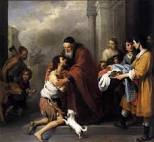 Luke 15:25-32
25 "Now his older son was in the field, and as he came and drew near to the house, he heard music and dancing. 26 And he called one of the servants and asked what these things meant. 27 And he said to him, 'Your brother has come, and your father has killed the fattened calf, because he has received him back safe and sound.' 28 But he was angry and refused to go in. His father came out and entreated him, 29 but he answered his father, 'Look, these many years I have served you, and I never disobeyed your command, yet you never gave me a young goat, that I might celebrate with my friends.30 But when this son of yours came, who has devoured your property with prostitutes, you killed the fattened calf for him!' 31 And he said to him, 'Son, you are always with me, and all that is mine is yours. 32 It was fitting to celebrate and be glad, for this your brother was dead, and is alive; he was lost, and is found.'" 
When the older brother hears that the prodigal brother has returned he is angry. His father comes to talk with him after he has refused to enter the celebration party. The older brother complains of how his father never did anything for him (like kill a goat, throw a party, etc.)
 Who was Closer With the Father?
 Was it the younger son who leaves, dishonors the father, wastes his inheritance, and returns to find pardon, party, robe, and ring loved more? Was the older brother who faithfully stayed behind and was "in the field" doing the father's work more loved? One would assume that because the older brother stayed behind, did the work on the farm, and lived close by the father that he would have a wonderful relationship with the father. However . . .
I.          Being close to God's work does not equate being close to God. [1]
The older brother has proximity to the father, but does not seem to have a close relationship with the father. He is unaware of the father's provision for him. The father responds to the older brother's complaints by saying, "you are always with me, and what is mine is yours."
In the older son's focus on "being in the field" and doing the work, he neglects the relationship of Father and Son. Being close (proximity) to someone does not mean you are close (relationship) to them. The wonder of being close to the father is lost because the older son has become too focused on the work of the father.
Ok, church volunteer, staff member, senior pastor, Sunday School teacher, deacon (you get the idea) – if you are not careful, your duty or job will crowd out your relationship with the Lord. This occurs when we say things like, "I'll have my quiet time later, I need to respond to these e-mails," or "I'll pray later, I need to make a hospital visit."
When we allow what we do to supersede who we are in Christ (his child), we are on the fast track to being the older brother. The older brother's identity was tied to what he did (work in the field, stayed with the father, etc.) not who he was (the father's son).
When this happens in our mind, we begin to feel entitled to having an attitude of dishonor toward our heavenly father; especially when what He desires to do (i.e. throw a party) is different than what we feel should be done (i.e. have the younger brother thrown off the farm!) You see this happening in churches when people are more concerned about their own comfort or recognition at the expense of seeing the lost saved or welcomed into the congregation.
Also, when we become so focused on doing "stuff" instead of investing in our relationship with the Father, we take for granted or even forget what God has provided for us, and how precious it is. We have the ability to be in his presence. We, as children of God can enter into the throne room of heaven, hold our Father's hand, and feel his eternal love for us. Let us never get so used to this, that we forget how special it truly is. Also, the Father has provided for children. He gave His one and only Son so they could be his children in the first place, "what is mine, is yours." When we forget how wonderful and precious grace truly is, then we do not value sharing it with others. Or like Jonah we sit in judgement of who should receive it and who should not.
We have everything in the Lord. This is a very difficult thing for us to comprehend. Our natural instinct is to grab and hold on to the "slop" of this world which has no value and forget the things that have eternal value.
II.        Being close to God's work does not mean you have the right to tell the Father what to do.
The older brother also questions the father's use of his resources – he is like a slighted child saying, "It's not fair!" Those who are close to the work of God but lose the relationship with him begin to think they know better than the father as to how resources should be allocated and what should be celebrated.
The father says, "It is fitting to celebrate and be glad, for this your brother was dead, and is alive; he was lost, and is found." The older brother becomes so focused on his "work in the field," that he forgets that it is the Father's priorities that are the most important.
The father's son is home again – it's time to celebrate, and it is fitting to do so. The older brother has no right to undermine the father's party with drama and attitude.
III.       Being close to God's work does not mean you are loved more. 
We do not earn our Father's love, it is given totally apart of what we do.
What about the relationship between the brothers? Who was more godly? The one who received great grace or the one allowed to be apart of the father's business?
Comparison is poison to a relationship. Brothers (and sisters)-In-Christ do it all the time. They say things like "How many are you running in Sunday School?" or "in a worship service" or "offerings?" etc. ad nauseam.  It has been my experience that far too many pastors cannot be friends (or even have friends) because they are constantly comparing themselves to others. They are constantly trying to one-up each other, which erodes genuine love for another. Instead of celebrating the victories, they (we) are jealous and ask God, "Why can't that happen in my ministry?" Or we have inflated (and false) sense of pride, as though they really had anything to do with it. Don't even get me started on how messed up our determination of "success" can be – I'll give you a hint it has to do with how we answer those questions.
We each have a relationship, as His child, with the father and in this we know that we are loved with a depth far beyond any of us deserve. If he chooses to bless another, it is His right to do so, and who are we to say any different. It is a privilege to be a worker in his field. Let us never forget this. We serve the father because we love him and are thankful for what he as done for us.
James 2:14 "What good is it, my brothers, if someone says he has faith but does not have works? Can that faith save him?
The focus of this passage (James) it to explain how faith (in Christ, i.e. relationship) comes first then the work for Christ. This work is an expression of love that comes from the relationship. Works are not to be apart of our lives as a means of grace or a way to increase God's love for us. The older brother believed that because he was working for the father, then the father should love him more. No. Don't believe that you will be better off than another Christian because you are at the church all hours of the day and night.
________________
[1] Brian Berry, Criticism Bites (USA; Group) 20.