1 Kings 18, Fire From Heaven from Drew Boswell on Vimeo.
This past Sunday I used an illustration that I have used several times in my preaching experience. It involved an eagle crashing into my yard, me scooping it up, mending its' wing, and putting it with my chickens. Well without just relaying the whole thing, at the end of the illustration I went on with the rest of the sermon. But this time, many people actually believed that I have an eagle at my house.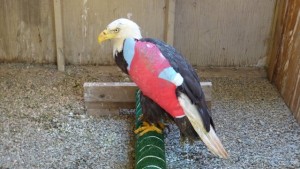 I had over ten people bring it up in conversation – they wanted to see the eagle; they asked me questions about what I fed the eagle, and even gave me some legal cautions with having an endangered animal in my possession. Every time this would happen I was overwhelmed with a sense of guilt (they actually believe I have an eagle hanging out in my chicken coop), and one of regret. I managed to get a large majority of my church to believe that I helped an eagle. I told the story a little "too good." I regret not saying "no about that eagle thing . . . I was just kidding." I regret that where I had built trust, maybe now it is slightly eroded.
The illustration came to be during the Sunday School hour. I had preached the sermon at the earlier "contemporary" service and felt that it had been lousy. Something just didn't click as I was preaching. About half way into the sermon I knew there was a problem – so I landed it, immediately went back to my office and revamped the lousy sermon. One of the revisions for the "traditional" service was a new introduction – thus the eagle illustration was inserted. Again, I had used it several times before with no such sticky predicament.
But this time was different. My eagle came up after the service, it came up at the hospital during a couple of visits, and in various conversations as I bumped into various members throughout the week. So here are a few "take aways" from my experience.
 ____________________
1. Find A Good Illustration in Your Own History.
Illustrations are a way to help your audience to understand what you are about to talk about. Don't let a "good" illustration take you and your audience away from your whole point.
A good speaker will take something difficult and use an everyday example to make it simpler to understand. For example, my eagle illustration was to show how the eagle had forgotten that he was an eagle; he thought he was a chicken. God's people had forgotten that they were set apart from all the rest of the world, and therefore how we mustn't forget that we are saved by God's grace and set apart for His purposes. I don't think we reached this lofty goal with my illustration.
The best illustration you can use is one from your own life! A bad illustration is where you use one you found on the interweb. And the absolute worst is putting yourself into a story that happened to someone else – boo. Also, as a teacher of God's Word, you have about 30 minutes (depending upon your church's tradition) so teach the Bible and don't clog it up unneeded illustrations (especially ones about hurt poultry).
2. The power of "just kidding."
As of right now I am still undecided how I should have indicated that I was not telling the full truth about the eagle, but there should have been a "just kidding" moment where I stopped the yarn. I am also concerned that I may just be getting too good at lying – I'm still contemplating that one.
3. The preacher and the truth.
Those that are called into the gospel ministry have to constantly guard their heart. The more they pursue their calling, the more resistance and potential traps they face. There is a very real enemy who seeks to destroy them, to discredit them, and to lure them into traps that will ruin their ministry. I don't think one illustration will do it – but if someone is known to be a good story teller, and they place their name too often in the story – then they will be discredited from being able to tell the real and life changing story. People won't know which story to believe.