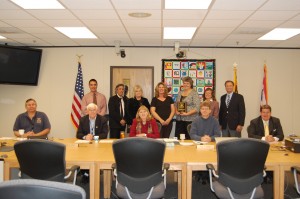 Daybreak Community Church was awarded the Distinguished Service Award for their ministry to families who have children with special needs by the Frederick County Board of Commissioners. Â Rooftop Ministry has been seeking to serve the community for over nine years. Hundreds of children, volunteers, and siblings have been impacted with a love that comes from those who love Jesus and desire to minister in His name.
The ministry began with three special needs children and families and has grown to serving over thirty children, their siblings, and family members on a typical Respite day.
Daybreak also builds wheelchair ramps for families needing this service through their Ramp Ministry. The church also seeks to mainstream special needs children in their Sunday School classes by providing a one-on-one buddy so that the child can participate and be apart of the lesson.
If you are interested in being apart of this very important ministry please send an e-mail to pastor@daybreak-church.com.