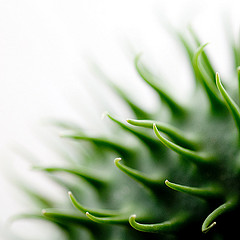 At a Minister's Family getaway the lead speaker[1] Tom Rodgerson used the metaphor of a virus and how it can sometimes be like church life. The over all big idea was that you can't control the issues that other people have (the virus), but you can control how you respond to them (the immune system). He suggested that pastors/leaders should focus on the immune system and making sure it is healthy instead of trying to track down and get rid of all the viruses.
So just by way of continuing the discussion and how leaders can stay healthy, let's push the metaphor of the virus a little further.  In nature in order for a virus to attach itself to the body, it has to have a host cell. And the connection between the host cell and the virus has to be "a perfect fit." So the body's condition must be in such a "shape" so that the virus perfectly matches the virus. If it is healthy, it is less likely to connect to the virus. If it is unhealthy it far more likely to "match up" with a virus. So the following are some ways the leader can stay healthy and deal with "viruses."
1.         Focus On What You Can Control.
Leaders only have so much time, energy, and emotional fortitude, so focus on what you can control – the immune system. There are ways to control exposure to viruses. One could live in a bubble, never go around "viruses" and focus on avoiding "sickness." But Christ has called those who call on His name to "Go therefore and make disciples of all nations. . ."[2] The world is a very messy and sick place.  Viruses are all around us, every moment of every day. To try and avoid them is not practical.
In church life, "viruses" (i.e. people who don't know how to have a biblical healthy relationship, and default to unhealthy behavior when anxiety arises) can not be avoided. But the leader who is "healthy" will be far less likely to be affected by the illness. Remember, there has to be a perfect match between the two in order for the virus to spread.
2.         Constantly Reinforce the Mission of the Organization.
Know the Mission. One of the main tasks of the leader is to keep people focused on the mission and values of the organization. If the body as a whole knows the mission, vision, and values of the organization, when viruses attack, the healthy body will be able to fend off attacks that try and get it off task and engaged in ungodly behavior (infighting, gossiping, jumping to false assumptions, etc.).
3.         Recognize Unhealthy Patterns (and Change Them).
It won't be very long in leadership before the leader will encounter an issue that causes anxiety in the "body." There are different ways that people deal with this anxiety; some people emotionally distance themselves from the leader, they may pull new people into a two person disagreement, they may pull up old issues that have already been dealt with, or just leave the organization all together.
But when the anxiety comes to the surface and the tension begins to build, leaders will have a default pattern that they conform to in order to deal with the issue. Remember you only have so much time and energy; focus on developing the immune system, not fighting the virus. Part of developing the immune system is to recognize patterns in your own life that are unhealthy.  How do you typically handle stress and anxiety? Is this pattern healthy?
In default mode, in reaction to anxiety, we tend to be reactive. We have a certain way we react to the stimulus (or virus). One may retreat, attack back, get quiet, lash out, loss one's temper, etc… but instead of reacting the way one typically has always defaulted to (assuming it is unhealthy), one should become curious as to why they react this way.
It is as if one is in pain from an injury – do you ignore the problem, cover it up, or explore getting medical attention?  Be curious about why you are injured.  Why does the virus so easily become attached? What is it about the immune system that keeps letting this virus in and perfectly attaching to it?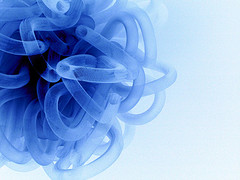 When a person learns something new, or even does something new, the brain creates new thinking pathways. Remember we react to certain stimulus in a default way. If we change how we react enough, our brain will actually change in order to adapt to this new behavior. Romans 12:2 says, "Do not be conformed to this world, but be transformed by the renewal of your mind, that by testing you may discern what is the will of God, what is good and acceptable and perfect." The most significant part of dealing with unhealthy patterns in our lives is to change them, then our brains will change, and this will become a new default way of dealing with anxiety and stress.
4.         Prayer and Bible Study.
So how do I change how I react? – through prayer and Bible study. It always amazes me at people who want to lose weight some other way than exercise and eating healthy. This is the tried and true way of having a healthy body (eat right and exercise). But every year there are constant "new discoveries" that always prove to be worthless because they don't involve exercise or eating healthy.
The same is true for followers of Christ. If we are to be healthy (and fighting off "viruses") we have to study the Bible and pray. It's as easy or as hard as that. There are no shortcuts or easy methods for changing our own sin nature and depravity – other than taking in God's Word and praying to our Creator.
There is a way to think about this process. Imagine you sit down for dinner and putting the food in your mouth (reading), then you chew on the food (reflecting/meditating). Next, you swallow it and it becomes apart of your body because it is absorbed and the nutrients are taken in (responding to the Word, it becomes apart of who you are). Then one has a sense of satisfaction and can rest in the fullness of God's Word. It does satisfy (and change) the soul like nothing else can.[3]
---
[1] Tom Rodgerson can be found at http://bcmd.org/staff-directory
[2] Matthew 28:19ff.
[3] see Lectio Divina.