Seeking Wisdom in Difficult Days
A Study of James
The Origin of Temptation
James 1:13-18
Introduction
Fishing flies are bait designed to imitate insects, invertebrates, baitfish, crustaceans, small animals, and other fish fodder.
Traditionally, flies were "tied" with natural materials like feathers, thread, and animal fur or hair. Now, a range of synthetic and natural materials are used, sometimes on the same fly. Flies fall into roughly five categories: dry flies, wet flies, streamers, poppers, and saltwater flies.
A good lure is designed to catch a particular type of fish and what that fish likes. Sin can mask itself, and the lure may appear harmless but once its' hook is set it can cost you your life. It will appear to be something that you would enjoy. Lures are not effective if they appear obvious. If you see the hook behind the feather, you will never bite.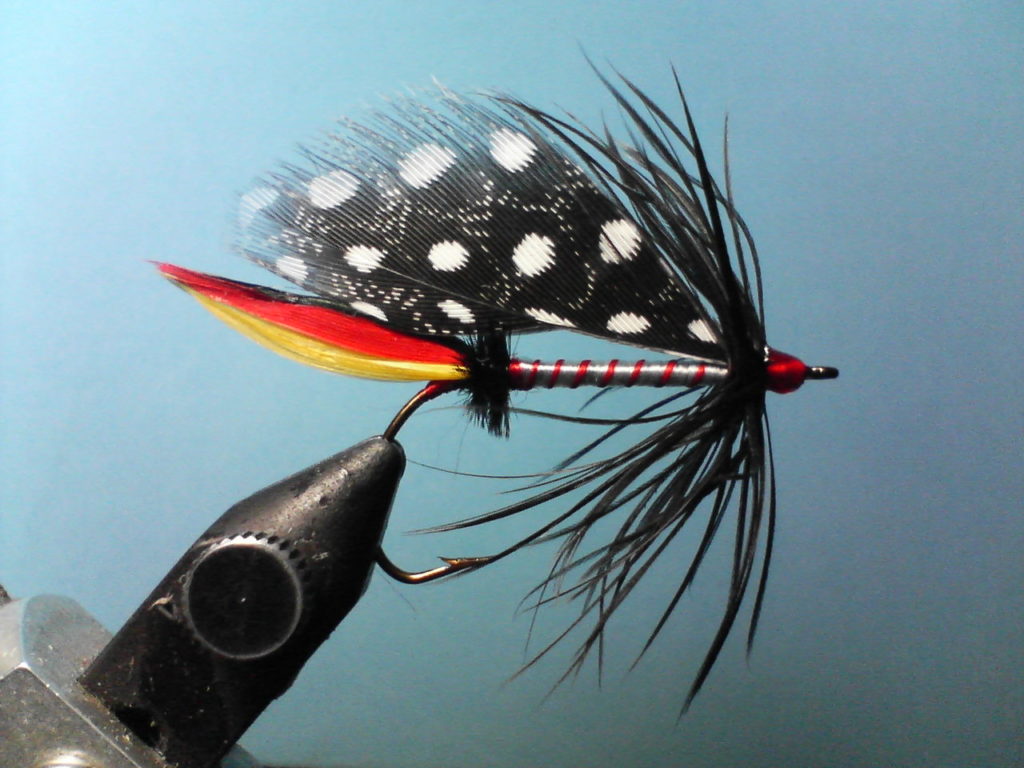 Prayer
Where Does Evil Come From? (vv. 13-15)
Let no one say when he is tempted, "I am being tempted by God," for God cannot be tempted with evil, and he himself tempts no one. 14 But each person is tempted when he is lured and enticed by his own desire. 15 Then desire when it has conceived gives birth to sin, and sin when it is fully grown brings forth death.
Temptation is the word that we saw in verse 2, "trials" – but here it means an enticement to commit an evil act. James is saying that the desire to commit a sin comes from within our own hearts, it is not sent from God.
The words "lured" and "enticed" are angler and hunting terms where fish are tempted to come out of their safe hiding place, or birds are suddenly caught in a net.[1] Our desires are morally neutral, what makes it evil or good is the context (how we choose to act on those desires).
The desires that we have, were created within us, but are corrupted by our sin nature. For example, a man may desire his wife, this is a desire God made win us to keep a couple close. The corruption of that desire is where the man looks to other women to satisfy the same desire, then it becomes a sin.
But the real question is, "if God made me this way, with my desires, how can He then hold me responsible when I act on those desires?" There are some conditions of life that are beyond our control – You didn't choose who your parents would be, we can't choose gender or skin color, the country with whatever freedoms it may or may not have – you didn't choose your socio-economic level that you were born into.
So are one's desires the same? I was born with this desire, so why is it wrong if I act on that desire? James is being very clear here to believers in Christ, not to use excuses for bad behavior. Don't blame God for your wicked behavior. It goes against God's character to want for you to have anything to do with sin, so He will not lure you to sin. God is righteous, therefore He leads only in paths of righteousness (Psalm 23:3).[2]
We have a set of desires that are normal for all human beings (intimacy, love, belonging, fulfillment, etc); but these desires become corrupted by sin. So, if our desired behavior goes against God's Word, then you know that your desire is corrupted by sin.
We have a tendency to want to blame someone for our own sinful behavior. We want to blame God, Satan, other people – but the lure discussed by James is our own sinful desire. Adam and Eve do this the Garden of Eden after God comes to them in Genesis 3. The man blames God for giving him the woman, the woman blames the serpent (Genesis 3:12-13).[3]
Immediately after the fall, mankind has to learn how to deal with this sin nature, and how it can control us. Genesis 4:3-7 "In the course of time Cain brought to the LORD an offering of the fruit of the ground, 4 and Abel also brought of the firstborn of his flock and of their fat portions. And the LORD had regard for Abel and his offering, 5 but for Cain and his offering he had no regard. So Cain was very angry, and his face fell. 6 The LORD said to Cain, "Why are you angry, and why has your face fallen? 7 If you do well, will you not be accepted? And if you do not do well, sin is crouching at the door. Its desire is contrary to you, but you must rule over it."
Cain is an example of the person who wants God to accept him, regardless of his sinful behavior. God was clear on the offerings of what He would accept or not accept – Cain was demanding that God accept his way of doing things, and God says, "no."
A person may say, I did not choose to be born this way. It may be true that a person does not choose to have a sinful slant in a certain direction, but it is the person's choice to rule over it or not. If the sin in your life is described as a wolf, you choose to feed the wolf or to let it starve. If it is crouching at the door ready to devour you, you have the choice to open the door or keep it closed.
Matthew 5:27-30 "You have heard that it was said, 'You shall not commit adultery.' 28 But I say to you that everyone who looks at a woman with lustful intent has already committed adultery with her in his heart. 29 If your right eye causes you to sin, tear it out and throw it away. For it is better that you lose one of your members than that your whole body be thrown into hell. 30 And if your right hand causes you to sin, cut it off and throw it away. For it is better that you lose one of your members than that your whole body go into hell." Jesus says to take whatever actions you need to take in order that "The sin that crouches at the door. . ." does not take you to a place you do not wish to go.
When we voluntarily open the door to sin in your lives, "We may wrongly seek to blame others, Satan, or even God, but ultimately we are morally responsible."[4] You have the ability to make decisions that will get you more in line with God's standard of behavior, and cross back over the line toward righteous actions.
"This is a call for us to take responsibility for our own lives and to deal with our sinful motives."[5] When we continue to blame others for our own decisions, we are far less likely to own the sin and make the difficult necessary changes.
"Then desire when it has conceived gives birth to sin, and sin when it is fully grown brings forth death" James uses the image of a baby in the mother's womb. The child grows and grows until eventually it emerges in birth. When the child is born it causes the death of the mother.
Sin grows and grows until it reaches a point when it has matured and the consequences is death. Believers in Christ can never be separated from God in spiritual death (a losing of salvation), but their sin can result in a physical death.[6] Paul states the same truth like this, "the wages of sin is death" (Romans 6:23), God told Adam and Eve "when you eat of it you will surely die" (Genesis 2:17).
This is the opposite of James 1:4 "And let steadfastness have its full effect, that you may be perfect and complete, lacking in nothing." God is working in the life of the believer for their good – patient endurance leads them toward spiritual maturity. When a person gives over to sinful desire, and it grows and grows until eventually it matures in spiritual death.[7]
Spiritual maturity has an ultimate goal, so that the believer "may be perfect and complete, lacking in nothing"; Sinful desire also has an ultimate goal, it's the dark mirror reflection, "sin when it is fully grown brings forth death." It's a fixed habit that we cannot escape from even though we know it is destroying us.
Since the Garden of Eden, Satan has tried to convince humanity that God is keeping something from them. Genesis 3:4-5 "But the serpent said to the woman, "You will not surely die. 5 For God knows that when you eat of it your eyes will be opened, and you will be like God, knowing good and evil." Satan tells humanity that they can make their own decisions, and they know what's right and what's wrong – they are their own god.
Where Does Good Come From? (vv. 16-18)
16 Do not be deceived, my beloved brothers. 17 Every good gift and every perfect gift is from above, coming down from the Father of lights, with whom there is no variation or shadow due to change. 18 Of his own will he brought us forth by the word of truth, that we should be a kind of firstfruits of his creatures.
"every perfect gift is from above" For James the best gift that is given to the believer is wisdom, it is mentioned again in 3:15, and this perfect gift comes "from above." Wisdom helps us deal with temptation. "Therefore . . . , God does not send the test; he gives wisdom that enables us to stand in the test. He gives the antidote, not the poison."[8]
The earth revolves and so at times it is light (daytime) and as it continues to rotate there is darkness (night). With God he does not change – if it is a sin, there is no changing it to not being a sin – He does not turn. Cain's frustration and anger came with God's unwillingness to just accept the offering (or his sin) – God would not change toward the offering.[9]
"Of his own will he brought us forth by the word of truth" – sin has a birth in a person that leads to their death, it was their will or choice that did this. God's will is to bring people forth (a rebirth), through the word of truth (the gospel). God spoke and humanity came into existence, and The Word (logos) took on flesh and was born into the world. John 1:14 "And the Word became flesh and dwelt among us, and we have seen his glory, glory as of the only Son from the Father, full of grace and truth."
Sin is the means that gives birth to death, and the "word of truth" is the means that brought us forth because God willed it. We choose to follow sin, God chooses to reveal to us the truth through wisdom.
"that we should be a kind of firstfruits of his creatures" – We are like the first of the harvest – the rest of creation will follow us in redemption. The firstfruit of a tree both indicated the quality and was dedicated to the Lord (Duet. 18:4).
Romans 8:18-25 "For I consider that the sufferings of this present time are not worth comparing with the glory that is to be revealed to us. 19 For the creation waits with eager longing for the revealing of the sons of God. 20 For the creation was subjected to futility, not willingly, but because of him who subjected it, in hope 21 that the creation itself will be set free from its bondage to corruption and obtain the freedom of the glory of the children of God. 22 For we know that the whole creation has been groaning together in the pains of childbirth until now. 23 And not only the creation, but we ourselves, who have the firstfruits of the Spirit, groan inwardly as we wait eagerly for adoption as sons, the redemption of our bodies. 24 For in this hope we were saved. Now hope that is seen is not hope. For who hopes for what he sees? 25 But if we hope for what we do not see, we await for it with patience."
Beyond our salvation through Christ, it is by the study and consuming of God's Word that we are set free from sin and error. John 8:31-32 "If you abide in my word, you are truly my disciples, 32 and you will know the truth, and the truth will set you free."
Conclusion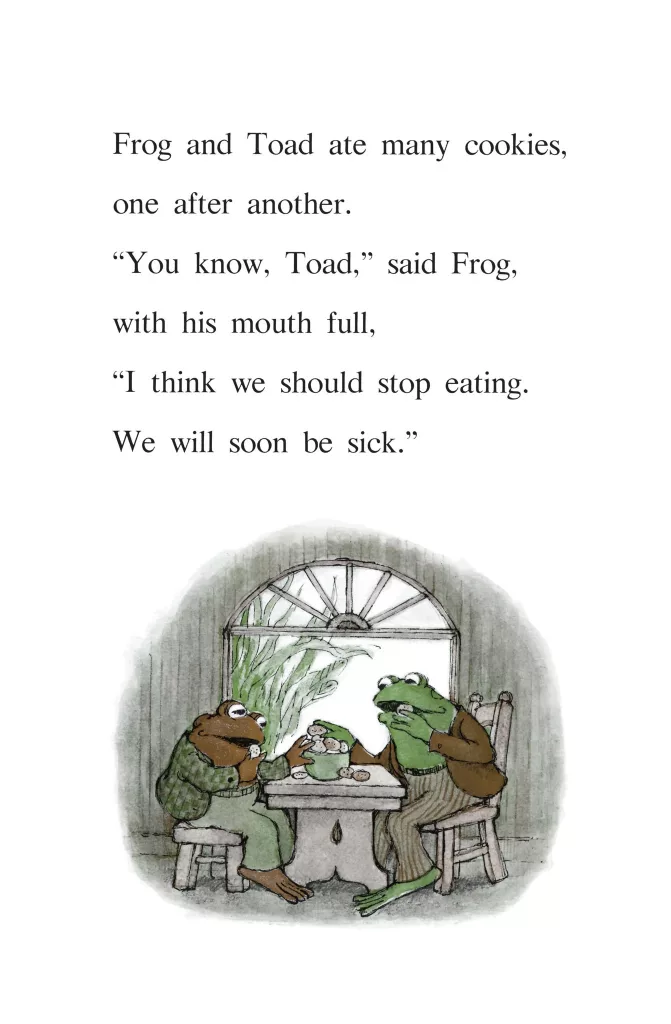 Toad baked some cookies. "These cookies smell very good," said Toad. He ate one. "And they taste even better," he said.  Toad ran to Frog's house. "Frog, Frog," cried Toad, "taste these cookies that I have made."
Frog ate one of the cookies, "These are the best cookies I have ever eaten!" said Frog.
Frog and Toad ate many cookies, one after another. "You know, Toad," said Frog, with his mouth full, "I think we should stop eating. We will soon be sick."
"You are right," said Toad. "Let us eat one last cookie, and then we will stop." Frog and Toad ate one last cookie.  There were many cookies left in the bowl.
"Frog," said Toad, "let us eat one very last cookie, and then we will stop." Frog and Toad ate one very last cookie.
"We must stop eating!" cried Toad as he ate another.
"Yes," said Frog, reaching for a cookie, "we need willpower."
"What is willpower?" asked Toad.
"Willpower is trying hard not to do something you really want to do," said Frog.
"You mean like trying hard not to eat all these cookies?" asked Toad.
"Right," said Frog.
Frog put the cookies in a box. "There," he said. "Now we will not eat any more cookies."
"But we can open the box," said Toad.
"That is true," said Frog.
Frog tied some string around the box. "There," he said. "Now we will not eat any more cookies."
"But we can cut the string and open the box." said Toad.
"That is true," said Frog. Frog got a ladder. He put the box up on a high shelf.
"There," said Frog. "Now we will not eat any more cookies."
"But we can climb the ladder and take the box down from the shelf and cut the string and open the box," said Toad.
"That is true," said Frog.
Frog climbed the ladder and took the box down from the shelf. He cut the string and opened the box. Frog took the box outside. He shouted in a loud voice. "Hey, birds, here are cookies!" Birds came from everywhere. They picked up all the cookies in their beaks and flew away.
"Now we have no more cookies to eat," said Toad sadly.
"Not even one."
"Yes," said Frog, "but we have lots and lots of willpower."
"You may keep it all, Frog," said Toad. "I am going home now to bake a cake."[10]
"To accept Christ is to accept him as Savior from sin, and so to turn from sin and follow him as Lord."[11] We must take the holiness of God very seriously and continuously turn from sin, realizing its' dangers. It's bigger than just not eating one more cookie – we need wisdom to see its' destructive power and ultimate consequence upon our lives.
__________________________
[1] George Arthur Buttrick, Gen. Ed., The Interpreter's Bible, Vol. 12 (Nashville, Tennessee; Abingdon Press, 1957) 27.
[2] Lehman Strauss, James Your Brother (Neptune, New Jersey; Loizeaux Brothers, 1980) 35.
[3] A.T. Robertson, Studies in the Epistle of James (Nashville, Tennessee; Broadman Press, 1959) 50.
[4] David P. Nystrom, The NIV Application Commentary, James (Grand Rapids, Michigan; Zondervan Publishing, 1997) 73.
[5] George Stulac, The IVP New Testament Commentary Series, James (Downers Grove, Illinois; Intervarsity Press, 1993) 56.
[6] Examples: Nadab and Abihu when they offered strange fire (Lev. 10:1,2), Ananias and Sapphira when they lied (Acts 5:10), Christians partaking of the Lord's Supper in an inappropriate way (1 Cor. 11:30); Strauss, 41.
[7] Ibid, 74.
[8] Peter H. Davids, New International Biblical Commentary, James (Peabody, Massachusetts; Hendrickson, Publishers, 1983) 37.
[9] Did Galileo Galilei read James 1:16-18? Scriptural evidence that the earth rotates around the sun? The light does not rotate. If God is described as the Father of Lights that doesn't move or change, then it has to be the earth that moves and turns, otherwise the analogy doesn't work.
[10] Ray & Anne Ortlund, Renewal, Navpress, 1989,  p. 73-74. http://www.sermonillustrations.com/a-z/t/temptation.htm
[11] Stulac, 57.