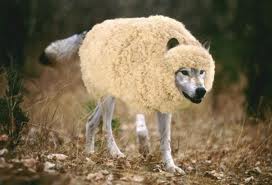 If you are a member of a church, or church leader please read this carefully. Your church's life may depend upon it. Jude in the opening of the chapter discusses false teachers or believers and what they are like; he says:
11Â Woe to them! For they walked in the way of Cain [Genesis 4:5-8] and abandoned themselves for the sake of gain to Balaam's error [Numbers 22:5-7; 2 Peter 2:15] and perished in Korah's rebellion [Numbers 16:1-3, 31-35]. 12Â These are hidden reefs at your love feasts, as they feast with you without fear, shepherds feeding themselves; waterless clouds, swept along by winds; fruitless trees in late autumn, twice dead, uprooted; 13Â wild waves of the sea, casting up the foam of their own shame; wandering stars, for whom the gloom of utter darkness has been reserved forever.
Cain – An example of one who took spiritual shortcuts
In warning the church about false teachers Jude gives examples of what their leadership is like. The first example is Cain. He tried to present an inferior offering to the Lord, and he killed his brother because of his anger resulting from its' rejection. He wanted to be able to approach God as he desired, not according to what was required by God. He wanted to take spiritual shortcuts, or shape the worship of God to his own comfort and desires.
Balaam – An example of one who desired to shape God's will for a profit
Balaam spoke with God and was told not to curse God's people. After being told not curse "the blessed" people, he kept asking God, "what to say." He wanted financial gain on the back of the sacred Word of God. He desired to forgo the clear desire of the Lord in order to make money. Balaam would say, "keep asking and pushing until you get the answer that you want."
This is simple greed. The Lord's will cannot be bought, his favor is not for sale. There will be people in the life of a church who use their tithe as a negotiating chip. If they don't like a decision or direction from the leadership in the church they will simply stop giving, or give to a specific "designated fund" so that it can't be used as the leadership is suggesting.  There are also those in leadership who are in it for the money and will forgo the will of the Lord in order to get a paycheck (or a raise).
Korah – An example of one who wanted to run the church
Korah grumbled and led a rebellion against Moses and Aaron; he rebelled against those whom God has chosen as leaders. He did not want to do what God had directed for them to do. They wanted to be able to choose their role in the congregation – whereas God chooses and directs His church. Korah had given over to his pride.
This one is not as obvious as the previous two. This person feels they have certain rights that are not being met (not visited enough while they were in the hospital, feels slighted in some way, their suggestion was not followed, hurt feelings, etc.). So in their minds, they feel they have a right or even direction from the Lord to do something about the current leadership.
This typically involves conversations in the parking lot after church, during Sunday School class, or over coffee in some local eating establishment. The conversation usually has the phrase, "I have been at _______ for _____ years and I love my church." But (insert leaders name) has to go because (insert exaggerated story ). We need someone who actually loves the church." This is nothing short of what Korah was doing to Moses. It is evil and causes great damage to the bride of Christ.
If you ever feel slighted or your feelings are hurt by a church leader then read this verse. Matthew 18:15 "If your brother sins against you, go and tell him his fault, between you and him alone. If he listens to you, you have gained your brother." You are instructed by Jesus to go and talk to the person. There is no need to go to anyone else.
There is no need to "seek wisdom" from other believers – which if we were honest is really just a grip session and venting. If the church would follow this teaching of Christ, there would be so many restored relationships and love one-for-another. Sadly, far too many church people just blast and gripe to anyone who will listen to them and completely destroy a person's reputation in a church before the accused even knows about it. The that leader is supposed to love the person who just tried to destroy them?
Then from these three examples of men who were the personification of false teachers come six natural metaphors:
1. "These are hidden reefs at your love feasts, as they feast with you without fear, . . ." With a hidden reef, the sailor doesn't see the danger below the surface until to is too late and the ship is damaged or sunk. The love feasts that is referenced here is the Lord's Supper. They appear to be participating and active Christians, but when you get too close they destroy you. All is not as it seems with these individuals, and they seek to get closer and closer into the trust and love of the church.
They have no fear of the Lord to act one way in the world while separated from the congregation, and then to appear righteous at the Lord's Table when they "worship" with other believers. This duplicity and lack of integrity will rip a congregation to pieces if they hold a leadership position (and even members should be held to an established righteous standard).
2. ". . . shepherds feeding themselves . . ." These are shepherds who do not take care of the flock. They look after themselves and use their position to better themselves not in ministering to others.
3. ". . . waterless clouds, swept along by winds; . . ." In Jude's region it is typically dry and dusty most of the time. So when the people see the gathering of a storm cloud there is great anticipation of things cooling down, plants being watered (perhaps even saved from drought), and times of refreshing.
They appear to give relief and instill within the people a sense of (false) hope but they are empty. In the end their promises and "vision" is nothing more than an empty cloud. Instead of hearing from the Lord and being given vision from Him they are directed by events, others actions, and are not anchored to one place. So when the heat gets too hot, they simply blow on to the next town.
4. ". . . fruitless trees in late autumn, twice dead, uprooted; . . ." In this leader there is no real evidence of God's working in their life. They look like a Christian, but at the end of each season of their life there simply is no fruit. Business and action is not fruit. It is easy to have the appearance of being busy and filling a calendar with "stuff." Don't confuse activity with fruit. Just because you go to the gym and dress the part does not mean that you actually work out and see change. Over the years I have seen grown men go to the gym, change into workout clothes, then drink coffee, read the paper, change back into street clothes and leave. Really? Why?
"they are dead before their so-called conversion and had died again by virtue of their apostasy." . . . "no one expects fruit from uprooted trees."[1]
5. ". . . wild waves of the sea, casting up the foam of their own shame;. . ." When the waves give a big display it stirs up sea floor, which does several sad things. 1) The big waves and tempestuous sea make navigation difficult. When leaders or church members cause trouble actually following the will of the Lord get very difficult. 2) Things have to be abandoned from the ship in order to stay afloat. When storms comes into the church leaders have to focus on keep the boat afloat instead of future destinations. Ministry in the church and any forward momentum stops until the storm passes. 3) Lives could even be lost from the storm. When storms hit churches, people jump ship and swim to the nearest ship that looks safe. There are also some immature Christians that give up on the church because of the infighting and hypocrisy they see. But what they really see is Satan using an apostate to cause dissension and conflict within the church (a tare among wheat).
But what is left behind from such a display? The foam on the shore is corrupted from the churning of the ocean floor's bottom. Isaiah 57:20 "But the wicked are like the tossing sea; for it cannot be quiet, and its waters toss up mire and dirt." What is left behind from the huge display from these people and their trouble making is hollow grimy foam left everywhere. This is their shame. As a person they have nothing to show for their lives but storms and hollow deposits wherever they went.
6. ". . . wandering stars, for whom the gloom of utter darkness has been reserved forever." Stars are supposed to be predictable. If you are on the ocean your life depends on being able to look at the sky and base your direction and course from the stars. They are your only "landmarks." But if those stars move in an unpredictable manner then they lead others to lostness and despair. Those that follow these false teachers are led to destruction.
Hell is described as these leader's (and false congregants) ultimate destination. They lead others into destruction and cause unknown damage to the church and their ultimate destination is "gloom and darkness." This gives little comfort to those leaders who have sought to lead a church in a godly manner only to have these false teachers and "believers" come in and cause damage and even death. The bride of Christ is fragile but she is resilient.
---
[1] Thomas Schreiner ed., The New American Commentary, 1, 2 Peter, Jude, vol. 37 (Nashville, Tennessee; Broadman and Holman) p. 467