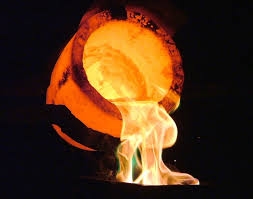 Proverbs 17:3 says, "The crucible is for silver, and the furnace is for gold, and the Lord tests hearts."
How does the Lord test the hearts of men? If we assume that the three items are given together in order for us to compare them, then we would conclude furnace and crucible share fire. Then we could also assume that God tests men's hearts through fire as well.
Peter even says in 1 Peter 4:12, "Beloved, do not be surprised at the fiery trial when it comes upon you to test you, as though something strange were happening to you." We should not be surprised when we are tested by the difficulties or "fire" of this life, instead we should see them as opportunities for growth. It is through difficulty that we are able to show what we are truly made of, the "content of our character."
Trials of this life bring to the surface trash that is mixed with the gold and silver of our hearts. It is only under fire that this dross is loosened and able to be taken off the top. It is a process that the Lord uses to sanctify us and give strength to our being.
During these times of heartache and despair we should not get lost in the pain, but instead examine our own hearts. 2 Corinthians 13:5 says, "Examine yourselves, to see whether you are in the faith. Test yourselves. Or do you not realize this about yourselves, that Jesus Christ is in you?—unless indeed you fail to meet the test!"
It is when the fire is the hottest that there is the most opportunity to pull the trash from our hearts.
A verse that is similar to Proverbs 17:3 is Proverbs 27:21 and it says, "The crucible is for silver, and the furnace is for gold, and a man is tested by his praise." When we are in the most pain, and the fire burns the brightest, what comes out of our mouths reveals the content of our heart.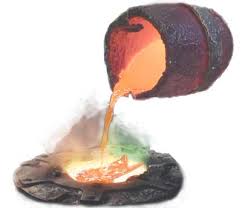 We all desire for it to be praise. But we won't truly know until the fire burns bright. We may curse our Creator, mock Him, question Him, or even run from Him. All these things reveal our weakness and God's love to show it to us.
When things cool down, we discover that God is still there despite our worst being brought to the surface.
The writer of this Proverbs uses gold and silver and relates them to the heart of men. They are very expensive and precious metals. He could have used lead or any other common metal in his illustration, instead he chose to use precious metals. We are precious in His sight and loved by Him enough to be refined. If he did not care for us, he would leave us as we are, wicked and depraved. These tests are not for condemnation, but loving refinement.
John 3:16-17 says, "For God so loved the world, that he gave his only Son, that whoever believes in him should not perish but have eternal life. 17 For God did not send his Son into the world to condemn the world, but in order that the world might be saved through him."
Fire brings warmth in the cold, it brings light in the darkness, and it brings refinement of the heart. Do not run from your trial today. Instead hold tightly to your Creator, Savoir, and Friend. He desires to do a great work in your heart and with Him beside you you will pass the test.