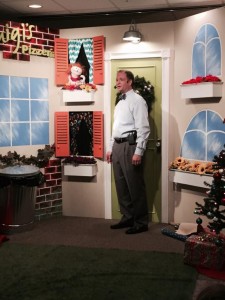 This past Sunday we had a full hour instead of the normal thirty minutes for our children's worship time. So instead of a craft we gave the children an opportunity to write a letter to the puppets that we introduced this past year. Our goal has been to give the kid's an avenue to interact with us through the puppets.
For example, if a kid was dealing with an issue at school and didn't know what to do and didn't feel comfortable talking with an adult they could write a letter to a puppet. The puppet will then write them back with an answer (from the character's point of view).
The characters are:

Professor "D" – a mad scientist who lives in an upstairs apartment. He is trying to take over the world with his overthought experiments (exploding cookies). Most of the time these experiments end up exploding in his apartment. He also shoots the kids with a water gun full of his slow acting kids growing formula.

Anna Banana – a teen girl who is focused on how she looks, who likes her, and is very prideful. She is learning that how we look on the inside is far more important than how we look on the outside, and what God thinks about us is far more important than what other people think.

Road Kill – a slow speaking sweat spirited opossum that lives in a trashcan outside of the local pizzeria. He loves to eat the pizzas that are thrown out of Luigi's. He makes the owner mad because he is always getting trash everywhere.

Jonathan and David – are brothers that live below Professor D. They are always arguing about something, so they are learning to get along as a family. They like football (just not the same teams), and just about any kind of sports activity.

Luigi — the owner of the Main Street pizzeria and is constantly experimenting with new kinds of pizzas. To the kids they come across as gross and usually end up getting thrown out (to Road Kill) because no one eats them.

Goober works at Luigi's Pizzaria and is learning what it means to work. He tries to take short cuts in his work and it is constantly getting im trouble with Luigi.
There were many that asked what the various characters wanted for Christmas. For example;
Dear Prof. D,
What do you want for Christmas? Please don't explode my kitchen. Also, I loved you spraying me with a water gun. Do it again please.
Sincerely,
Child's name
P.S. write me back.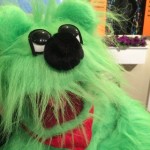 Dear Luigi,
I'm ok, no proplims the only thing I have to ask is what do you want for Christmas? I mean what do puppets want.
From, Child's name
Some of the kid's letters were just questions about the puppet's lives. For example;
Dear Road Kill,
You smell like a dirty diaper!
Merry Christmas,
Child's name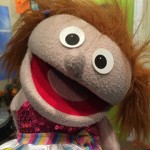 To Anna Banana,
From Child's name
What is your favorite color? What do you like about it? Well how about . . .what is your favorite shape? I bet it is is cool! I like that you visited me on Sunday! Bye.
Dear Anna Banana,
What is your favorite holiday mine is Christmas? Do you like to dance? I like your outfit that you wear. What is your favorite hobby?
Love, Child's name (heart shape, heart shape, smiley face)
Dear Road Kill,
Why do you live in a trashcan full of newspaper?
From,
Child's name
Out of over fifty letters that we received, there were a few that had genuine questions nested in their comments. Here's some;
Dear Dr. D, (the actual character name is Professor D)
Hi, there is this toy at target that is like so cool, it is a dog that when you take a walk she will be at your side. It is called "gogo doggy." When I ask mom for it she says no then I always get mad. What should I do, please help.
From,
Child's name
P.S. When you blow stuff up it is so cool, you are cool.
Dear Road Kill,
My sister is a literer. What do I do? I tell her to stop but she doesn't stop. What do I do. I hope you visit – probably soon.
Child's name
Dear Dr. D,
I hope you are having a good day. I am having a hard time on open books science tests what do I do?
Sincerely,
Child's name
Dear Prof. D,
Hi. All you care about is explosens. You're trying to take over the world with cookies. There is this kid that calls me a cry baby whenever we play four spare in p.e. For secret Santa in main street Anna Banana pulled out you. You're the best puppet exploder ever! How do you like to play video games.
Form,
Child's name
To: Goober
From: Child's name
Dear Goober, how do I get on the nice list?
To Anna,
From Child's name
My week is going Bad. My mom is making me go outside in the sun.
Dear Prof. D.
How do I not get frustrated during the week? How do I change a bad day into a good day?
Child's name
Then there were just kid's showing concern for their puppet friends;
Dear Prof. D, What is your 3 things that explode that you want for Christmas. Is it a cookie that explodes and turns brown. What is it? Do you want toilet paper to wipe your butt? What ever you want don't get your butt burned!
From,
Child's name
Dear Pro D.,
I love your shows. You are old.
Love,
Child's name
Dear Road Kill,
Are you actually Road Kill?
Child's name
This coming Sunday we plan to introduce a new mail delivery person character who will give the kids the response letters from the puppets.
__________________
In the psychological world of dramatic play specifically with the use of puppets, "The child's imagination creates a buffer and a flexible "space" to explore tough stuff." [1] In Valdosta Kid's Main Street we are able to exhibit bad attitudes, bad behavior, pain, and even frustration through the puppets and then talk about their feelings. On the outside looking in Anna Banana may be seen by other adults as being mean or rude (and sometime she is), but we are able to then talk about her behavior in a safe way.
One week the Luigi puppet said that his dad was not around very much during one of our skits. To our surprise one young boy spoke out very loudly and said, "Luigi, my dad's not around very much either." For a moment in time we were able to break through all kinds of barriers and speak right to his heart. His imagination was so engaged that he was "in the moment." Those moments are what we strive for every week, but don't always get there. But when they do happen, it makes ministry very special.
* Click here to read more regarding the use of puppets and how they have been used successfully to entertain and minister to children.
* Click here to see a video of the puppets talking about a recent t-shirt design contest.
_________________
[1] https://achildinmind.wordpress.com/2012/09/24/you-can-tell-me-anything-im-a-puppet-why-play-therapy-works/