A Very Dirty Room 
This past Thanksgiving I traveled to the family farm where I grew up. One afternoon during the break I found myself exploring an old tool room in one of the barns used to house various equipment and agricultural apparatus. The room was covered in a layer of dust, dirt, and smell of wet earth. From the natural light spilling into the dusty room I could see that spider webs hung from every outcrop and crevice in the room and if was evident that no one had stepped foot in this room for some time, perhaps years.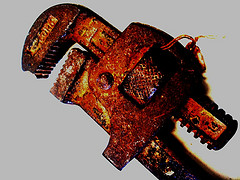 After an initial glance of the room, and fumbling around to find the naked light bulb suspended from the ceiling, I found the switch and turned on the light. It was there that I saw boxes of fencing staples, a Christmas tree (still in the box), and car bumper, various empty containers, and random tools scattered here and there throughout the room. I first found a rust covered wrench, then a screwdriver, and then some tool that I had no idea what it did; all were covered in dirt, dust, and rust.
At the discovery of these few tools, I emptied a handy five-gallon bucket of junk and began to gather all the tools I found stuffed here and there, all throughout the room. I had a new project in mind; I was going to clean these tools and see how they would look with a coat of oil on them. In total, there are various screwdrivers, wrenches, sockets and drivers, and other random mechanical tools. I asked my Uncle what he thought of my project, and he said, "Drew, do whatever you want with those old tools."
Remembering My Grandfather
As we talked I learned that most of these were my grandfather's old tools. In my family, many Christmas and birthday presents were tools. I remember my first toolbox, set of screwdrivers, wrenches, etc. So this collection of tools represents many celebrations of my grandfather's life. I could imagine him opening the various sets and gathering them in his toolboxes.  They are a tangible symbol for a philosophy of life. The men in my family build and fix, they do not tear down or corrupt. They gather their sons and grandsons around them to build things together.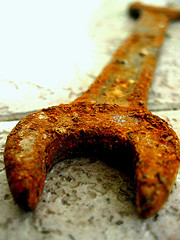 Tonight, I spent my free Sunday evening cleaning up all those tools. As I cleaned the tools, it felt as though I were bringing the tools back to life (their potential anyway). Tools, in my life represent potential. The men I admire are builders and fixers. Some men destroy and tear down (which is easy), but the ones I admire make the world a better place by building homes, picnic tables for families, kennels for animals, or beautiful furniture (which is hard work). Tools represent the potential to do something good, to help others, and to make the world a better place.
The men who make a difference fix what is broken and repair damage. Life is better when they are around, and a tool is close by if not already in their hand.  There are many men who gather tools their whole lifetime and then pass these tools on to their children. Why? Because tools are what we use to build and fix things, and they want their sons to do this as well. This is why a man may keep an old worn out tool on a shelf, because of what is means to him.
There's Always Potential 
Truth be told, I am a horrible craftsman and mechanic, but there is always potential because I own the right tool for the job. I love to learn a new skill, and most of the time I do this helping other people. Who knows, perhaps one of my sons will be a master craftsman with a tool that I keep in good condition and place in his hands. He may see me helping someone else with a particular tool that he will use that same tool to help someone else in the future.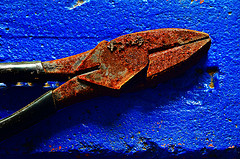 PS-If you are wondering what to get me this Christmas, I have plenty of sockets (straight, deep well, and articulated), drivers, wrenches (open and closed), screwdrivers and some weird pliers with a spring tip that I have no idea what it does (I am guessing it has to something with brakes on a car). But any other tool would be awesome.