I don't know what your typical Wal-Mart routine involves, but mine includes roaming the electronics section, looking at the hardware section, then camping and outdoors, and lastly the books section. Don't be decadent and say that you never go to Wal-Mart or how you hate to go to Wal-Mart. Everyone, eventually ends up at Wal-Mart. Everyone has to buy deodorant, underwear, or have their oil changed. On the occasion that I am writing to you today, it involved an oil change. Depending on the time of day that I endure this necessary procedure, it on average takes about an hour. I am typically able to follow the above-mentioned route in about fifteen minutes, leaving a hefty sum of time to contemplate and peruse the books.
For well over a decade this ritual ended with me getting my keys back, along with a new DVD Disney or Pixar release, and a chapter book. I quit buying DVDs two years ago (before the pandemic) with the advent of Disney +. You can now just pull up the movie you want watch, even the most recent, and stream it to your tv. Honestly, this was not a hard thing to let go of, since it usually involved me shelling out over twenty dollars for a movie we would watch one time (maybe two if it was really good). It's this next part that was not easy.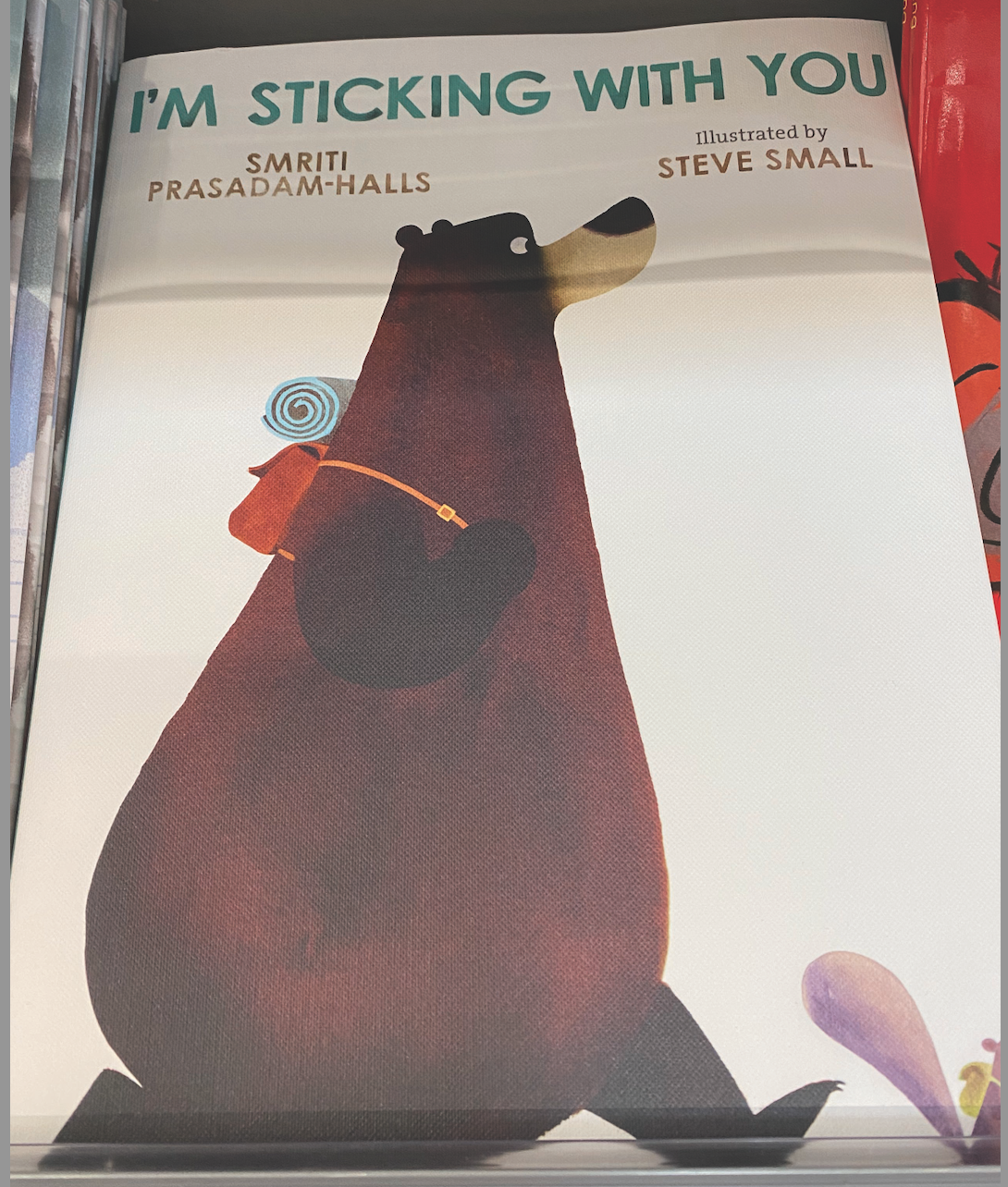 Every time I go to a Books-A-Million, Wal-Mart, or even Cracker Barrel I usually end up looking over their hard bound children's chapter books. There is a sense of nostalgia that they bring to me. The smell of the ink on the page, the artwork, and the simple story telling, all for some reason bring me joy. On the above-mentioned trip, the book was I'm Sticking With You, by Smriti Prasadam-Halls with illustrations by Steve Small. I read though it as I always do. I put it in the cart as I always do, and was about to go on my way – but then I realized, "Drew, why are you buying this book?"
You see, in my mind, there will be a moment when my four kids and I will cuddle up, before they go to bed and I will read the story to them (maybe after the movie). As I read the book, I can see the smiles on their faces when the characters are funny, or hear their laughs as I make funny voices. I can smell the fresh shampoo in their still wet hair, and see their toes sticking out from their too small pajamas.
But here's the thing, all of my children are over 14 years of age (my oldest are in their second year of college). There will never be a time (again) when I will read to them simple stories, make funny voices, or tuck them in.
As I placed the book back, it was a heavy-hearted recognition that a season of life had passed. It made no sense to buy a book that I would never read. As parents, there are seasons (some that we desperately want to hold on to). All of life's stages have joy and struggles. For me, as a parent, I have pushed them to grow wings and fly, while trying to guide them in life.
I think the books symbolize an innocence, before the world began its' influence. A time of Mario Cart marathons and nerf battles. A time when little girls dressed as princesses and boys their super heroes. Before girlfriends and boyfriends, and the first real heartache. When you are the hero and they want to hold your hand and they run for you when you get home. The costumes are gone, the toys have made their way to other younger children, and all that remains of a childhood are Frog and Toad Treasury, Magic Tree House, and a shelf full of evenings spent reading and laughing.
Maybe, the chapter book reminds me of when I didn't have to let go. Now, this seems to be all that I do, and it really sucks. You raise them their whole lives to be able to launch, but when it happens, there is pain in the offering. Thank goodness it doesn't happen overnight. It is an eighteen-year process of lovingly pushing them, but eventually the day comes when you don't have to push anymore and the temptation is to grab and pull them back – but you have to let them go.
I think I am going to go back and get the book.