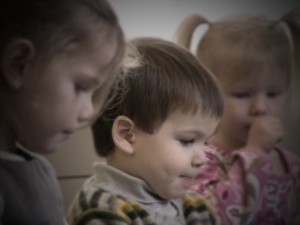 If the church and home have the mandate from God to pass on scriptural concepts from generation to generation, which age group or generation should receive the most emphasis? Churches who feel that evangelism is important have to choose and target who they will reach through their evangelistic efforts, allocate budgetary funds, and have appropriate training. Considering these things, a church therefore, will develop a strategy. This strategy can be as informal as following up with guests, putting an ad in the paper, or as formal as hiring a consultant to develop a multi-point plan to reach their community for Christ. Whatever this strategy may be, it more than likely will be aimed at a specific group of people. Barna has shown that children are more likely than any other group to receive the gospel. When defining his research in his book Transforming Children Into Spiritual Champions, George Barna said,
Why focus on this particular slice of the youth market? Because if you want to shape a person's life—whether you are most concerned about his or her moral, spiritual, physical, intellectual, emotional, or economic—development it is during these crucial eight years that lifelong habits, values, beliefs and attitudes are formed.[1]
The eight years that he references are five to twelve years of age. Barna's conclusion through his study of statistics shows that individuals are most influenced by the culture, various environmental settings, and the home during this early eight year span of life. Barna goes on to say, "Given the trends indicating that your spiritual condition by the age of 13 is a strong indicator of your spiritual profile as an adult, it seems clear that a deep and robust spiritual life demands intentional and strategic spiritual maturing during the early childhood and adolescent years."[2] After the age of thirteen the malleability of a child's heart greatly begins to wean, and influence becomes much more difficult. By the age of nine children have their "spiritual moorings" well in place and are making moral decisions based on this set of beliefs that are established in their lives.[3]
It is imperative then that the church do all that it can to influence children who are the most easily influenced with the book that has influenced more people than any other, the Bible. Doug Fields tells a story of when he was reunited with a former youth ministry student. After giving some background Fields says, "He had graduated not only from our youth ministry, but he also had graduated from his faith. None of our leaders would have ever guessed that Jake would wander from his faith; he had been a consistent participant for four years."[4] What should the strategy of the local church be to avoid missing generation after generation of children who pass through this most influential span of time? I'll follow up with the answer to this question in the next article.
---
[1]
George Barna,
Transforming Children Into Spiritual Champions
(Ventura, CA: Regal, 2003), 18.
[2] Ibid., 41.
[3] Ibid., 47.
[4] Doug Fields, Purpose Driven Youth Ministry (Grand Rapids: Zondervan, 1998), 156.