Evaluating the Children's Ministry Program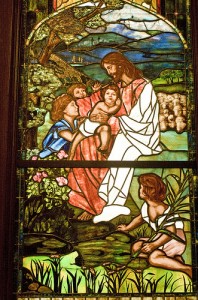 In order to see if this gradual spiritual development of the child is taking place, there must be some way of determining spiritual formation and teaching effectiveness. If the teacher in the classroom is not teaching adequately, then the entire children's ministry department suffers. It suffers because the teacher of the next age/skill level has to go back and reinstruct basic principles in order to move forward to more complicated material.
Eldridge gives several definitions of educational evaluation when he says,
Ralph Tyler (1949) defines it as documenting the congruence of learner outcomes and program objectives. Popham (1971) says it is a comparison of performance data with a commonly accepted standard. It is also viewed as specifying, obtaining, and providing relevant information for judging decision alternatives (Stufflebeam, 1971).  D. Campbell Wyckoff defines evaluation as 'a process of comparing what is with what ought to be, in order to determine areas and directions for improvement.'[1]
For the purpose of this article, the following definition will be used for evaluation: "To gather data for the purpose of making a decision." With regard to the individual teacher, evaluation consists of two areas: 1) Is the teacher following the "big picture" plan for her age group and not her own agenda, and 2) Does the teacher have the skills to teach what needs to be taught? Are the kids growing spiritually? Therefore, before any person begins to teach, there should be some way to evaluate if that person should serve in this area. In too many instances, there is a "desperate" need to have a person in the classroom to fill an age graded slot, and anyone who is willing to do it is put in the classroom with no training, no expectations or job description, and no help. Sink or swim! They are figuratively locked away in a classroom and are expected to stay there indefinitely. Curriculum is slid under her door every quarter, and the prayer is that she will just keep teaching. Recruiting and volunteer retention could be improved by providing clear expectations, a path for them to follow, and thorough evaluations that are designed to help the teachers improve their teaching skills. 2 Timothy 2:15–16 says, "Do your best to present yourself to God as one approved, a workman who does not need to be ashamed and who correctly handles the word of truth" (NIV). A church may have trouble recruiting new teachers or retain the teachers they already have, if that person feels "ashamed" of their ability to teach. But if someone were to show them where they could improve and how to do so, they may remain. No matter how gifted the teacher, there is always room for improvement.
Sadly, many parents are not concerned about measurable goals or learning objectives. Many are more concerned about their children behaving properly at church and show little or no concern for what they are actually taught during their time there.  Barna has said,
In all the evaluation research we have conducted during the past two decades, I have seen firsthand that you get what you measure. Unfortunately, most parents are pleased simply to have churchgoing children. If the children learn anything of positive value while they are at church, it is deemed as a bonus – if it is even noticed. There is usually little if any attempt by the family to track what the child is learning and integrating. The outcomes that are measured more closely relate to behavior modification than to spiritual development.[2]
If there is no evaluative process to determine the progress or lack of progress in a student's life, then "assessment is based on assumptions and intuition."[3] The problem with this, or any subjective way of evaluating a ministry, is that it is based upon emotions and impressions that can greatly fluctuate from week to week, or even moment to moment. Focus by leaders is then focused on placating these opinions and emotions instead of being able to strategically deal with objective issues in tangible ways and making real changes for the better. A subjective evaluator may not even have a full picture of the overall ministry, but may only have a skewed picture of reality. By having an objective means to evaluate, it is easier to develop a more extensive diagnostic process that would enable an evaluator to develop a more complete picture of the ministry. This process can be added to or removed, depending upon the value of data collected.
---
[1]
Eldridge,
The Teaching Ministry of the Church,
310.
[2] Barna, Transforming Children Into Spiritual Champions, 126.
[3] Ibid.