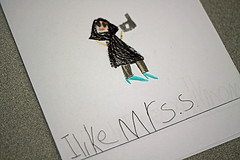 All too often I tend to focus on the "what" of ministry. What needs to be done? This deals with to-do lists, goals, and task management. We know that there are certain things that need to be done a weekly, monthly, and yearly basis. VBS or summer outreach program is a staple of most children's ministry. But what gets easily lost is the "how" of ministry. This is where your church and ministry values come into play. The question is not "Will we have VBS this year?" but "How are we going to do VBS this year?"
What are your church's shared values? If you don't have them, then you may establish goals (have Sunday School every week), but how you go about it may cause conflict. One person may want the kids to sit quietly as they talk at them, while the teacher across the hall has the kids jumping and yelling at the top of their lungs – and they may even be teaching the same lesson! A lack of values may also lead to inconsistent ministry. One week things are awesome, then the next week, so not awesome? What happened? It could be that your volunteers aren't sharing the same values in how they carry out ministry.
Values determine how we will deliver ministry to children.[1] Do your volunteers know what is important and what is not important? How do you know this? One of the best ways to assure that everyone has the same shared values is to write them out, and repeat them often.
Before we jump into actual values for your ministry, remember that whatever value you determine should improve the ministry as a whole. Avoid values that are too vague like, "we love children." Also avoid values that are too specific and require a specific action every week. For example, "we will love children by teaching them through drama." Now you have to have drama every week. Your values will act as a filter in decision making both as a church planning team, and teachers and volunteers in their planning at home. There will be things that shouldn't be done because it goes against our agreed upon values for ministry.
Three Examples of Values (and what I feel should be the top three):
1. I Will Make It Fun – Children will not willingly go to a church's children's ministry unless they know that it will be fun. Parents will also grow weary of the hassle of making them go if the ministry is not exciting.  Volunteers also want to be apart of something fun, and is not boring. If they (the kids) don't come, then you are going to have a hard time teaching them.
People who tend to gravitate toward children's ministry typically are people who enjoy being around children and doing what children enjoy – so they want it to be fun too.  Values are an emphasis on what is important. There will be some things that are of less value, and some things that are of more value – as a team you get to choose! But also as a team you must hold to the values or there will be conflict.
For example, if communicating content is the value, then kids sitting quietly and remaining still is the best way to get through a lot of material. But if retention of material (i.e. learning and application) is the value, then less material may need to be covered, and methods that help children retain information may need to be implemented (which may involve noise, movement, excitement, and even yelling at the top of their lungs).
Values should also go beyond the teaching time to include the environment, signage, correspondence with parents, how the volunteers dress, planning meetings, etc… Everything should be done with the "making it fun" as a foundational value in mind. In order for this to happen leaders must look at the world through a child's eyes, and ask the question, "would this be fun for ___________?" (you can insert a two-year-old, an eight-year-old, etc.)  How do you know this to be true. Don't assume; ask a child that age, study up on growth and age characteristics for that age, and make an educated guess.
2. I Will Keep It Safe – Parent's will not hand over their children to a church's children's ministry unless they feel it is safe. I used the word "keep" instead of "make" because this value has to be held by all volunteers and staff. You can set all kinds of policies and write out manuals but it is the volunteers who have to keep the policies and understand the values.
Children also need to feel that your church is a place where they can be safe. No one will make fun of them, or laugh at them, or make them feel uncomfortable. They will be loved unconditionally and people there will know their name. So physical safety is just one part of safety, there are also emotional issues as well. Students should feel free to ask questions and be themselves.  This value focuses on making sure that a child is protected as a precious treasure.
3. I Will Invest Myself – If the children know that they are loved by their teacher or shepherd, then they will return again and again if it is within their power to do so. To invest means a lot of things but I would highlight three. If I know that a specific idea is to be taught, then I will invest the time to make it creative and interesting.
The teacher will not show up and read the curriculum (yuck!), instead he will have invested enough of his time to not only know the lesson topic, but has taken the time to pray and plan with those in his class in mind. There is also the investment of time. The family today is extremely busy, so time with those they love is extremely precious. If a teacher will invest time in the child's life outside of the classroom, then they will reap huge benefits in the classroom.
Teaching with investment in mind also includes a lesson that includes application. The teacher is going to show the children how to apply the lesson this week (or even right then) in their lives and will follow up to see how that application is going later in the week. Investment is all about time.
One of the hardest things about maintaining values is that Sundays come around with extreme regularity. Many times the focus becomes simply existing and having a Sunday School, or AWANA, or mid-week program. There is so much to do, that being creative and keeping it fun, or safe, or even having the time to invest in children's lives feels like an impossible task. But remember values act as a screen – allow them to help you in making decisions of what to stop doing, change your priorities, etc. in order to run your ministry, classroom, or shepherding group in such a way that will bring God glory.
---
[1] Sue Miller with David Staal. Making Your Children's Ministry The Best Hour of Every Kid's Week (Grand Rapids, Michigan; Zondervan, 2004) 64.