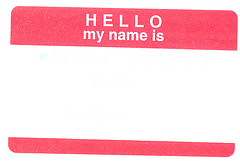 How Important Is A Name?
This past week was the fourth week into a preaching series on the book of Daniel that we have called, "Living with Courage in Times of Compromise," – or just "courage," for short. I have thoroughly enjoyed the study so far. Two Sundays ago a member of the church asked me, "Why do Daniel's friend's names remain Shadrach, Meshach, and Abednego (their Babylonian given names) while Daniel (who was also renamed to Belteshazzar) was able to keep his original name throughout the book?[1] So, let's look at it:
First, we see Shadrach, Meshach, and Abednego (or Hananiah, Mishael, and Azariah) only in the first and third chapters of the book and then they are not seen anymore. The obvious focus of the entire book is on God and His sovereignty and how He shows this sovereignty through individuals (like Daniel and his three friends). So, Shadrach, Meshach, and Abednego's impact upon the book is only found in two of the twelve chapters. We don't know why they are not mentioned more throughout the book except it seems that the desired message to be given through the book didn't need to include them further.
Second, we see a similar occurrence in Genesis when Joseph was given an Egyptian name Zaphenath-paneah,[2] yet he maintained his Jewish given name throughout the book. In both instances we see that these men outlast the tenure of the king over them. For Daniel, he served under Nebuchadnezzar, Belshazzar, and Darius and outlasted them all. Daniel faithfully served the Lord from the time he was taken into captivity as a teen, all the way through his elderly years.
Therefore, people are remembered by how they serve and what they do with their lives far more than names people try to give them.  Daniel's name means, "God is my judge" and Belteshazzar means "a false god, protect my life." Daniel's life was one that refused to be acknowledged by a false god protecting him, the miracles and favor of God upon him refused to let the name Beltshazzar rest upon it.
Boardwalk Elvis
My wife and I served as summer missionaries with a resort ministry in Ocean City, Maryland during the summer of 1995. I made a whopping $600 for the whole summer (but you don't do missions for the money). I had a killer tan, was able to do some great work, learned how to build massive sand sculptures, bought my first pair of Oakleys, and met the women who would be my eventual wife (so mark it down as one of the best summers of my life).
One of the distinct personalities that I saw many times over the summer of 1995 was Boardwalk Elvis. He is a special needs man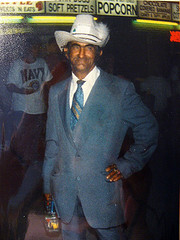 who at some time stumbled into an Elvis Impersonators Reject Wardrobe department. He was known to sport neon green jumpsuits, and carry a 80's battery operated radio where he would play his kazoo and sing as he walked back and forth on the OC boardwalk. He was Boarwalk Elvis, and is known by thousands. If you reference this facebook link, you will see people's comments of how since the 60's people have watched for him and their warmth for him as a distinct personality of the boardwalk.
Click here to read a facebook entry about Boardwalk Elvis.
So the name stuck to him, because of his behavior, his dress, and the fact that he has behaved this way for over forty years. I know this is a weird cultural reference, but we all know of those personalities that love what they do, and when you refer to them by that action of behavior, or characteristic they beam with pride. To call Boardwalk Elvis Norman just doesn't seem right.
Back to the Question
So, why does Daniel hold on to his name even though the greatest king on the planet at his time officially gave him another name? Simply, he kept his name because of his character; His life was one of courage, faithfulness, and persistence. When the books are written about you, they will call you a name, and put you in a category based upon how you lived your entire life.
Having served here in Maryland for over a decade my family back home in Alabama has undergone the natural changes families go through. But one of the most impacting changes was that one of my grandfather's developed dementia and eventually died.  As I would travel home over the years for the traditional holidays his decline was abruptly noticed ever time.
Each year was significantly worse. He would know who I was in the morning, but by the evening he would have forgotten. The last year I saw him, he had forgotten all together who I was (his grandson who desperately wanted to spend some time with him), and he only called me "preacher." All my identity and memories were boiled down into one word in his mind.
Preacher.
This is who I am.
What is your name?
---
[1]
This was not an exact quote, but you get the idea.
[2] Genesis 41:45